Everything Else
So, who's that "new" severe weather babe on Channel 4?
2:10 PM EDT on August 19, 2013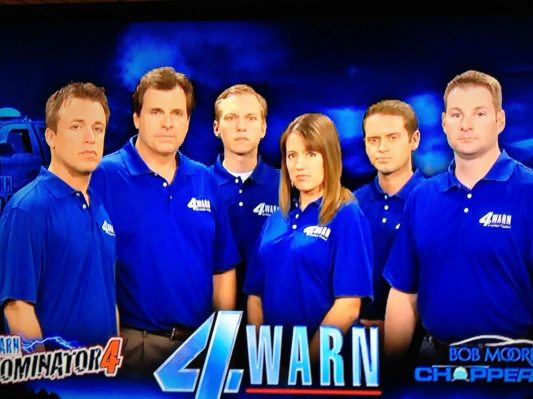 Over the weekend, I received several inquiries from Ogle Moles asking about a "new" attractive severe weather babe who mysteriously appeared on KFOR Channel 4 this past Friday. They wanted to know who she was, what she's doing on Channel 4 and if she can yell "MIKE MIKE MIKE MIKE MIKE!"
Here are some random emails we received in the Ogle in-box:
Subject: Blonde Meteorologist

So, did Emily Sutton go blonde and change her name??... Inquiring minds want to know!
-
Subject: New weather babe?

David Payne's replacement? If so well done!
-
Subject: N/A

So who is that new weather gal on kfor?
So, who exactly is the "mysterious" weather babe? Well, this isn't her first stop in front of a green screen in OKC. Here are some pics:
-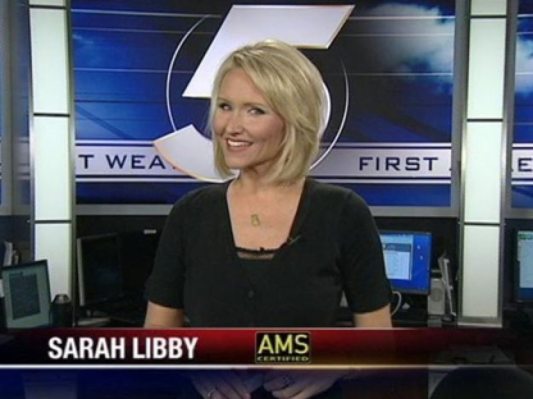 -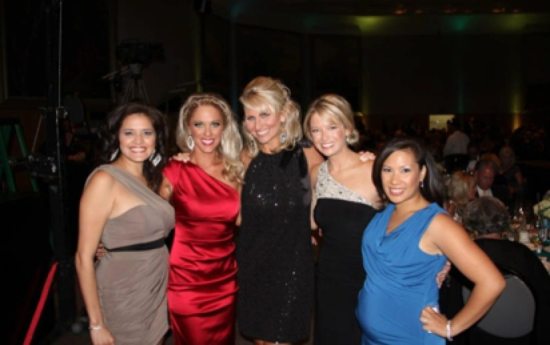 -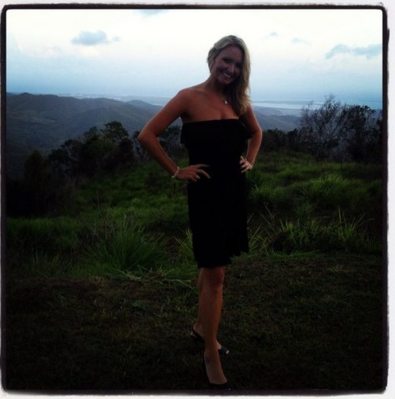 -
Yep, the "new" KFOR weather babe is Sarah Libby. She worked the morning show on Channel 5 from about 2009 to 2011. She then made the wise career decision to leave TV news for the corporate world. Unfortunately, the corporate world she left for was Aubrey's crumbling Chesapeake empire. I don't know what she did (or does) for the pure, clean and abundant natural gas giant, but if she was (or is) like any other Chesapeake employee, it probably involves entering Thunder ticket lotteries and worrying about job security.
Sarah will be replacing Troy Christensen as the weekend morning anchor. Yeah, some people watch the local news on the weekends. According to Troy's Twitter account, he is moving to Chicago to live life as a defeated man:
In all honesty, I'm very okay with Troy's departure. Not only is he being replaced by a weather babe, but I was never too comfortable getting my weather forecast from a guy with hair like this: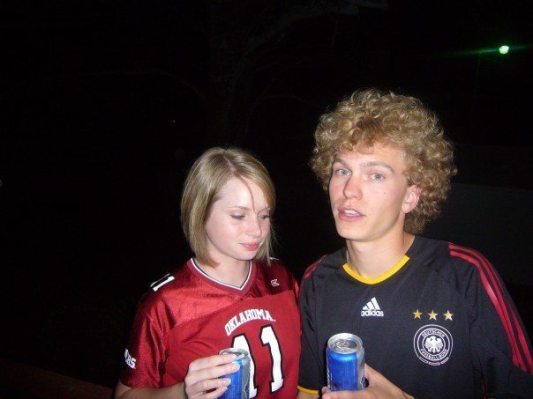 Seriously, I'd rather get driving directions from a woman than a weather forecast from a guy with hair like that. That being said, my dream "Frugal Friday" segment where Troy and Ashton Edwards test out homemade shampoos and conditioners is officially over. That's a shame.
What's kind of funny about this is that we got a question about Sarah Libby's possible return in a mailbag from over a year ago. The reader wanted to know what the odds were that she would be coming back to TV. Here was the question:
Last time I seen Sarah Libby she was parading around the Zoo Amp with Spinozi during the Kid Rock concert. Shortly after she left KOCO for CHK. Give me you best Deano Percentage Guestimate as to the probability of CHK falling apart, having to let her go and her returning to my DVR, I mean local weather coverage.

Thanks,

Duke
This was my answer:
I'd go with 10%. I've heard from many Ogle Moles that the KOCO news director is a pain in the ass to work with, and that's why so many of their employees have left in recent years. Money is a reason, too. Outside of the high-profile primetime gigs, TV news pays shit.

Also, what was Sarah Libby doing with Ron "Spinozi" Benton at a Kid Rock show? Was she drugged and handcuffed, too? I think Mark Opgrande just took a shot or three.
In all fairness, I was thinking about a return to Channel 5. Regardless, I still have some Jimmy's Egg in my face. It looks like I'm up there with Dean Blevins and TV weather people when it comes to mastering percentages.
Anyway, we wish Sarah the best of luck at KFOR. Hopefully Emily is nice to her and Dr. Reed Timmer the Scientist takes her for a ride in the Dominator. Maybe she'll wear a red bedazzled evening gown on severe weather days.
Update: Of course, five minutes after I publish this post the OMN chimes in that Sarah Libby is only a temporary replacement. Who knows what's going one. Now I really have Jimmy's Egg in my face.
Stay in touch
Sign up for our free newsletter