ICYMI
Some naked lady started a fire in David Payne's truck…
8:00 AM EDT on July 11, 2013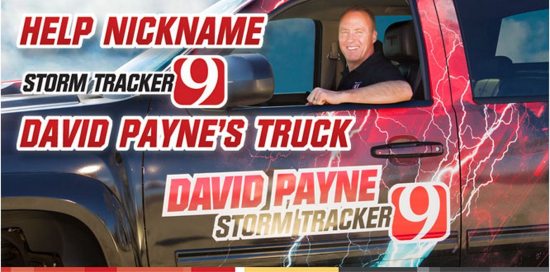 David Payne's 4th of July fireworks display was much more entertaining than yours.
While you were lounging by the pool, eating hot dogs and taunting Steve Lackmeyer in Bricktown, some lady named Jody Hunt celebrated our country's independence by burning her clothes in the bed of David Payne's pick-up. Truck Yeah! Go America!
Here are the details from a police report filed by Logan County Deputy Corey Hasler. It's located on OSCN.net: 
I, Deputy Corey Hasler, responded to the area near 5350 David Payne Dr in reference to a female running through the neighborhood naked. I arrived in the area along with Deputy Brown and Deputy Daves and we began searching the neighborhood. While searching the area Deputy Daves was flagged down by a man, later identified as Jeff Shelton, at 5450 David Payne Dr. Jeff told deputy Daves that the woman that was running around naked, had lit a fire in the back of his neighbor, David Payne's truck, and that he was able to extinguish it with his garden hose.
Jump back Loretta! I think we just came up with a new rule for the Gary England Drinking Game. Now, whenever David Payne spots a tornado on David Payne Drive, you have to strip off your clothes and start a fire in the bed of your neighbor's Nissan Frontier. And you have to do it before the universe falls into a worm hole and collapses upon itself, which is what I think happens whenever David Payne spots a tornado on David Payne Drive.
Seriously, how did that happen? Does the road scream and shout as you drive by? Is it made of gravel and golfball-sized hail? I say we change Reno to Gary England Boulevard. We should also rename I-35 to the Mike Morgan Freeway (but only during rush hour).
The story gets better though. Here's the rest of the Deputy's report: [sic]
We continued to search and were approached by multiple residence in the neighborhood that told us that they had seen the naked woman running through their back yards. Deputy Brown was able to locate the female, Jody Hunt, still nude and placed her in custody in his patrol vehicle. Deputy Brown then transported Jody to the Logan County jail for booking.

I then went back to the residence at 5450 David Payne Rd to speak with Jeff Shelton. Jeff told me that he had seen a woman, whom he recognized as his neighbor Jody Hunt, hiding in his shed behind his lawn mower. Jeff said that his wife approached her and asked what she was doing and told her to go home. Jeff told me that she left his property but returned only a few minutes later no longer wearing clothing and acting very confused.
Is this a police report or a strange Farmers Only date gone bad? For the sake of everything, please tell me that Jeff asked the woman to mow his lawn while topless. I doesn't matter what she looks like. Every heterosexual male wants to see a topless woman mow his lawn at least once:
Jeff said that she had then ran off north from his property away from her own home which was just south of his. Jeff said that it was then that he saw smoke and noticed that there was a what appeared to be a freshly lit fire in the back of David Payne's truck.
Would this be a bad time to tell David Payne that the Dominator is made of high-quality asbestos?
Anyway, you blew it, Jeff. You really blew it. You had the opportunity to get a naked women to mow your lawn. You choked worse than Sam Presti on the night of the James Harden trade. Tell me that you at least got David on the Gentner and warned him of the blaze:
Jeff told me that he has then taken his garden hose and stretched it over to Davids property and extinguished a burning tire and other smoldering objects located in the truck bed. Jeff said it was at that time he had flagged down Deputy Daves.
I wonder what she was burning? It was probably head shots of Val Caster or some of David's books like "How To Scream At Everything," "1001 Hook Echos," and "Driving Inside A Maxi-Wedge Grinders For Dummies."
Finally, Deputy Hasler met with David Payne:
I went to the residence just to the south, 550 David Payne Dr., where I found David outside his residence. David told me that Jody lived in the residence but that she was having mental problems and he had no idea she left that morning. David then showed me his truck…so I could see the damage. The tire which had been burning in the back of the vehicle had been taken out and places in the ground by David because he was worried about any other items in the bed liner in the pickup had melted in the area where the fire had been as well as some damage to wiring which was under where the fire and been. I took pictures of the damage and was unable to locate where the fire and been. We were also unable to locate the clothing which Jody had been wearing and David believed that was also brunt in the fire. David told me that he was inside his residence and did not see Jody light the fire. Nothing follows.
So she burned her clothes in the fire? I hate it when girls do that, because that means I have to give them one of my t-shirts when they leave in the morning. Also, for David's sake, let's hope she burned his tighty pants.
I was going to reach out to News 9 and David Payne to get a comment on this story, but I decided against it. This was because I had better things to do, and, uhm, because the story doesn't involve David Payne the storm chaser.
Yeah, about that.
Apparently, David Payne is a more common name than I thought. I checked with some Ogle Moles and it looks like News 9's David Payne allegedly doesn't live in Logan County or on David Payne Road. He lives in Oklahoma City on Wayne Shattuck Terrace or something. That means this must be a different David Payne. What a bummer.
Anyway, I apologize for leading you on. You have to admit the story's more fun when you picture it happening to a hyper-active daredevil with a screaming problem. I guess we know how George Costanza felt after he learned that Jon Voight didn't drive that Lebaron.
Stay in touch
Sign up for our free newsletter