Everything Else
This Zeke Campfield story is getting stranger and stranger…
5:37 PM EDT on May 30, 2013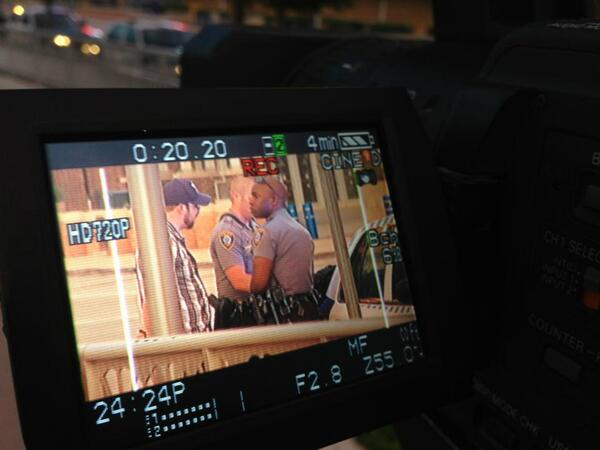 Earlier today, we published a report about Oklahoman reporter Zeke Campfield. He was arrested and accused of snapping upskirt photos at Sunday's commencement ceremonies for Moore high school students. The victims ranged in age from 13 - 21. We contacted The Oklahoman about the charges and received the following statement:
We are aware of the arrest and have taken initial steps to understand and address the situation internally.  Zeke Campfield has been a valuable, trusted member of our news staff for more than a year, so we are very surprised by the allegations in the police report.  We will continue to monitor the situation, but will allow the authorities and the court system to do their job before finalizing our response.

Kelly Dyer Fry
Editor of The Oklahoman
Yeah, the people at the Oklahoman are "very surprised by the accusations." That claim seems to contradict some things we've learned through the Ogle Mole Network.
According to sources, this isn't the first time Campfield's odd behavior has been brought to the attention of Oklahoman management. Sometime in 2012, the Oklahoman received a complaint regarding the way Campfield covered an event at the Oklahoma fairgrounds. Allegedly, he was behaving in the same manner as he did on Sunday; bumping into people, snapping pics, acting like Mr. Creepy, etc.
"It happened at the fairgrounds during some FFA event," claims a Mole with knowledge about the incident. "At the time, we didn't think he'd really do that. We were more appalled that the editors confronted him about it in the open newsroom at his desk, so everyone knew about it."
Wait. Two Oklahoman editors spoke to Zeke about the incident in the open air of the newsroom?
"Yes, we all thought it was strange."
I replied back to the Oklahoman to see if they had a response to these claims. Scott Briggs, Vice President of Administration, replied "As I stated before, you have our official statement, and we don't have any additional comment to make at this point."
Since that's the stance they're taking, I didn't ask them about rumors that Zeke also sexually harassed a female Oklahoman interns. According to a Mole, the claims were serious enough that former Oklahoman editor Joe Hight allegedly had a discussion with Zeke regarding the allegations.
But remember, the folks at The Oklahoman were surprised by the reports.
Perhaps they wouldn't have been if they would have dug a little deeper into Campfield's past. If they did, I bet they would have taken claims about his behavior a little more serious.
In 2003, Campfield received a deferred sentence on felony burglary charges in Montana. According to this Chicken Fried News-style article in the Missoula Independent, he broke into a house and stole a pair of panties.
Wait. What???
When did interns become so dangerous? So glamorous? So scandalous? An intern used to be a pimply-faced peon whose sole purpose was to shuffle from work to Starbucks to Dunkin' Donuts and back. Now they fellate presidents, vanish after torrid love affairs with congressmen and steal Pink Panther thong underwear.

Nathaniel Campfield may have the sad distinction of becoming the Missoulian's first noteworthy (and possibly dangerous) intern. Last week, Campfield was charged in Missoula County Justice Court with felony burglary and misdemeanor theft (of the aforementioned Pink Panther thong underwear—exhibit P if you will).

According to the court record: Coming home, two women spied Campfield in the doorway of their house. When they confronted him, he fled. The women called 911 and the police picked up Campfield two blocks away. Campfield told the police that he thought the house belonged to a friend, a last-nameless "Megan," whom he'd met at a bar in 1999, and that he was just going in, late at night, to see if she still lived there.

After a police search of Campfield turned up the Pink Panther thong underwear, the Indy has to wonder how well Campfield and this "Megan" know each other. Is she one of those long-lost (and mythical) Niagara Falls flings?

Flying in the face of that whole wacky notion that one is innocent until proven guilty, Campfield's internship has been put on hold until the matter is resolved.
Whoever conducts background checks for The Oklahoman may want to start polishing up their resume.
Anyway, I know people are innocent until proven guilty, but I'm kind of worried this may be a tip of the iceberg type thing. I hope I'm wrong, but based on some other rumors I've heard, it just has the feel to it.
Couple of other thoughts:
• When's the Oklahoman going to report on this story? Any and every time an Okie is charged with an embarrassing or sexually deviant crime they always feature it on the front of NewsOK.com. I should know this because I generally using them as source material. Maybe they're worried about liability or something.
• I'm not making a lot of jokes at Zeke's expense, because at least for me, the whole thing is sad. I got to know Zeke a bit over the past six months. He introduced himself at one of our trivia nights and we ran into each other on the escalator at a Thunder playoff game. I wouldn't say we were friends or anything, but he was an OPUBCO employee that I actually respected. He's a bright guy, talented writer and his reporting on the Governor's health care decisions was top-notch. It sucks that little demons appear to have got the best of him. I really hope he gets some professional help.
Stay in touch
Sign up for our free newsletter