Everything Else
At least this Memphis Grizzlies blogger didn't call a Thunder Girl "chunky"
1:19 PM EDT on May 7, 2013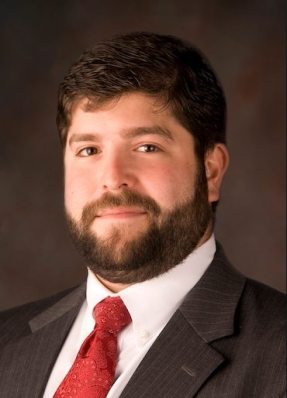 The piece of bear love pictured above is Jonathan May. He's an attorney for the Memphis law firm Thomason Hendrix. When he's not fantasizing about lumberjacks or singing with the Fleet Foxes, he moonlights as a Memphis Grizzlies fan blogger for a website called "Grizz Blog."
This past weekend, Brawny took the seven hour drive from Memphis to OKC to catch Game One of the Thunder - Grizzlies series. Naturally, he decided to blog about his experience. Here's the title and first paragraph:
Behind Enemy Lines: A First Hand Account of "Loud City"In retrospect, one could argue it was a mistake. We decided to drive to Oklahoma City at 5:00pm on Saturday. We knew it was a long way, but you cannot really appreciate the distance until you have been on the road for hours and realize you are still in Arkansas. Then there was that horrible moment. No, not the one when Kevin Durant hit the shot we knew he would hit. I'm talking about the one moment you cross the state line into Oklahoma and you're renewed with excitement and anticipation, only to realize that you're still 200 miles from Oklahoma City. Ultimately, we got into OKC at 1:30am Sunday. Just in time to grab five hours of sleep and head to the Chesapeake Energy Arena for an unreasonably early noon tip-off. I couldn't be less impressed with what we found when we arrived...
Yep, some blogger decided to judge all Thunder fans and the entire organization based upon a Sunday morning playoff game. That's about as fair as criticizing the looks of a one night stand on the morning after, or forming an opinion on Memphis based on what you've seen on the First 48.
That being said, May's post wasn't that bad. Yes, he broke one of my blogging rules. And yes, it was full of dumb and misleading arguments (Note to self: If I'm ever stuck in Memphis and need an attorney, do not hire Jonathan May), but I've read worse. It's not like he called a Thunder Girl "chunky" or asked if a pig brings out the ball for the opening tip. In fact, there were a couple of snippets from his blog I kind of agreed with. Here they are:
...A local pastor took the Court and led the crowd in sixty seconds of prayer for the players and coaches to remember the ideals of sportsmanship and to protect and keep safe the entire assembled body. Turns out, this was not a special playoff-edition program, but in fact every OKC game begins – before the national anthem – with organized prayer. I do not think I've seen that at a game above the high school level. As the woman noted, however, Oklahomans take their church seriously. I do not mean that derogatorily, just pointing it out without comment.
Yeah, I know. We pray before every game. It's cheesy. I get it. We all know God has better things to worry about than affluent men who play a game for a living.
-
The fan base has zero basketball IQ. Not once did we hear a fan yell that someone took a bad shot, missed an open cutter or that Scott Brooks should take someone out of the game.
We don't yell at Scott Brooks to take a player out of a game because we don't want to waste our time. We've watched the guy coach for nearly five years now. I think his substitution pattern and player rotations are frozen in carbonite. Also, the Thunder has a guy on the roster named Russell Westbrook. If we got upset every time a player took a bad shot, none of us would have a voice. I guess you can say we're immune to it. But yeah, I generally agree. I don't think Thunder fans have the highest basketball IQ. I mean it's not as bad as the assholey Memphis fans, but it's kind of low.
-
The direction given by the team made the whole thing feel like a TV show that is "filmed before a live studio audience" in which the producers flash "LAUGH" or "APPLAUSE" to make it appear that they have written a good episode.
This is my second biggest complaint about Thunder games. Everything seems so staged. Whenever The Thunder Ministry of Propaganda sends a storm chaser up to my section to lead a cheer I want to punch a kitten. Whenever they play the artificial OKC chant over the PA, blood trickles out of my ear. Okay, not really, but wouldn't that be crazy?
-
There is no "stat board" like FedEx Forum and there is only one scoreboard, which is taken down during timeouts so that they can show more advertisements. It is very disorienting and makes it very difficult to keep up with the flow of the game.
That's my biggest complaint about watching a game inside the Peake. Of course, this is probably a "watch what you wish for" thing. If the Thunder Ministry of Propaganda installed a stat board in the arena, it would probably just show how much the players donate to charity or how many charges they took in a game.
-
So those were the things in the article I agreed with. Everything else was stupid, dumb, misleading, etc. Here are some of the lowlights:
The first sign that things were not quite what they seem was when we were able to park just a block from the arena in a nearly empty garage for a mere $5. In fairness, it was 9:30am on a Sunday and I suspect that things will be different Tuesday night. Nonetheless, I couldn't get over the ghost town like feeling surrounding the arena. At 9:30am on a Sunday in Memphis, the area between FedEx Forum and Union Avenue would have been buzzing with activity and anticipation.
Holy shit, who gave Albert Einstein a Grizzlies blog?! You really think the atmosphere would be different on a Tuesday night as opposed to a Sunday morning? What's your next revelation? KD is a good shooter? Zach Randolph likes ribs?
Couple other things:
- I call bull shit on the whole "the area between FedEx Forum and Union Avenue would have been buzzing with activity and anticipation." What does that even mean? I'd love to see pics of all the Memphis fans lining the streets with "activity" and "anticipation" on a Sunday morning.
- The "Thunder Alley" festivities outside the Peake became so crazy that they literally had to shut things down. I don't think Memphis has ever had that problem.
-
Oddly, OKC made sure that they never showed a Grizzlies fan on the big screen. We are so accustomed to the A/V crew in Memphis finding an opposing fan so that we can boisterously express our distaste with their choice of clothing that it was shocking to see in-game entertainment so fixated on self-affirmation that it passed a chance to bring the crowd together against a common foe.
I wasn't at Game 1, so maybe this guy's right, but I've seen opposing fans put on the big screen plenty of times. Usually the Minister of Thunder Propaganda will put fake Thunder jerseys on them or show two dudes with beards on the Kiss Cam.
-
On the way out, after winning a dramatic come-from-behind game and their beloved Durant hitting a huge shot with 11 seconds left, the crowd was silent. No celebration. No chants or hoots or cheers. No talk about Game 2 or what lies ahead. Just a quiet and orderly filing out of the arena. It was bizarre.
You know how they say act like you've been there before? Well, we've been there before. We're not going to overreact and go crazy because we beat the Grizzlies in Game One of a playoff series. 11-months ago we were three wins away from an NBA championship.
Also, I think we're still hungover from that letdown. For the first 84 games of this season the Thunder were in a Finals or Bust mode. Now that some guy named Westbrook is gone, we've changed into a "Screw it, see how far we can go" mode. It's a different feeling. We know the NBA championship is out of sight, and we've kind of accepted that fate.
-
The in-game music is awful. It is taken straight off of ESPN Jock-Jams. Because the PA system volume is so loud, you really cannot understand a word they say. We are spoiled by the work of our A/V crew and you should remember how lucky you are next time you are in the Forum.
I agree with him on this. The music is awful. But apparently Mr. Memphis Blogger must watch every other NBA Game on mute, because the music is terrible in every arena. It's either Jock Jams, Everybody Clap Your Hands or organ music leading the defense chant. Pick your poison.
-
In summary, I would say that the Thunder fans are spoiled and operate with a major sense of entitlement. They are not entirely unlike the Clippers fans in that regard. They were gifted a very talented player (and team) by the NBA and have never tasted true sports adversity. Maybe the Westbrook injury and failing to win a championship this year will give them a little peek behind that dark curtain, but even then their disappointment only reinforces how good they have had it. In my opinion, until a fan base has struggled through 23-win seasons, blown lottery picks and then finally watched a group of players grow together, they cannot truly be held among the class of the league, no matter how loud they are prompted to get.
Seriously, what a moron. Has he followed the NBA before this season? Sure, maybe we haven't seen a ton of blown lottery picks, but we have seen a great lottery pic traded away for something called a Kevin Martin and Jeremy Lamb. I think we've also had to deal with a shitty season. The next time this jackass is in town he should just walk up to any Thunder fan in Bricktown and ask what 3-29 means to them. I'm sure he'll get a lot of good answers.
Also, OKC isn't immune to NBA adversity. This isn't our first rodeo. It will likely go down as a footnote in history, but we enthusiastically supported a less than stellar Hornets franchise for two seasons. The teams were decent and had young stars, but they were flawed and never made the playoffs. And even though the Hornets were not really our team, we adopted and supported them like they were, only to see them ripped away and given back to their abusive birth parents. Seriously, I remember the last Hornets game inside the Ford Center and people were literally crying. We never knew if we were going to have a team or franchise to support.
But yeah, we're entitled.
-
Anyway, this isn't the meanest or worst article I've ever read about the Oklahoma City Thunder. Trust me, there have been worse. However, if it really upsets you, I'd suggest you either send Jonathan an email (mayj@thomasonlaw.com), or send a bunch of pizzas in his name to the Thomason Hendrix law offices. Hopefully you'll go the more passive aggressive route. That would be funny.
Stay in touch
Sign up for our free newsletter