ICYMI
Mike Morgan doesn't like censorship. Thinks we need to "Grow Up" and "Have Some Balls."
1:19 PM EST on January 2, 2013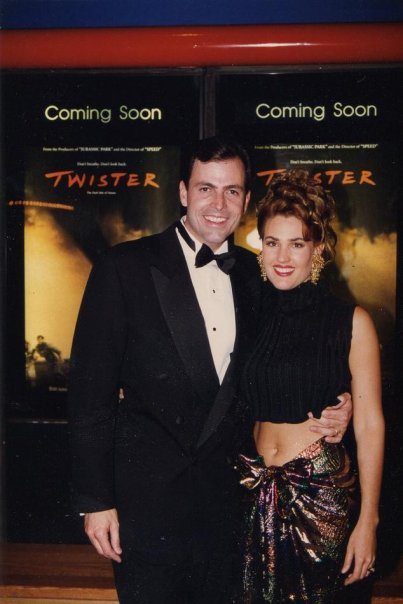 If you read this website often, you're probably aware that we have an interesting relationship with KFOR Chief Meteorologist Mike Morgan. Sure, we occasionally give him a hard time for over-hyping the weather, but we enjoy his work, his tie, and even made the Mike Morgan Drinking Game in his honor. To show his appreciation for all of this, Mike emailed us pictures of his wife, former rodeo queen Marla Morgan, (seriously) as part of a strange tribute.
On Sunday night, though, I received a series of distressed emails from Mike accusing us of censorship and trying to assassinate his career. Apparently Mike tried to reply to a comment that a reader left about him, and since Mike was a first time commenter, his comments were put in a moderation queue where they have to be manually approved. This is done to prevent spammers, trolls, people who take us too seriously, and crazed weatherman from hijacking a thread. Mike did not approve of this safety measure, and just minutes after posting his comments, fired off a mean series of emails.
Here they are:
How can you possibly think your unfair censorship of my post is the right thing to do.

I'm sick of it.

Period.

You are allowing a few individuals (and to a lesser extent yourself) to attempt to professionally assassinate me.

This isn't cute, it isn't witty, it isn't fun. It's WRONG.

GROW UP.

After all the contribution I have made to this state over 31 years to date, HOW DARE YOU!

I should send to you the 1000's of folks who have personally thanked me for saving their lives....many of which have scars from escaping May 3, 1999.

Mike Morgan
Yep. that's 100% real. And it gets better. Here's email #2 where he pulled a Jim Traber:
Next time we are in the same place, find me so I can look you in the eye and tell you the same thing.
He summed up his tirade with a third and final email:
Wrong, wrong, wrong.

Interesting KWTV has ALREADY modified David's bio to include the AMS.....which he is not a member of.

Knowing that, combined with the FACT I am the MOST educationally qualified of all the OKC chiefs, I DEMAND an explaination from you.

Be a man, have some balls,

Or

You can hide behind the Internet like a wuss...

That's right a wuss...

Mike
Yes, we've finally joined Steve Lackmeyer and Dan Threlkeld as people who have been told by Mike Morgan to "Have Some Balls." That's some esteemed company right there.
After reading the emails, I first spent about five minutes laughing uncontrollably. I then logged into the website to see if Mike had any pending comments being held for moderation. Sure enough, there were a couple. I authorized Mike's comments and then sent him an emailing explaining what happened:
Yeah, so we have to approve the comments of first time commenters, which is what you were. That's why your comments didn't show up immediately. I've now approved your comments, so they appear on the site.

Also, there's no need for you to apologize. I know you didn't mean it, but I must say, for the 31 years you've spent contributing to this state, I thought you'd be more patient.

- Patrick
He replied the next day with this:
I forgive you mostly. I feel better now.
His email included the following attachment: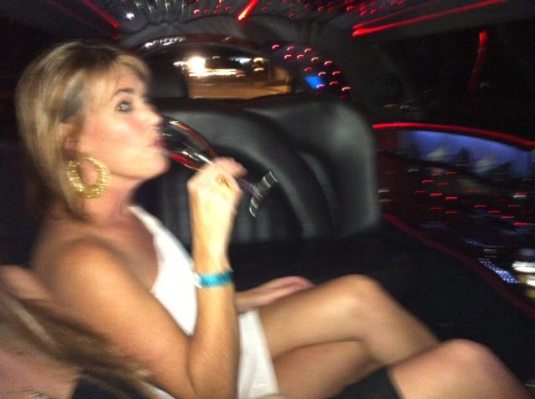 Wow, this saga has more happy endings than "Love Actually" or "New Year's Eve." Mike Morgan is able to leave comments on our blog, we were forgiven even though we didn't do anything wrong, and pictures of Marla Morgan have appeared in our in-box. Hell, we even got a glimpse of a mysterious attractive woman with long hair and black dress who's hopefully not his daughter. I guess you can say order is restored to the universe.
Anyway, you can view all of Mike's comments in this post. They primarily have to do with education, certifications, and Rick Mitchell. It's kind of entertaining and probably worth reading.
Also, we hope that Mike's no longer mad at us. This whole thing was just a big misunderstanding and we're totally over it. We'll still watch Mike and his bedazzled tie this spring during those times when Gary sends it over to Amanda and Kelly at the news desk. I don't want to listen to Kelly and Amanda have a phone interview the Carter County Sheriff. I want Doppler radar, helicopter footage and pics of wall clouds.
Stay in touch
Sign up for our free newsletter