Everything Else
Mailbag: Haunted houses to visit when dating a girl with big boobs
2:00 PM EDT on October 5, 2012
Welcome back to the Friday mailbag!
This edition is sponsored by Patricia's Gift Shop. Thanks to their sponsorship, I've received about 50 emails this week from Royce Young over at Daily Thunder. I never would have thought it, but Royce is one sultry dude. Let me just say that the Zorro masks he wears during Thunder games is not from an old Halloween costume. I'd stay out of his basement if I were you.
Anyway, whoever sent us the best email this week will win a $25 gift card to Patricia's. The best email will be determined by our readers. Check out the emails and vote after the jump.
James asks:
Ogles -

I'm dating this chick. She's okay looking but has big boobs. She wants to go to haunted house, but with the one in Bricktown being closed, where do I take her. Please advise.
First of all, Adam "I still wear flannel to match my dated 1990's skater haircut" Knapp over at About.com has a list of local haunted houses. If you take this girl to any of those places, there's a good chance you'll either get laid or handjob. To seal the deal, do the following things:
• Even though haunted houses are boring and not scary, pretend that you're scared. Randomly yell things like "Oh, crap! That guy with the chainsaw is nuts!" or "Oh my God, there's a vampire around that corner!" or "It's good to see the guys from Hinder were able to land on their feet!"
• Preferably visit one of the outdoor haunted trails. That way you'll be able to cuddle, and if you're really coy, get some side boob action.
-
Dustin writes:
Your Gary England Day idea was absurd and great. Can you all organize a mass exodus to Seiling next year for his birthday?
That's a great idea. We'll have to take another pilgrimage to Seiling next year and get more people to go with us. Also, next week we'll post pictures from our trip. He's a sneak peak: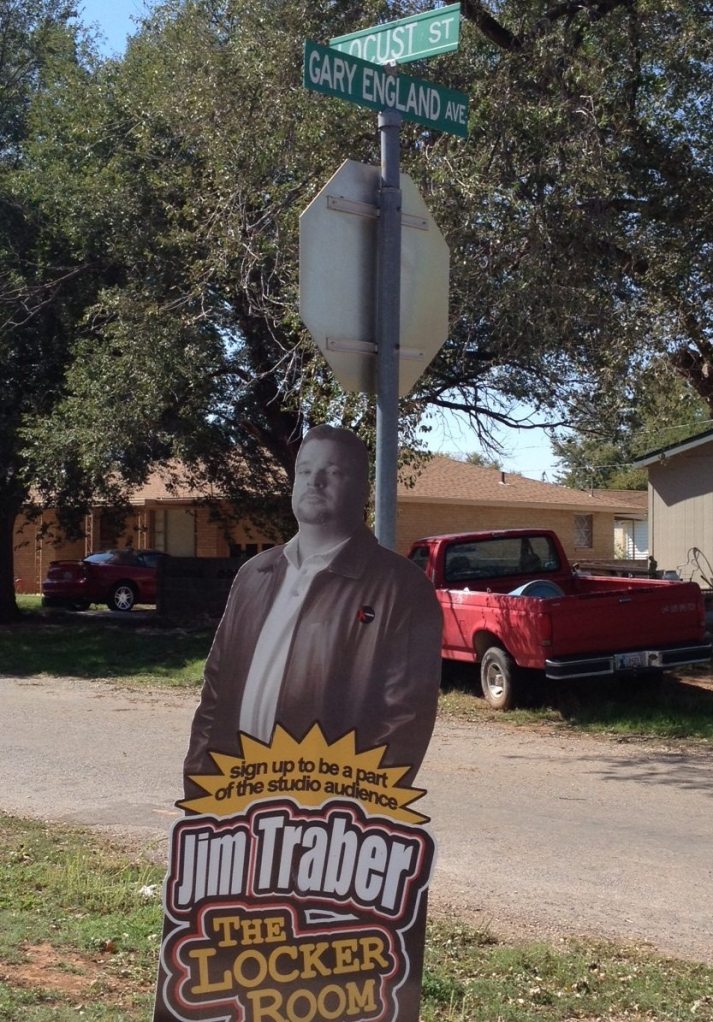 -
Katt writes:
Lost Ogle,

You should have seen the 1-8002sellhomes ladies husband at the Walmart on Penn and Memorial last night! Firstly he was buying cases of ginger ale and soda water, probably for one of her open houses! This guy was a complete dick to the cashier, he wanted a deal on his cases like he was at a bargaining store! He threatened the cashier by saying "I'm a secret shopper and I only report the bad things, so you better give me a deal." Umm excuse me?! Secret shoppers do not reveal that type if information and we are at Wal-mart not a flea market! Not only that this woman is visibly pregnant and when asks for his help to lift the cases and count his MANY beverages he says "I don't want to work at this, you do it" WOW way to have some compassion jerk-off! Not only that his outdated red wanna be retro glasses was just the icing compared to his flashy gold watch and true religion jeans!! After the woman tells him his total, he proceeds to say "Are you sure, is that all you can do for me? What is your name I will report you." I had to chime in "Yeah she's sure everyone in line is sure, now pay and beat it." He turns to me and says " I'm just trying to make it right." BS if he wanted to make it right he would if lifted up the case for the pregnant cashier! I guess when your wife has had to stoop to using Honey Brown in her commercials you need to scrape every dime you can!!
I have no clue if any of that is true, but wouldn't it be awesome if Sweet Brown had a sister named Honey Brown? I'd probably pay both of them to be my roommates and just talk to me all day.
Also, Sweet Brown either is (or was) going to be on Tosh.0 very soon. I haven't watched Tosh since he went from being funny to just being "shocking" and gross, but that should be cool.
-
Ryan writes:
I just saw a commercial tonight that advertised how much Kelly Ogle cares.... He cares by going to San Francisco, to south to Arizona, to etc. Kelly Ogle is the anchor who 6 years ago told his audience they would be raped if they used social networking.

I remember this so clearly because my friends and I found it so absurd at the time we spent a solid two months mocking Kelly Ogle.

I just want Kelly Ogle to know that nothing has been stuck up my ass against my will since I joined myspace, blogspot, xanga, facebook and google plus, to his apparent disappointment.

Oh... and his his hair looks like bleached pubes....
Not that I don't believe you, but I did some research and can't find any proof that Kelly Ogle ever said you'd be raped if used social networking. Now, I did uncover some frightening stuff about him wanting the Thunder logo to be a charging buffalo, but that was about it.
Anyway, I wish I could have been around six years ago to see you and your friends spend two solid months mocking Kelly Ogle:
"What do you want to do after the Hornets game tonight?"
"Tonight at 10, I'll suggest that we head to the Daiquiri Zone or Bahama Breeze."
"My two cents says both of those places suck."
"Well your hair looks like bleached pubes."
-
Sarah writes:
Just thought i would let you (Patrick) and the Ogle Mole universe know that Emily Sutton will be singing the National Anthem at the OKC Barons home opener on Oct 19th. If that doesn't get you out to a hockey game i don't know what will.
I may have mentioned this before, but Barons games are pretty damn fun. It's about 10,000 times better than the Oklahoma City Blazers. Can someone from the team give me some free tickets or press passes or something?
Also, know what's cooler than Emily Sutton singing the National Anthem at a hockey game? How about Emily Sutton co-hosting a couple of rounds of trivia with us. I may need to make that happen.
-
Vote!
Stay in touch
Sign up for our free newsletter