Politics
Where in the world is Governor Mary Fallin?
10:40 AM EDT on July 24, 2012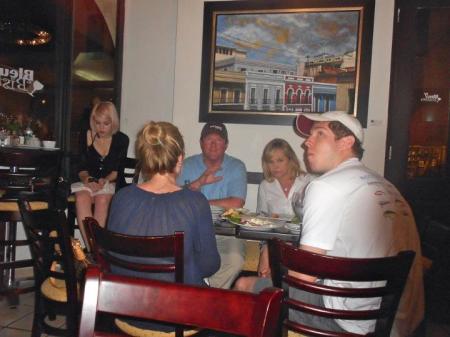 Yesterday, our state's second-most trusted news released a detailed report on all the travel expenses Mary Fallin has accrued during her first 18 months in office. It's an amusing piece. Here are some of the highlights:
More than a quarter of a million dollars in public and private funds have been spent on travel and related security for Gov. Mary Fallin, her family and staff.

Taxpayers have spent at least $196,057 on travel and security since she took office in January 2011.

The figure does not include recent trips to Canada, Virginia, England and Detroit...

During her term, she has championed economic development, tax cuts and efficiencies in state government.

She has made a number of business trips to New York City and Washington, D.C.

She has attended several National Governors Association, Republican Governors Association and chamber events.

In May 2011, Fallin attended a wind energy conference in California. The cost was $7,522.

In September 2011, she went to New York City for an education summit. The cost was $8,058.

In October 2011, she traveled to California for the Most Powerful Women Summit. The cost was $7,333...

In October 2011, Fallin and her husband traveled to Dallas for the University of Oklahoma versus the University of Texas football game. The cost was $4,542.

"She also had several economic development and business meetings with companies that included American Airlines and AT&T," Weintz said.

In December 2011, Fallin and her husband traveled to Arizona to watch Oklahoma State University and the University of Oklahoma compete in bowl games. The couple also stopped in Las Vegas. The total cost was $15,309.

She has made more than a dozen trips to Ketchum.

Fallin and her husband have a house on Grand Lake, Weintz said. She only uses the state plane to travel to Ketchum if she is already on businesses elsewhere using the plane, Weintz said.

She has also vacationed in Ireland, the Bahamas and San Juan.

In March 2011, Fallin and her family took the state plane to Miami and got a commercial flight to the Bahamas. The state cost was $13,376.

In June 2011, Fallin and her family traveled to Ireland where her daughter, Christina, was married. The cost was $13,230. The marriage was later annulled. Christina Fallin has since remarried.

In March, Fallin and her family vacationed in San Juan. The cost to the state was $1,844.

The vacation expenses are mostly for the security detail, Weintz said.

Comparable figures for former Gov. Brad Henry were not available.
First of all, this whole thing is nothing new. I bet every governor in the history of this state has spent too much money on travel. That's one of the main perks of being governor. You have a damn plane to fly you around everywhere. Who wouldn't take advantage of that?
The media coverage is also nothing new. When a Republican governor is in office, the Tulsa World publishes in-depth articles and editorials complaining about how much money the governor's office spends on travel. When it's a Democratic, The Oklahoman publishes poorly written features and editorials complaining about the same thing.
Maybe to get full mileage out of her desire to visit every corner of the world, the Oklahoma Department of Education should create a "Where in the World is Governor Mary Fallin" computer game. It would be a fun, educational game that informs Oklahoma middle school students about our state's fine history and geography, as well as facts and tidbits about travel destinations around the world.
This is how the game would work. Lets say that the World's Largest Peanut turns up missing in Ada. The person controlling Mary Fallin would dispatch the Governor to the crime scene to have her search for clues and interview witnesses. Based upon what is found, the student would then select a new location for Governor Fallin to visit in hopes of solving the case and nabbing the thief.
For example, let's say the clues left at the crime scene in Ada are a deck of cards and a Casino poker chip. Let's also say that a witness heard the thief mention something about a state with "one star on its flag" as he made his getaway. Based upon that information, the player would put Mary on the state plane and send her to Las Vegas to pursue the case. While there, the Governor would investigate things further...and also meet with leaders of AT&T, American Airlines or attend a Christian women's conference or something. You know, to make it all look legitimate and official and everything.
Anyway, I'm not sure if that game would be feasible, but it sure would be fun. And considering how much research would be required on the travel destinations, I'm sure Mary Fallin would be for it...just as long as she doesn't have to visit any state parks.
Update: Apparently the world's largest peanut is in Durant. I wouldn't be very good at "Where in the World is Governor Mary Fallin."
Stay in touch
Sign up for our free newsletter