Everything Else
The redeeming side of Kobe Bryant's narcissism…
7:00 AM EDT on May 16, 2012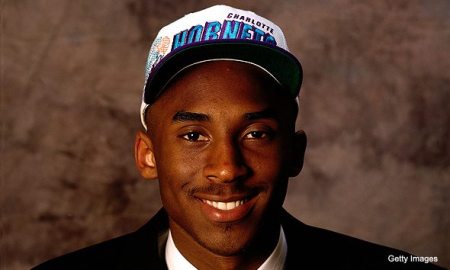 Quick quiz: What one person is most responsible for the Oklahoma City Thunder existing today?
Is it former mayor Ron Norick for laying the groundwork for the MAPS program that built what is now Chesapeake Energy Arena? Is it current mayor Mick Cornett for his dogged determination to get NBA commissioner David Stern to think seriously about Oklahoma City hosting a franchise? Maybe it is Clay Bennett for organizing the purchase of the Seattle Supersonics and mismanaging any effort to leave the team in the Pacific Northwest? Or, could it be Kobe Bryant?
I hesitate to say this because no one needs an ego boost less than Kobe Bryant, but without him, the success of the Oklahoma City Thunder never happens. Bear with me: In 1996 Bryant was only the second player in twenty years to enter the NBA draft after his senior year of high school (note: The year before Kevin Garnett started the trend.) Since it was not a common occurrence, the first twelve teams passed on Kobe before he was drafted thirteenth overall by the Charlotte Hornets.
At the time, the Hornets were very successful in Charlotte. Behind the star power of Larry Johnson and Alonzo Mourning, they sold out every game in their ginormous arena. However, Kobe's agent Arn Tellem was not about to let his teenage prodigy languish in a small market and labeled Bryant as a Hornet "an impossibility." The two strong armed a trade to the Los Angeles Lakers who had recently acquired Shaquille O'Neal from the Orlando Magic.
The rest, as they say, is history. A history that goes like this: Kobe and Shaq win a bunch of championships together. Kobe starts resenting that Shaq gets all the credit, rapes a girl, and then forces the Lakers to trade Shaq during breaks of his trial. For the next few years, Kobe tries to win every game by himself while the Lakers stink. Somehow, Los Angeles is gifted Pau Gasol who makes the team relevant again, but this time Kobe gets all the credit and he becomes super marketable again despite the fact that he had to pay a woman to drop sexual assault charges against him just a few years prior.
Meanwhile, the Hornets lose Johnson and Mourning, try to replace both of their stars with Glen Rice and become a very ordinary, uninteresting team at the same time that their wonderful owner (George Shinn) starts demanding that Charlotte build him a new arena. The fan base completely disintegrates and Shinn takes the team to New Orleans where it continues to struggle even before Hurricane Katrina hit. As refugees with no home to play games in, Oklahoma City with its viable arena sitting empty welcomes them. The team is wildly successful here, but the NBA refuses to vacate the storm ravaged city of New Orleans. That convinces local businessmen to buy the team that is most likely to relocate, the Sonics. They move to OKC, rebrand themselves as the Thunder and are now super awesome.
None of that happens if Kobe is a normal human being. A normal human being would be drafted by a borderline playoff team like Charlotte and been stoked that their dream of playing in the NBA was accomplished without having to play on a crappy team. Because of his talent, he would have given the Hornets the superstar they needed to build around, Shinn probably would have gotten his arena without alienating his fan base (who rebelled because he let Johnson walk and traded Mourning to leave them with no one marketable). The Hornets remain in Charlotte to this day, meaning the Bobcats don't exist, and Hurricane Katrina has no influence on the NBA. Clay Bennett never buys the SuperSonics because there is no local fervor in Oklahoma City, so the Sonics are still probably in Seattle being mismanaged and sucking.
Basically, the joy we in the 405 have experienced due to being a "Big League City" can all be traced back to a cocky 17-year old was not satisfied with playing for the team who drafted him. We have Kobe Bryant to thank.
I hope we can repay his kindness with a sweep.
Clark Matthews is a world-class checkers champion, co-founder, and basketball editor-emeritus of The Lost Ogle
Read More:
Stay in touch
Sign up for our free newsletter