Everything Else
Some guy broke into an OU sorority house, showered and tried on some clothes
7:00 AM EDT on April 24, 2012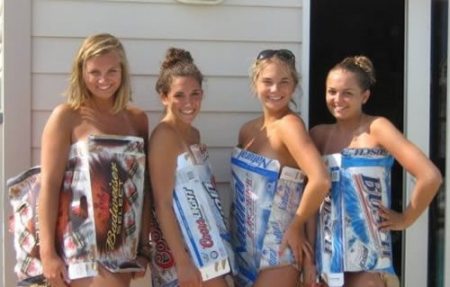 Sure I'm your resident Tulsa pundit, but when certain subjects pop up at TLO, my expertise outshines that of my fellow contributors. These topics include primetime programming, making Irish Exits out of parties, competitive Pinteresting (never mind, Clark Matthews has me beat), and the sweet, suite life of a college co-ed.
Less than one calendar year ago, I was one of these said sorority girls ("srat" as we called it). Now, I'm just a conventional twentysomething who writes for an obscure, local, social blog every Monday during my lunch break. I long for the days when drinking beer straight from the pitcher was acceptable, and even encouraged. I miss date parties. I really, really miss the Lambda Chi pledge class of 2007--they rolled up everywhere in an entourage, and there was not one of them below a seven on a hotness scale from zero to Channing Tatum.
Anyways, I can only imagine the frantic (and probably hilarious) GIN System emails circulating across campus this weekend after this story broke. From KFOR-TV:

NORMAN, Okla. – Police in Norman are on the lookout for a man who broke into a University of Oklahoma sorority house.
The suspect got in while the girls were asleep.
He's accused of doing some bizarre things inside the house.
The suspect broke into the Delta Gamma house.
This case is still under investigation and police are releasing very few details including what the man is suspected of doing inside.
One sorority member told News Channel 4 off camera that the man was able to sneak into the shower and use the girls' razors to shave his body.
He's also suspected of wearing their clothes.
No arrests have been made but police say once they track down the suspect, he'll face charges of first-and second-degree burglary.
Immediately upon hearing this, I contacted my sorority sisters and told them I'd need a little help with this story. They paused their pillow fight, lowered the volume of NSYNC's Greatest Hits album, whipped out their bedazzled iPhones, and gathered some information. Here's a few things about this incident that may or may not be true:
• The guy that broke in was supposedly an older guy, not just some drunken Beta or SAE. Intoxicated frat boys frolicking the halls of my sorority house after hours is what I called a Thursday night--certainly not newsworthy. The most bizarre thing I ever did in college was randomly make out with the hottie from my econ class in the library stacks; an amateur shenanigan compared to the other stunts I've heard through the grapevine. During my tenure at OU, I witnessed a couple getting arrested outside of Brother's for fornicating in the back alley, a pregnant stripper don a ski mask at Suger's, and someone take a dump in a front yard in front of 50+ onlookers while waiting for the Fiji Island bus. To do something truly "bizarre" in a college town is a feat worth commending.
• One source said she heard that the man was shaving his chest hair in the Delta Gamma showers.  Sure that's pretty sick, but it could have been much worse. Imagine if they had caught him painting his toenails...or waxing his nether regions...or borrowed someone's private pleasure toys.
• This sicko didn't just towel off and grab the first "shack-et" he could find. According to another pledge class friend reliable source, this guy was trying on bras and underwear. I'm going to make a few more bold assumptions about this guy--he probably owns a pair of size 13 wide platform sandals, and at least four feather boas. He may or may not troll Lake Hefner sans pants in his janky car, and he probably prefers to be called Veronica.
Follow Chelsea on Twitter at @xCawoodstock
Stay in touch
Sign up for our free newsletter