Everything Else
Lost Ogle Q&A: Michael Mason, Editor of This Land
9:00 AM EDT on March 29, 2012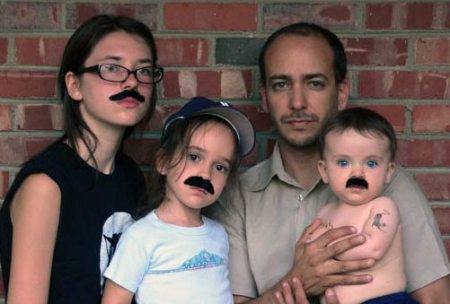 Last summer, I drove to Tulsa for a brief business trip. I went to our state's Second City for a variety of reasons, but primarily so I could:
1. Have drinks with some 21-year-old college girl who wanted to write for us
2. Grab lunch with a couple of dudes behind some "new media" upstart called This Land
3. Tell people I was actually taking a blogging business trip
Overall, the business trip was a success. We now have a Tulsa writer named Chelsea. Those two dudes – This Land Editor Michael Mason and Publisher Vincent LoVoi – took me to some trendy Brady District spot for some sort of ritualistic Pork Belly Ramen soup. And several people, including my grandparents, thought it was a big deal that I took a blogging business trip.
Anyway, that new media upstart This Land is upstarting pretty well. In addition to their bi-weekly newspaper and various blogs and podcasts, they have recently launched a new half-hour television show that's shown on their website and Cox Cable.
I sat down with the new media outlet's editor Mr. Michael Mason for a Lost Ogle Q&A. We talked about new media, This Land's possible expansion into the Oklahoma City market and about the Oklahoma City - Tulsa rivalry. We didn't talk about This Land being an advertiser on The Lost Ogle or anything, because we didn't want this to look like a shameless promotion. Because it's not.
Anyway, check it out. It's pretty good.
Q: My first question is an easy one. What the hell are you looking at on your bio page?  If I had to guess, I would say either Tulsa road construction or a bird shitting on your car.
A: Close. At the time (1989) I believe I was staring back at the Channel 5 news team.
Q: This is a two-parter. What's a new media company, and why would you choose Tulsa as a place to launch a new media company?
 A: New media simply means that we publish and distribute content in different mediums, and that we're not exclusively one kind of media. We're a magazine, a TV show, a radio program, an iPad app, a website, and most recently, the lunch menu at Cafe Antigua. We chose Tulsa because it's where all the new media people hang out, and it's where we happen to all live anyway.
Q: Tell me more about this TV show. How's that going to work?
A: This Land TV is our newest undertaking. Each week, we roll out a half-hour show that airs on Cox channels 3 & 703 (they want us to call it "The Cox" but the English major in me won't allow it). The show features several segments dealing with life and culture in Oklahoma, and we try to tell simple stories. It's sort of an antidote to reality shows, and people seem to be crazy about it.
Q: Will you let us produce a spokes model segment like the one they would show on Star Search. That's a good idea, huh?
A: I can't believe you waited until question #4 to ask. How soon can you get one ready?
Q: It seems like every day some pundit writes an article proclaiming "Print is dead! Print is dead!" yet the print piece is a big part of what you guys do. That kind of defies the current trend. What's the reasoning behind that?
A: Our approach is to simply put things in their proper medium. We print on a crisp, large, bright broadsheet and we use it to tell long stories and show large photos because paper is a much more comfortable experience than paging through a website. Print fans understand that, so they subscribe to our paper. We don't plan to have, nor want, a massive print readership because, frankly, it's ridiculous in this day and age to print 100,000 copies of a newspaper every day.  Instead, we print about 4,000 copies every two weeks, but we'll double that when we expand into OKC soon.
Q:  Wait. You guys are expanding into Oklahoma City?
A: Yes, we'll arrive in OKC this summer, and hopefully the News Channel 5 team will be there to greet us.
Q: Will your first Oklahoma City issue be a "Best Of," "40 Under 40" or something else to bring in ads?
A: We've toyed with the idea of doing a "4 under 4" issue, but we didn't want an all-Hanson themed issue. Our first Oklahoma City issue will actually feature an investigative report on The Lost Ogle. We recently discovered that your funding comes from a shell corporation in Denver, and that you share an IP address with the Oklahoman. You can't fool us, Patrick. Or should I say "Mr. Anschutz."
Q: Outside of OETA, there's really never been a true statewide media outlet. What makes you believe you guys can be the first?
A: We have all the winning signs of being a true statewide media outlet: we receive regular threats from the locals, some of us drive trucks, 50% of our workforce is female, and the Columbia Journalism Review (you know about them, right?) called us "The New Yorker with balls." What's to stop us? CJR story>
Q: That Columbia Journalism Review write-up is a little nicer than the one they gave the Oklahoman a few years ago. In a year from now, where would you like This Land to be?
A: I'd like This Land to be a Supreme Court Justice in a year, but short of that, a thriving media business would suit me fine. I'm very positive about the future of journalism; I just don't think it can be sustained by traditional means for much longer. I hope that This Land will be a place where Oklahoma's creative class can flourish, buttressed by the business of serious media, and that Oklahomans will rise up to support it.
Q: One of my favorite columns in This Land was written by Randy Roberts Potts, the gay grandson of Oral Roberts. When you guys expand here, can you see if Sally Kern's 30-something-year-old single celibate son who moved away to practice metaphysics but is definitely not gay can write a column?
A: You might be curious to know that Sally Kern is actually closer to Gay than she is to Straight. So a column by her son might be a perfect fit.
Q: One of your writers, Joshua Kline, interviewed me for a piece about the ownership change at OPUBCO, but then failed to use any of my excellent quotes in his story. Can you suspend him for that?
A: Kline has an amazing OKC-related story dropping in our April 15th issue, but we can't really let him run around not quoting people. We'll freeze his pay until we see your name dropped in his piece. If you've got a good quote about white separatists ready, then go ahead and shoot it over to him.
Q: When I met with you and your publisher Vincent LoVoi in Tulsa last summer, you showed me an old brick warehouse that was being renovated into the future home of This Land. How's that moving along?
A: Actually, when we showed you that building, we were not renovating it--the owner was. He's since decided to do something else with the building, so we're not moving into it in the foreseeable future. Our current building, however, is getting pretty crammed now that we're at about 20 employees, so we may be expanding into the neighboring building for the time being. And yes, we have a teepee, an Airstream, and a couch made from Astroturf in our backyard.
Q: You're a Tulsa guy. I'm an Oklahoma City guy. Oklahoma City is clearly the better place to live, right?
A: You and I both live in Oklahoma, the best goddam place on the planet. Amiright or amiright?
Q: Urright. In all seriousness, what do you think of the "rivalry" between the two cities. Is there one?
A: If there's a rivalry, it's merely a playful one. We've been meeting a lot of people from OKC recently, and each encounter has been outstandingly positive.
Q: Final question, have you made an executive decision yet that hasn't involved pork belly ramen?
A: Is that even possible?
Stay in touch
Sign up for our free newsletter