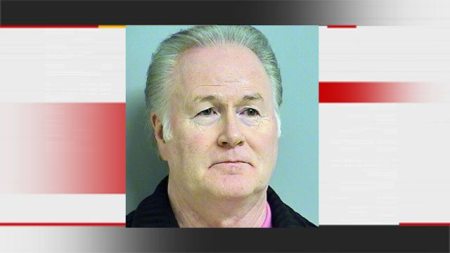 There are few things in the world more deviously satisfying than seeing an arrogant, holier-than-thou asshole get their comeuppance. This is precisely why I'm patiently awaiting the day that an illegal housekeeper introduces her lovechild with Newt Gingrich to the world via Us Weekly. Anyways, it's probably not cool or ethically sound to rejoice in someone else's misfortune, but the Lost Ogle has never been known for its pristine moral compass.
This week's Tulsa-centric douche of the week is none other than Richard Roberts, son of Oral Roberts and former president of Oral Roberts University. After consuming a few too many holy spirits, Roberts was arrested in South Tulsa for speeding and failing two field sobriety tests. I wonder if he called the owner of Hobby Lobby for bail.
From News on 6:
Richard Roberts, son of the late Oral Roberts and chairman and CEO of Oral Roberts Evangelistic Association, was arrested early Tuesday morning in Tulsa for driving under the influence and speeding.
It happened at 10 minutes after midnight Tuesday morning. Roberts was driving a 2006 Mercedes east on the Creek Turnpike, when a trooper pulled him over for speeding.
Roberts was stopped on Highway 169, just south of the 71st Street Exit.
According to the arrest report, the Trooper smelled alcohol on Roberts and said he failed two field sobriety tests. A breathalyzer test showed a point .11 alcohol level - which is over the legal limit of .08.
The trooper then took Roberts to the Tulsa County Jail where he was booked on a complaint of DUI and speeding 15 or more miles per hour over the speed limit.
Roberts is now the CEO of the ministry founded by his father - now branded as Richard Roberts Ministries.
No one was at the office when News On 6 stopped by and the ministry didn't return our calls for comment.
The University issued a statement saying "Our prayers go out to Richard and Lindsay Roberts and their entire family as they face this life challenge. May God's grace help them as they work towards healing."
It's been almost four years since Roberts was sued by an ORU professor for wrongful termination - and also accused of lavish spending at the expense of the financially strapped University.
He denied the allegations, but was forced out as President and the financial ties were severed between ORU and the Oral Roberts Evangelistic Association.
Now on his own, Richard Roberts still leads his own ministry, travels on evangelistic work and hosts a nightly television program.
Roberts posted bond and was released a few hours after his arrest. Tuesday would have been the birthday of the late Oral Roberts.
Well Dick, you're in quite the predicament here. Along with allegedly using ministry tithe money to buy yourself and your wife exotic imported cars and marketing your ministry exclusively to the naive and frightened elderly, you can now add reckless endangerment to your laundry list of wrongdoings.
What is Richard Roberts' defense going to be? That the devil made him do it, or that he mistook the communion wine for grape Gatorade? Sometimes Jesus plays tricks on me too, like resurrecting bugs I've squashed and turning wine I've consumed into throw up, but he's never once spontaneous spiked my BAC (although that would have been awesome back in my college days).
Yes, I know there's that whole saying about glass houses and getting stoned. I'm not saying I'm above expensing a leisure flight or two, but I'm self employed--not the head of a non-profit Christian organization. And I'm not saying I don't drink like a ginger named McGinty, but I also don't demand that my flock denounce alcohol. My flock does crazy things like hang out with homeless people at Soundpony, wear Chacos, play ultimate frisbee, and drink Franzia out of nalgene bottles. Jesus fits right in.
Follow Chelsea on Twitter at @xCawoodstock
Stay in touch
Sign up for our free newsletter