Everything Else
A Very Special Episode about a Tulsa carjacking incident
7:00 AM EST on January 17, 2012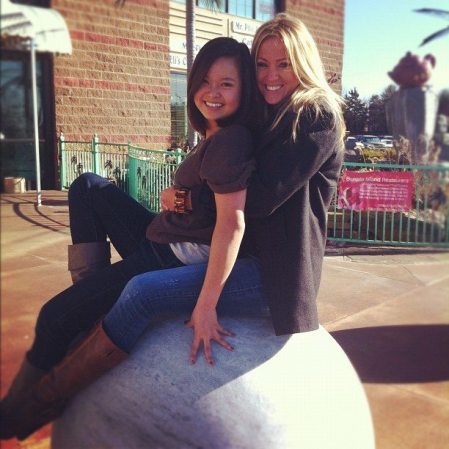 A gratuitous photo I know, but sometimes you find gems on Twitter that you just have to share with the world. Plus, I noticed posts that mention Joleen Chaney are always the most popular, and after living alone in a hotel room for eight days straight, I'm hurtin' for some sweet, sweet loving, even if it's just in the form of a few extra comments. When you spend a week with only Leslie Knope and Dwight Shrute to confide in, it drives you to silly measures.
Last night I stumbled upon an interesting article that I have a sneaking suspicion might be deleted/heavily edited/destroyed in the comment section by the time you read this post. After the jump is how the piece was written as of Monday night.
From NewsOn6:

TULSA, Oklahoma--When you're a teenager, getting your first car is a big deal. Just imagine what a blow it would be, to have it carjacked just a few months later. That's what happened to a 17-year-old Tulsa girl on January 4, 2012.
Dallas Swan graduated six months early from Union's alternative school. She was working full time, making curfew, being responsible, so her parents rewarded her with a car. They never dreamed someone would take it from her at gunpoint just two miles from home.
Dallas Swan keeps looking out at her drive-way, hoping she'll see her car, but realizes that's not going to happen. When she got her 2003 black, Ford Focus, she was beyond excited.
"Her face lit up like the sun. She jumped out of Kaylee's car and ran up and put her arms around it and was like, this is my car, this is my car," said Cheryl Swan, Dallas' mom.
Dallas and her friend Shane went to [sic] am east Tulsa neighborhood on a Wednesday night around 9:30 p.m. to pick up another friend. They were parked on the street waiting about five minutes.
Dallas says two teenage boys walked up, one stood behind the car, the other came up to the passenger side and asked to borrow their cell phone. They said sure, but when he came to give it back, he stuck a gun in the car window and demanded the car.
"He reached in my car and opened the door and pulled Shane out and threw him on the ground. I got out, then bent back in to get my purse and wallet and the gun was like an inch from my face and he said get out and I did and they took off in it," described Dallas.
They ran for help and called police, and then she called her parents. They expected she might have a fender bender someday but never expected this.
They only had liability insurance on her car, but don't even care about that, as long as she's okay.
Dallas' Christmas present was zebra seat and steering wheel covers, and she had an OSU bumper sticker on the back.
Dallas says she's more suspicious and less trusting now, a tough lesson for someone so young.
"What I thought about the most is what if he pulls the trigger. What if Shane or I get shot; what if he shoots Shane and he dies, what will I do? I Just tried to give them what they wanted so we could get out of there," Dallas said.
Dallas wanted to warn other teenagers to be more aware of their surroundings; to have a better understanding of what you can happen.
She never dreamed the boys were dangerous, because they were clean cut and about her own age.
If you see her car, call crime stoppers at 918-596-COPS.
I'm not really sure what to make of this. It reads kind of like a ABC Afterschool Special only nobody talks with their mom about birth control pills. There's a significant buildup, vivid imagery, a tactical climax, Sorkinese dialogue, a shocking twist (the carjackers were clean-cut!!) and it wraps up with a poignant moral to the story (people actually want to steal 8-year old sedans).
This article was written by Lori Fullbright. You can read her bio here, but it seems to me that homegirl would rather be writing for Highlights or maybe even My So Called Life than the crime stories she's been stuck with. Not that I blame her--it's tough writing about Tulsa's embarrassing meth-scapades week after week. I've written hard-hitting pieces on why American Idol's voting system is flawed, why shower sex is better in theory than in practice, and how Justin Bieber's "Baby" music video subtly alludes to his ties with the Illuminati, but Patrick just won't publish any of them in the name of relevance. Don't put me in a box, brah!
Also, I applaud Ms. Fullbright for doing her part to help this girl recover a car that was stolen...on January 4th. The missing vehicle that I'm sure has been chopped up by now is a black Ford Focus with exotic zebra-skin interior and an OSU bumper sticker. I think there were twelve of those outside of Leon's last weekend. The only thing missing from Fullbright's description of the most common car in Tulsa was the Hawaiian lei hanging around the rear view mirror and Chi Omega decal on the back window. Classy tricks like me with OU stickers emblems on their cars weekend at the White Owl, just so we're clear.
And if you happen to be there and want to buy me a beverage or five, holla at your number one Tulsa renegade on Twitter at @xCawoodstock.
Stay in touch
Sign up for our free newsletter