Everything Else
Craigslist Missed Connections: Tulsa Edition (2)
2:00 AM EST on January 3, 2012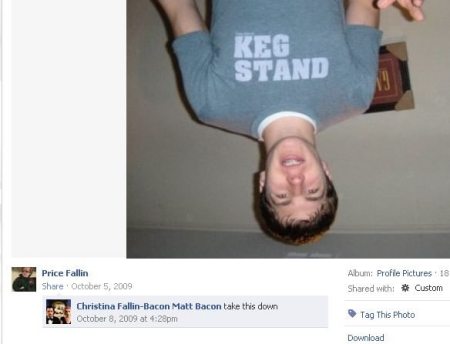 Every so often, we turn to good ole' Craigslist for some fresh (albeit depressing) inspiration.
There's no day quite like New Year's Eve that exacerbates the shortcomings in one's life and twists them all into a feeling of impending doom that threatens to last the entire year. Because of this, Craiglist's Missed Connection section doubles every January 1st.
I sifted through the masses of reality entertainment in its purest form not because I'm a cold-hearted villain in need of a cheap laugh, but because I am a true patron of the people. Readers, it's okay if you didn't get a midnight kiss, if you threw up at your wife's best friend's house party, or if you passed out in bed wearing your Forever Lazy before Ryan Seacrest's balls ball dropped. There are some people out there suffering from true quiet desperation--that the rest of us can noisily and fulfillingly laugh at.
Check 'em out...after the jump:

McDonalds (Turner Turnpike) - m4w - 21 (Stroud, OK ) :
"This is probably a REALLY long shot in the dark but what the hell. Worth a shot. 
I came through the drive thru at about 3pm today. You were working the drive thru window, 2nd window. When I pulled up, I have to admit, I was checking you out. And was waiting for you to get my food so you would open the window and I could see your face. And when you did you were of course gorgeous like I had already suspected. When you were about to hand me my food I looked right into your eyes and you looked back in mine. I have to say I felt somewhat of a connection.
If by any chance you read this please email me! I ordered the 20 piece McNuggets."
This guy seemed kind of sane until the last sentence. Twenty fucking McNuggets? Maybe instead of leaving with that statement he should have said "I was the chubby dude in the S10 who requested extra sweet n' sour sauce."
Also, I kind of want to drive to the midway McDonald's just to see what this girl looks like. I've never encountered a gorgeous fry cook before, but I suppose that's a little judgemental of me. I bet her name is Rosa.
-
Passable CD/Tgirl for hottie - m4t - 31 (midtown) : looking for passable tg/tv/cd for fun. I'm gl, in shape, ddf, straight, and hung. Weather has been awesome in Tulsa this week
Holy TGUMAI2STMTVRSDOTTAT.  That's short for "this guy uses more abbreviations in two sentences than MTV reality stars do on their Twitter accounts." Is he looking to purchase electronics from Best Buy or soliciting something illegal? Do people who frequent Craigslist understand these sentences, or is this a message board spawned language that I don't understand...kind of like bocci.
-
Cheesecake Factory New Years Eve - m4w - 38 (71st St.) : I was there with my family and you were there with yours. We were both waiting on a table. We both looked at each other. You were wearing sexy tight pants with cowgirl boots. When I first saw you, you were standing across the room then you went to the bar and got a drink then came and stood beside me. You smelled so sexy. What was I wearing?
Let me guess: pristine white Reeboks, light washed jeans, and a pullover OSU hoodie.
-
Darla for Deirdre - m4m : Deirdre, This is Darla. Don't know if you recall, but you answered one of my postings several months ago and we chatted for awhile. I was the person who was new to crossdressing and this is what our conversations concerned. I loved seeing your photos, too. My computer was fried during one of my many internet porn searches and I lost everything. I'd like to get back in touch and see how it's going with you. Thanks
Presented without comment.
Holla atchyo girl on twitter at @xCawoodstock or at Tulsa20something.com
Stay in touch
Sign up for our free newsletter