Everything Else
Meet Ron Painter: Tulsa's Grouchiest Neighbor
7:00 AM EST on November 22, 2011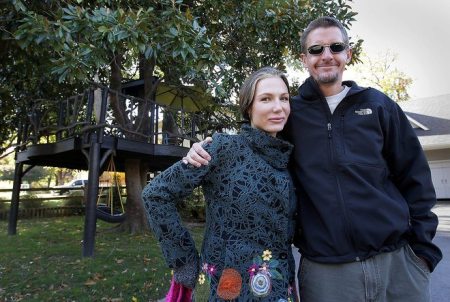 There's a lot a person can do to squander their friendly relationship with their neighbors. You could have loud sex with the windows open. You could host yard sales every single weekend. Or, if you live in midtown Tulsa, you could freak the fuck out about a tree house your neighbors built for their 6 year old daughter.
From the Tulsa World (or, skip to the end of the excerpt for the short version):

About two months ago, Eden Swenning's next-door neighbor handed her a letter.
Eden, 6, gave the letter to her mother, Melissa Swenning, who opened it to learn what she already knew: her neighbor, Ron Painter, wasn't happy about the treehouse the Swennings had built in their front yard on Terwilleger Boulevard.
In the letter, dated Sept. 8, Painter writes that he has confirmed with the city that no such structure could be built in the front yard.
"I wish you had asked us about building a playhouse/treehouse before construction began; we would have been glad to assist you in coming up with something that meets the zoning requirements," Painter wrote.
A short time later, the Swennings received another letter, dated Sept. 9, this one sent to their bank.
It was a notice from the city's Working in Neighborhoods department.
 An inspector, prompted by a complaint filed by Ronald Painter, had visited the treehouse and found that the Swennings had violated a city ordinance by constructing the treehouse in their "required front yard" without first getting a permit.
Melissa Swenning said she couldn't believe it.
"It troubles me, in general, that we have become a community that is so burdened with technicalities and legalisms," Swenning said. "Common sense doesn't matter anymore. A handshake doesn't matter anymore."
Painter, contacted by phone last week, said he never intended to make a big stink about the treehouse.
"It is really a safety issue," Painter said.
Melissa Swenning and her husband, Todd - with the help of family friend Taylor King - had the treehouse constructed around a lush magnolia. The idea was to get it built in time for Eden's sixth birthday in July.
Before doing anything, the Swennings checked with city officials to make sure they could build the treehouse where they wanted to build it.
The project presented a challenge to planning officials because treehouses are not specifically addressed under the zoning code. In the end, at least two city officials told the Swennings they could go forward with the treehouse without getting a permit.
So build it they did, and on her birthday, Eden and her friends climbed the wooden steps of the treehouse for a tea party.
But then came Painter's complaint, followed by the visit from the city inspector, who viewed the treehouse differently from the city officials the Swennings had spoken to before building it.
"Based off our measurements, we determined that the treehouse was in a required front yard, which is a violation of the code," Field Supervisor Kevin Cox said.
Cox explained that in each residential zoning district there is a required setback - or required front yard - from the center line of the street and that within that space certain structures cannot be constructed without a permit or special exception from the Board of Adjustment.
Because treehouses are not mentioned in the zoning code, the inspector classified it as playground equipment, which is among the structures specifically prohibited in required front yards.
Confused by the conflicting messages they were receiving, the Swennings headed back to City Hall, where two other city officials told them they did not believe a permit was necessary and that they should appeal the notice of violation to the BOA.
On Tuesday, the five-member board voted unanimously to overturn the inspector's finding.
"The city created a terrible problem," board member Clayda Stead said. "These people were willing to get any permits they needed. They went to at least three people connected to the city and were told they could build it.
"As far as I'm concerned, it was built and it's up to this board to straighten out the errors."
In a letter to the BOA, Painter cited six reasons why he did not believe the treehouse was appropriate, beginning with his understanding that such structures are not allowed in required front yards.
That was followed by Reason 1A: "If there were a number of kids eating (in the treehouse) when a car swerved out of control, it would be a disaster."
Then Reason 1B: "The unsightliness of the treehouse. If everyone on the entire street, both sides, were to build exactly the same structure, the entire neighborhood would be an eyesore."
Painter ends his letter by requesting that the treehouse be moved to either the side or back yard.
In the end, Melissa Swenning said, the city "served the children well."
Still, the Board of Adjustment's ruling has brought her little satisfaction. The 38-year-old yoga instructor and mother of three said her intent was to create a healthy outdoor environment where her children and their friends could play.
She said she's accomplished that but only after an often confusing bureaucratic struggle that took a lot of time, a bit of money and more than a few knowledgeable friends to wage. Most people aren't in a position to put up such a fight, Swenning said.
"I think there needs to be a clear way to understand, from the public point of view, how to jump through these hoops, because there are a hell of a lot of them," Swenning said. "I couldn't have done it without Taylor. I would have been buried alive in those papers."
Cox, meanwhile, said that ultimately the process worked as it should.
"The property owner has the right to appeal the notice, and in this case, the property owner appealed and the Board of Adjustment agreed," Cox said.
If the story was a little long to get through on a Tuesday morning, I'll give you the Layman's version: Happy family builds tree house for 6 year old daughter. Grumpy old neighbor gets pissed and gives the 6 year old a legal document saying he's not happy about the tree house. Family hires lawyer friend to help them sort through legal issues. Tulsa officials couldn't figure out who to side with, but ultimately ruled on the side of children and tea parties. Family is happy again. Grumpy old man looks like an asshole.
Now, I'm not a homeowner, or a snob, or a confrontation-fearing pansy, so I have trouble relating to Ron Painter in this situation. Not only is his number one argument contingent upon extreme circumstances ("If there were a number of kids eating (in the treehouse) when a car swerved out of control, it would be a disaster,") but this Grinch didn't even have the balls to talk to the homeowners directly. Instead, he mules this letter through a Kindergartener who just wants to play dress up and have tea parties with her stuffed animal friends. What a little bitch.
Aside from sounding eerily similar to an episode of Desperate Housewives, I can't think of a better example of a "white whine" than this particular scenario. Is Mr. Painter really going to let a structure adjacent to a tree ruin his year? It seems like an odd thing to get worked up about. This article doesn't mention any other neighbors bothered by it. Since Ron Painter is so concerned with his home's appearance, we can reasonably infer that he spends time trimming his rose bushes and fertilizing his mums--why isn't he concerned about a "car swerving out of control" and hitting him? The tree house in question doesn't exactly resemble Pee Wee's Playhouse. It was tastefully constructed, not made from cardboard boxes or taken straight from Fischer-Price's factory. The tree house (which to me, looks more like a raised patio) is painted a subtle color, is ensconced by a perennial tree, and encourages a child and her friends to play outside rather than sit indoors and watch Spongebob. Horrifying, I know.
Additionally, this home is located in one of the most historical and prestigious areas of Tulsa. Yada yada, I get the whole argument about "property value" and how it might be affecting others--but to me, it's kind of like bitching about a hot dog stand outside of the White House. Many people living in midtown mansions have kept those houses in their family for generations. With all of the ponds, Virgin Mary altars, Range Rovers, and mother-in-law guesthouses, a tree house hardly stands out. If you're a realtor and have trouble selling a million-dollar home that overlooks Woodward Park, well, maybe you should consider changing professions.
Mr. Painter strikes me as the kind of guy who as a child tattled on his classmates for chewing gum and cried during dodgeball. He probably grew up to be a teenage that got a brand-new Mercedes at 16 and threw a bitch-fit when it was silver and not black. Whiney children and teens grow up to be busy-body, entitled adults that try to boss their neighbors around over issues that have absolutely no impact on their day-to-day life.
The Swennings will go on with their lives. They'll watch little Eden go from playing with dolls to reading chapter books, and one day making out with her first boyfriend in the tree house built with love by her hands-on parents. Meanwhile, Scrooge Ron Painter is doomed to a life of narcissism, frustration, and grandchildren sure to hate him. I mean, what kind of a dick makes a big deal out of something as insignificant as this? Good luck if Painter ever wants to rebuild their shared fence, address an erosion problem, or if his house catches fire--I don't think the Swennings will be sending over a Christmas fruit cake or invitation to a neighborhood BBQ anytime soon.
As so it is: just another day in midtown Tulsa suburbia.
Holla atchyo girl on Twitter, @xCawoodstock
Stay in touch
Sign up for our free newsletter