Everything Else
Ranking the top 12 reality stars from Oklahoma
10:00 AM EST on November 10, 2011
No genre of television has become more popular over the past 15 or so years than reality television. Whether it's watching people in wife-beaters get busted on COPS or tribal councils on Survivor, America can't seem to get enough of it. Real Housewives of Nichols Hills isn't a thing yet, so here's my best effort at ranking the Oklahomans who've most penetrated the country's consciousness on reality TV shows.
1. Carrie Underwood -- American Idol
The highest earning artist ever to come from the most popular and influential singing show in history, the Checotah native is an easy choice for #1. Her rise from obscurity to worldwide fame was so rapid, I'm willing to forgive the momentary lapse in judgment when she dated Tony Romo.
Other Idol choices: David Cook, George Huff
---
2. Rick Bayless -- Top Chef Masters
Anyone who watched Rick Bayless win Top Chef Masters and didn't know he was Skip Bayless' brother would be completely floored upon finding that fact out. They are polar opposites. While Skip is a brash, egomaniacal attention hound, Bayless is gentle and genial, and makes what looks to me to be mind-blowingly good food.
---
3. Danny Cahill -- The Biggest Loser
I have never seen this show, but this Broken Arrow native won Season 8 of The Biggest Loser. Along the way, he lost 239 pounds, which is insane, but what if I told you that isn't even his biggest accomplishment? That's right: according to his bio, in 1996 he was in a band voted Best Band in Greece! Can you believe it?! Sure, it doesn't say who voted for it, but if I know anything, it's this: Greek people are musical geniuses. Also, they really know how to run an economy.
Other Biggest Loser choices: Neil and Amanda Harner, Daris George, Lisa Mosley, Allie Ishcomer, Sean Algaier, and Dan and Don Evans. Good grief! Basically something like 5 out of every 7 Biggest Loser contestants are Oklahomans.
--
4. Chris Harrison -- Host, The Bachelor, The Bachelorette, and Bachelor Pad
I'm so old, I can remember when this guy was doing the sports with Bill Teegins at Channel 9. He might be more famous now, but his new gigs seem like downgrades to me. Bill Teegins was way classier than any of The Bachelors or Bachelorettes. Not sure what Bachelor Pad is; I can only assume it's just Chris Harrison narrating Patrick's everyday household activities.
---
5. Kahlen Rondot -- America's Next Top Model
Another Broken Arrow native, she was the runner-up on Cycle 4 of America's Next Top Model (Why don't they just call it Season 4?) and judging from a cursory google search, many people feel she was screwed out of the title. According to her facebook page, her favorite movie is Waiting For Guffman and favorite magazine is Rolling Stone, which makes her a-ok in my book.
---
6. Jet and Cord McCoy -- The Amazing Race
I watched both seasons they were on -- the one in which they were finalists and the "Fan Favorite" all-star season -- and these guys are awesome. They were relentlessly positive and always had a smile on their face, even when they had to eat a disgusting amount of cheese fondue in Austria. Anytime something daunting is in my way, I quietly mutter "Oh my gravy" in honor of Jet and Cord.
---
7. Kayne Gillaspie -- Project Runway
I vaguely recall this Norman-based designer's elimination being a total screwjob, but to be honest I've slept a lot since then and Project Runway really isn't required viewing for me. Even if he was screwed at least now he gets to do stuff like hang out with Jaime Cerreta. That seems like a pretty good consolation prize to me. Also, on his wikipedia page it says he's recently released a new line of "dog couture." I don't know what that is, but if it is what I think it is -- clothes for dogs -- he gets dropped to the bottom of this list on principle alone.
p.s. - He finished fifth in "Worst Douche Bag" voting in our 2011 Worst of OKC.
---
8. John Paul Merritt -- The Bachelorette
This guy was the runner-up on The Bachelorette. I was about to make fun of him for that, but then I thought about how it meant I'm the guy who spent his day blogging about the runner-up on The Bachelorette, and there isn't enough liquor in the world to tackle that truth.
p.s. - He was named THE Worst Douche Bag in our 2008 Worst of OKC.
---
9. Skipper Bivins and Trent Jackson -- Hillbilly Handfishin'
There are very few sure things in this life, but here is one: You will never see me noodling. It reminds me of that scene in Seinfeld where Jerry is talking about Chinese people: "They're hanging in there with the chopsticks,aren't they? You know, they've seen the fork! They're staying with the sticks. I don't know how they missed it. Chinese farmer gets up, works in the field with a shovel all day. Shovel. Spoon. Come on. You're not plowing 40 acres with a couple of pool cues!" That's the way I feel about noodlers. They know fishing poles exist, right? You don't have to risk some prehistoric fish eating off your fingers if you don't actually want to.
---
10. Sam Bradford -- Design Star
Ok, ok, not really Sam Bradford, but David Bromstad, season one winner of Design Star looks exactly like him, right? It's not just me? It's an uncanny resemblance. Is the real reason Bradford only has three touchdown passes this season because he's been busy painting his living room?
For real at number ten, I'll go with:
Kellie Clements -- Design Star
She was on this most recent season of the show, and didn't win but went pretty far. Her portfolio is seriously pretty cool, so if you're in Edmond and need someone to design your interior decor, call her, I guess.
---
11. Mikey Burnett -- The Ultimate Fighter
This guy was on Season 4 on The Ultimate Fighter, and is best remembered for enhancing the reputation of MMA fighters everywhere by repeatedly drunkenly slamming himself into a wall. Some NSFW language in that video, by the way.
Other Ultimate Fighter choices: Gerald Harris, Matt Wiman, and Josh Bryant.
---
12. Shelly Spottedhorse -- Road Rules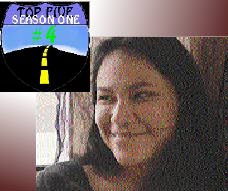 This OKC native was on the first season of Road Rules. According to this "Where Are They Now" type website, she, at present, "no longer works at a freight company," which means I finally have something in common with a reality tv star.
Other Road Rules choices: Sarah Greyson
---
Complain about these rankings in the comments and tell me which obvious people I've missed. I've intentionally left out those who were famous but subsequently starred in reality shows, like Bryan Abrams (Mission: Man Band), Gary Busey (Celebrity Rehab, Celebrity Apprentice), Jesse Jane (Bad Girls Club), and Wayne Coyne (Extreme Home Makeover).
Stay in touch
Sign up for our free newsletter