OKC Media
RIP: Ranger Roger
10:29 AM EDT on October 31, 2011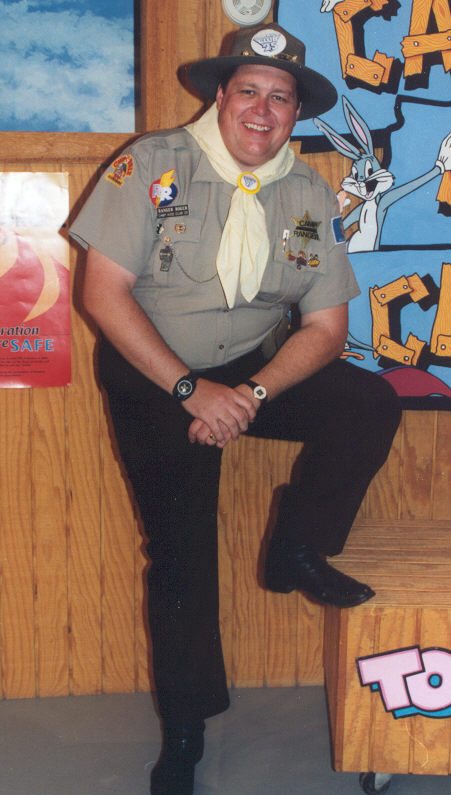 This sucks. We have learned that Oklahoma city broadcasting legend Mark Barragar has passed away. Mark was a Master Control Operator at KOCO and an Elvis Tribute artist, but he is perhaps best known for his portrayal of Ranger Roger on the Fox 25 Camp Kids Club during the 1990's.
Here's a snippet from an online bio about Mark:
Mark became "Ranger Roger," the character he had created in his mind several years prior. He played that character from September of 1991 to 1998. The "Camp Kids Club" ran at 6:30 on Saturday mornings. He made public appearances at schools, libraries, museums and theaters all over Oklahoma. He spiced up his role by adding some magic tricks of his own, just to hold the attention of the kids. So his road show was called, "The Magical Fun and Safety Show".
"They loved each magic trick," Mark said. "And at personal appearances kids would come up to me and say, 'Hey, I learned how to do that trick from your show.' That was pretty neat."
Near the end of his Roger Ranger days, he was experimenting with other jobs. He became the ring announcer for the professional wrestling matches that came to town. And, for a brief time, he even stepped into the ring as a wrestler.
"I didn't like wrestling at all. And the kids still recognized me as Roger Ranger. So I quit that form of acting for one I liked much better."
That was his role as an Elvis "tribute artist," billing himself as the "King-sized King," a hunk of burning love. A very big, 400 pound hunk.
I was a bit too old to watch Ranger Roger, but my little brother who is 13 years younger than me sure wasn't. He would watch Ranger Roger every Saturday morning. I remember one year his Tiger Cub group (or soccer team) even appeared on the show. During the taping, Ranger Roger asked each kid to name their favorite Fox 25 cartoon. My little brother anxiously answered "Garfield." That was probably an okay answer, but the problem was Garfield wasn't a Fox 25 cartoon. Ranger Roger then put his finger in my brother's face and yelled "I said 'Favorite Fox 25 cartoon' you stupid shit." He then stormed off the set and was never heard from again.
Okay, that was a lie. My little brother did say "Garfield," but Ranger Roger didn't get mad or anything. He just continued down the line, individually asking little 5-year-old boys and girls to name their favorite cartoons. I, on the other hand, still make fun of my little brother for not mentioning a Fox 25 cartoon. Maybe that's why he won't return my phone calls, and maybe that explains why he waits tables at Chili's and is a member of some ghey fraternity at UCO. That proves two things. One, I'm immature and annoying. Two, Mark Barragar was a much better person than I'll ever be.
Anyway, our condolences go out to Mark's family, friends, co-workers at Channel 5 and all his colleagues on the Elvis impersonator circuit. His obituary and online guest book are located here, just in case you'd like to share any thoughts or memories.
Stay in touch
Sign up for our free newsletter