Everything Else
Oklahoma Porn Star Bibi Jones was used by Gaylord Sports Management to "recruit" athletes
12:30 PM EDT on October 27, 2011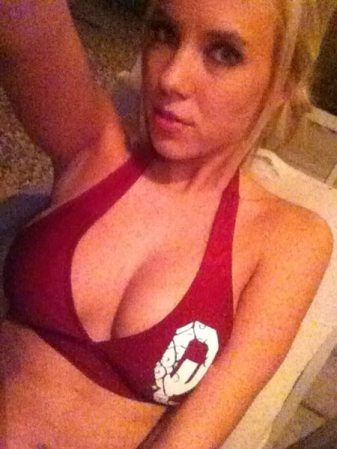 According to FreeOnes.com, a website so not-safe-for-work that I won't link to it, three of the 100 most "searched" porn stars in the world hail from the Oklahoma City Metro. They are:
#74: Jesse Jane
#18: Ashlynn Brooke
#1: Bibi Jones
You read that right. The most searched porn star living on our planet is Moore-native (and Westmoore graduate) Bibi Jones. How'd she earn this distinction? Well, she's attractive, appeared on the cover of Hustler and claims to have had sex with numerous athletes. In fact, she recently made news in New England after a photo of her and a shirtless Patriots start tight end Rob Gronkowski appeared on Twitter.
Well, here's something else we just learned about Bibi Jones. She was "used" by an agent for Phoenix-based Gaylord Sports Management to help land new clients. From Business Insider:
Terry Bross of Gaylord Sports Management is the guy porn star Bibi Jones was talking about when she said she an agent used her to land potential clients, a source with direct knowledge of the situation told us.
Bross declined to comment on the allegations through GSM's lawyer last night.
Earlier this week, Jones explained in detail how an agent (who we now know is Bross) took her out to bars with MLB players after almost every Arizona Diamondbacks game in the spring and summer of 2010.
While she wasn't expected to have sex with players, Jones slept with "over 10" guys, a "couple" of whom she believes signed with Bross.
However Bross only signed one major client in 2010, Atlanta Braves second baseman Dan Uggla — whom Jones said she slept with in a radio interview on Monday.
Uggla switched agents and signed with Bross on July 28, 2010, three weeks after a road trip to Phoenix to play the Diamondbacks.
"He would kind of use me to get baseball players to sign with one of his agents," she said about Bross on Monday.
Bibi was never paid by Bross. And when she described to relationship to us, it appeared more social than business.
"It was just like I was arm candy for him. I was the one that wanted to hook up with these guys," she said.
Nonetheless she says they "both knew what [they] were doing."
According to Jones..."He would just take me to a bar and introduce me after a Diamondbacks game in Arizona. You know, baseball players would come and I'd introduce myself. And then I got to hook up with baseball players and have fun. It was like a dream come true because I love athletes and baseball's my favorite sport."
In case you care, Gaylord Sports Management is owned by E.K. Gaylord II. Yes, that E.K. Gaylord the II:
E.K. Gaylord II is Chairman of Gaylord Sports Management and is on the Board of Directors of Gaylord Entertainment Company and Smithsonian Institute...
E.K. served as Gaylord Entertainment's Chairman of the Board from May 1999 through April 2001 and interim president and chief executive officer from late July until September 2000...
He was president of Oklahoma Publishing Company from June 1994, until December 2002, and also served as president of Gaillardia Golf and Country Club in Oklahoma City...
He was the builder and owner of the nationally known Lazy E Arena, a premier western entertainment facility and home of the Timed Event Championship of the world and also the original Bullnanza event...
E.K. is a graduate of Casady School and Texas Christian University. The son of the late Edward L. and Thelma Gaylord, he currently lives with his wife Natalie and their four sons in Paradise Valley, Arizona.
Wow, the former president of OPUBCO and a flagship member of the Gaylord family manages a company that **allegedly** uses the services of an Oklahoma porn star to recruit and sleep with prospective clients. Say what you want about the Gaylord family, but at least they are loyal to people from the Sooner State.
On that note, I should probably mention that I've been thinking about dusting off the Louisville Slugger, batting helmet and breaking in a new glove Jim Traber-style and attempting an MLB comeback. Is it considered a comeback if you've never played the game? I don't know. Also, Clark Matthews is looking for a new checkers agent after his last one blew a merchandising deal with Hasbro. Maybe Gaylord Sports Management would be a good spot for us to land?
Also, I guess this pretty much confirms those rumors that the Gaylord family used the services of gay porn stars to recruit current Oklahoman publisher Chris Reen. Actually, I'm kidding about that. Even though he's a big fan of Wimgo.com and comes across as a major douche bag, we don't think Chris Reen is gay or has ever slept with a gay porn star. However, he does kind of look like former baseball player Billy Bean. Not that there's anything wrong with that.
Stay in touch
Sign up for our free newsletter