OKC Media
The Mike Morgan Drinking Game
10:00 AM EDT on May 31, 2011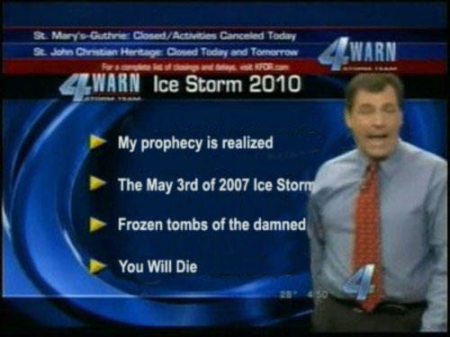 The Mike Morgan drinking game was created in May of 2011. It's dated and could use an update...
Pregame:
Before the game starts, you need to determine who is "Mike Morgan" (if you were playing asshole, this would be the President) and who is "Rick Mitchell" (the asshole equivalent to being the Asshole.)
How to pick Mike Morgan:
For each person playing the game, put a necktie in a paper sack. Make sure that one necktie is sparkly and bedazzled.  Each player then blindly grabs a tie out of the sack.  Whoever grabs the sparkly bedazzled tie must wear it for the entire game and has the title of Mike Morgan.  As Mike Morgan, you oversee the rules and instruct the players when it is time to take a drink.  You can appoint one player as David Payne to assist you in keeping track of drinks.
Additionally, as Mike Morgan you can make one additional rule (like the little green man on the beer or make yourself Thumbmaster) for each time the National Weather Service issues a new tornado warning.
How to pick Rick Mitchell:
Before the severe weather coverage begins, each player guesses how many Oklahoma counties are currently under tornado and severe thunderstorm watches.  The person whose guess is the farthest off is named Rick Mitchell for the duration of the game. Rick Mitchell's job is to get and refill drinks for all other players and complain that Channel 5 doesn't have its own helicopter.
Once you determine who is Mike Morgan and who is Rick Mitchell, you can play the game.  Here are the basic rules:
Take one drink every time Mike Morgan says:
Apocalyptic  –  Bob Moore Chopper Four  –  Clear Channel Radio  –  Concho  –  Death and Destruction  –  Debris Ball  –  Doppler Radar Network  –  Heavy Danger  –   Lookeba  –  Low Level Lock  –  Mile Marker 119  –  Moore  –  Out of the Way  –  Significant Damage  –  Wind Shear  –  The Window of Safety is Closing!  –  Violent Rotation
Take two drinks every time Mike Morgan (or David Payne) uses one of the following words to describe a tornado:
Barrel  –  Deadly  –  Double Box  –  Elephant Trunk  –  Gate to Gate  – Grinder  –  Large Wide Swath  –  Killer  –  Massive Grinder  –  Maxi   –  Mezzo  –  May 3rd, 1999  –  Mega Grinder  –  Mega Wedge  –  Multi-Vortex  –  Super Grinder  –  Tree De-Barker  –  Violent  –   Vortex  (Or Vortices)  –  Wedge
Take three drinks whenever:
– David Payne defies death
– Emily Sutton sounds disappointed that she was sent to the weak storm
– Jim Gardner lands Bob Moore Chopper 4 to assist a family
– Mike Morgan suggests that the Highway Patrol shut down a major highway
– David Payne reports that he smells pine
Take four drinks whenever:
– Mike Morgan welcomes the national viewing audience on MSNBC
– Bob Moore Chopper 4 has to stop to refuel
– David Payne gets sucked up into the tornado…and lives to tell about it.
– The first viewer submitted photo of piece of hail next to a ruler appears on the screen
– If you're lucky enough to see Joleen Chaney
Optional Rules:
The Tornado Cocktail
First, mix a Tornado Cocktail. Here are the instructions: Take 1 oz whiskey, 1 oz rum, 1 oz 1800® Tequila, 1 oz vodka, 2 oz Coca-Cola®, 1/2 tbsp sugar, 3 ice cubes.  Mix everything except cola, sugar and ice in a glass. Stir in the sugar, add ice cubes, and pour in coca-cola. Stir three times.
The first time an overturned tractor-trailer is shown on the TV, everyone must yell "Hook Echo."  The last person to yell "Hook Echo" must down the entire Tornado Cocktail.
Pick a Storm Chaser
1. Yeah, this is also in the Gary England game, but you may want to add it in.  Everyone selects a storm chaser other than David Payne. Every time Mike talks to your storm chaser, you take one drink. Take two drinks every time we see footage from your storm chaser. Take three drinks if your storm chaser says "tornado on the ground."
The Siren Stare
If the tornado sirens go off where you are playing the game, everyone finishes their drink and goes outside to stare at the storm.  If you see a maxi multi-wedge grinder, either go underground or get out-of-the-way.  Otherwise, go back inside and continue playing.
End Game
The Mike Morgan Drinking Game ends when one of two things happens:
1. KFOR returns to regularly scheduled programming...unless that programming is Jeopardy!.  In that case, you just wait until the next Severe Weather cut-in.
2. "Rick Mitchell" or any other player dies of alcohol poisoning.
-
Anyway, I hope all you KFOR viewers enjoy the drinking game.   If you're bored, here are links to our other popular drinking games we've created:
The Gary England Drinking Game (Winter Rules Edition)
And of course, if you want to see the original drinking game that started it all, go here.
Stay in touch
Sign up for our free newsletter