Everything Else
For Sale: Jim Traber's Cell Phone Number
8:00 AM EDT on May 23, 2011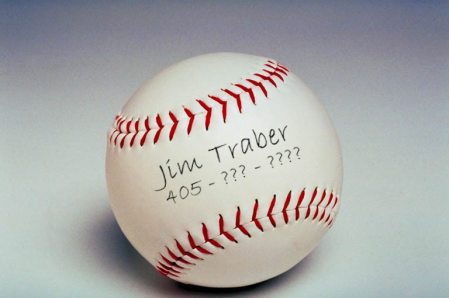 Well, it looks like the Ogle Mole Network has delivered again.
This time, though, instead of providing us with images of a celebrity vandalizing Downtown Oklahoma City or a bad sports logo, it has provided us with something that's both scary and sacred: Regular Jim Traber's cell phone number!
Yes, we are now in possession of the best, easiest and most efficient way to contact (and perhaps annoy) the ultimate sports mind yardbird.  And what are we going to do with this newfound power???  Sell it on eBay.
No lie, you can right now bid for a baseball with Regular Jim Traber's REAL cell phone number scribbled on it (as of May 22nd, 2011) . It's the "ultimate" gift.  You can use it to play catch, throw at squirrels, or just as a simple reminder that it's time to prank call Regular Jim Traber.
If you haven't yet, you can go ahead and view the auction here.  If you want to read the story behind it (and Exhibit #324 why Jim Traber is douche bag tool), keep on reading.
Update 1: The auction has already been removed from eBay because "You listed a phone number. The FCC prohibits the sale of phone numbers, even as a bonus in a listing!" Well this sucks.
Update 2: All that stuff mentioned above was a just a joke or something.  We are now selling Jim Traber's Lost Baseball.  It's just a baseball we found that has the name "Jim Traber" on it along with 10 "random" digits.  Who knows what those number represent. You'll have to bid and do your own research to find out.
Update 3: Our eBay account has been suspended due to "suspected fraud."  Hmmn.  If we can't sell the baseball on eBay, what will we do with it?
As we mentioned above, we obtained the number through the Ogle Mole Network. This email from the Mole explains the situation.  Most of it is [sic]:
I have a story that you might be interested in involving Jim Traber. I have a friend who for the last few months has been e-mailing Traber at the Sports Animal about the Packers beating the Steelers in the Super Bowl, and the Lakers in the playoffs.
(He was) just messing around with Traber and getting him riled up. Jim could not handle the e-mails anymore and told my friend to stop e-mailing him about sports or he would contact his boss at McCloud Telecom and get him fired. My friends e-mail is through McCloud telecom he does not work there.
I told my friend just give traber my cell phone number and your fake bosses name (I choose the name Larry McBride). So a few days later Traber calls me and tells me about the harassing e-mails that my employee is sending him. I tell Traber we really have been having problems with this guy and this is the last straw and because of this we are going to fire him. Traber says that's OK with me you have my cell number if you need me let me know.
So Traber thanks he has gotten someone fired for taking sports with a sports talk radio host. Traber then goes on the radio a few days later and brags about how stupid the guy is for giving out his bosses phone number and that he got him fired. I still have Trabers cell # if you want it. Could you please blog about how Traber was tricked or just continue the joke by taking the Larry McBride name and do what you do.
The Mole provided a screen shot of one of the email exchanges.  It's only a sampling of what I assume is a larger conversation, but read it and tell me who sounds like the aggressor bully: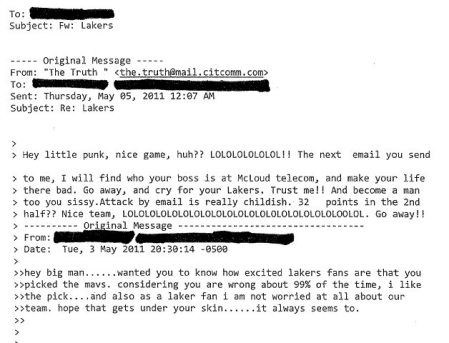 Call me crazy, but if someone is bothering you so much that you call them names and want them to lose their job, maybe you should just ignore that person. You know, just not reply to their email or something.
However, what you should probably not do is reply to their email a few days later with the opening line "Hey little punk." You should also not call them "childish" right after telling them to you are going to "make their life bad."  Then again, I'm a logical human being and not an hypocritical blowhard clueless sports talk host.
p.s. - I hope Traber gives us props for acting like civilized grown ups.  The childish thing to do here would be to call Jim and pretend to be Cal Ripken Jr. wanting to have phone sex. The wise grown up thing is the sell it on eBay.  Being a grown up is cool.
Stay in touch
Sign up for our free newsletter