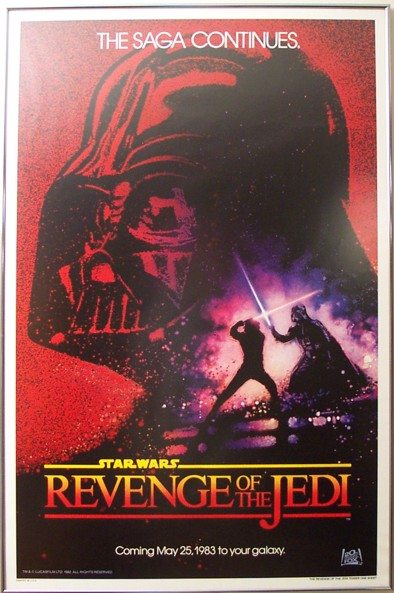 Here's a fun fact for you. The original title of the Ewok-infested "Return of the Jedi" was actually "Revenge of the Jedi," but just a few weeks before the movie was to be released, George Lucas changed the name. The reason? He didn't feel revenge was a Jedi concept.
Well, apparently Jedi OKC member Ryan McKinley is either a really bad Jedi Knight or the club's equivalent of Chancellor Palpatine, because revenge is what he seeks. Check out the real email he sent to our loyal advertisers in response to our Jedi OKC Meeting Minutes post:
My name is Ryan, and I live in Edmond.  In Oct. 2009, one of your advertising outlets, "The Lost Ogle", posted a cruel article about a local community service group.  The group, JediOKC, uses Star Wars to reach out to the community, raise money for Integris Childrens Hospital and the MDA.   When our members attempted to clarify our club's purpose in letter form Patrick from The Lost Ogle put up a new article on Aug. 31, 2010, further speaking meanly and profanely about our organization and its members. I could only guess as to his motives, so I will not speculate.
However, the posts by "The Lost Ogle" blog seems to be establishing a practice of using their public forum to vent personal vendettas, and they are using your money to do so.  I know that the blog is meant to be a satire/humor site, but with the cruelty of their recent posts, I felt you should be made aware of this fact as you spend precious profits supporting this blog.  I know that you are not personally responsible for the content of the site, but I feel that you have a decision to make about what sort of venues wishes to fund.
Yours,
Ryan McKinley
Edmond, OK
Wow. I'd like to thank our advertisers for sharing their "precious profits" with us and standing by us during this "controversy." Because of your support, we at The Lost Ogle are filthy rich. In fact, Clark Matthews just bought a lake house on Endor and I purchased the Mos Eisley Cantina. We appreciate your support.
Since that's out of the way, and to make it so that no one else has to guess or speculate about my sinister motives, let's now address that email.
First, let's just go ahead and assume that I have this long list of personal vendettas. Does Ryan really think that one item on it would be to settle some score and bring down the local Oklahoma City Star Wars Club? That would be embarrassing.
In fact, how do you even get a personal vendetta with Jedi OKC? Does a storm trooper have to cut you off on the Broadway Extension? Does your girlfriend have to suddenly leave you for an X-Wing pilot? Or could it be something as simple as a man wearing a Lando Calrissian cape walking across your lawn? Someone should investigate.
Obviously, Ryan doesn't really understand humor very well. We didn't make fun of him and his fellow Jedi to be cruel or mean. We also never made a negative comment about the good work they do for the community. We simply wrote about them because it's a quirky funny topic.
You see, a lot of people visit this site for its occasional satire and humor, and making fun of a bunch of grown men who dress up as Storm Troopers, play with light sabers and use "Yoda" as their safe word in the bedroom is pretty easy material. Hell, Jedi OKC could even discover a cure for Aids and donate Han Solos's bounty to Haiti and we'd still find a way to make fun of them.
Anyway, I hope this response ends our galactic battle with Ryan and the rogue members from his group. I'm sure a lot of Jedi got a kick out of the post and even laughed a little.  Maybe they'll start a thread in their forum about blogger stereotypes and what it's like to live in your mother's basement. Maybe they'll even buy a Volkswagen or a cool OU shirt or a beer at the Speak Easy. We'd appreciate that.
p.s. -The Jedi-douche who wrote the email has published a childrens book called the Pirate Bride. Seriously. We would make fun of him for that, but I don't think we even need to. We'll just let the facts speak for themselves. Plus, Lindsay Rubac at Bella Strada Salon really likes pirates, and we don't want to piss off an advertiser.
Stay in touch
Sign up for our free newsletter