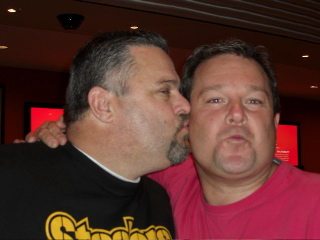 Last week, we pointed out that Regular Jim Traber is now openly asking for businesses to sell ads on his website. We were curious about how much an ad would cost, so we sent him an email asking for rates.  His reply was a very simple and blunt "LOL."  Knowing that Regular Jim probably wouldn't share his ad rates with us, we asked our readers to try to find the rates instead.  Fortunately for us, that's exactly what a reader named Brain decided to do.  From the mailbag:
Dear The Lost Ogle,
I recently read your article about Jim Traber's website which wasn't even worth the effort of laughing at.  So I decided to follow your advice at the end of the article in hopes that I would be able to provide some good insight.  So I fabricated an elaborate story and got a response from Jim.  I think both you and your readers will be appalled at the response"¦
Hope you enjoy it.
- Brian
Here's the email that reader Brian sent to Jim:
Jim,
Big fan.. listen to your show every afternoon. I am one of your 50/50 listeners. Agree with you half the time, respectfully disagree the other half. The reason I am e-mailing you is because I am in process of opening a new restaurant in North OKC with the hopes of expanding to Bricktown within a couple of years. Hopefully, once I get going, I can get you out for a remote! Anyhow, I am on a limited budget, but would like to purchase some ad space on your website. I'm staying away from radio and TV ads for now because of the high expense. I'm hoping that your rates aren't as high as they are. Can you give me an idea at what your rates would be, or at least get me in touch with someone who can provide this information? Thank you in advance for becoming a future business partner. I look forward to hearing from you and, if all works out, working with you.
Devoted Fan,
Brian
Here's Regular Jim Traber's reply:
From: the.truth@mail.citcomm.com
Hey Brian, Rates On jimtraber.com range between 250 to 500 dollars per month. Send me Your cell number, and we can talk! Jim
$250 to $500 for an ad on Jim Traber's website?  Now that's what I call "LOL."
Seriously, I'm not even sure what is funnier. The fact that an ad can cost up to $500, or the fact that Jim Traber's work email address is the.truth@mail.citcomm.com.  Next thing you know, we're going to find out that Bob Barry Jr.'s email is knowledgeable@mail.citcomm.com and Al Eschbach's address is handsome@mail.citcomm.com.
Also, what does the Sports Animal think about Jim selling ads for his personal and competing website on a company's email account?   That would be like Ed Kelly selling ads for a Tea Party message board from his OPUBCO email.
Anyway, since $500 for an advertisment on a really obscure website like JimTraber.com seems kind of steep, we've come up with a list of better things you can purchase for $500 while still being able to associate yourself with Jim Traber.   The first few are below, the rest are after the jump.
-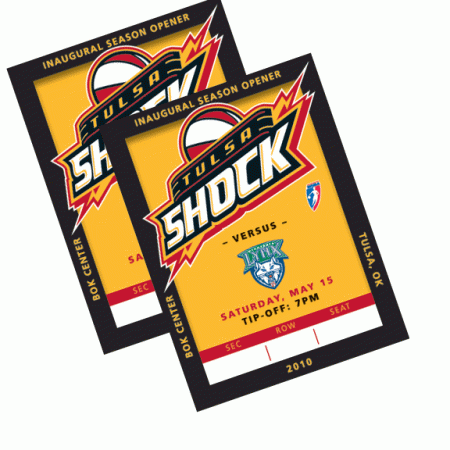 4: Courtside seats to a Tulsa Shock Game
The only thing worse than going to a WBNA game would be masturbating to a WBNA game.  And the only thing worse than masturbating to a WBNA game would be listening to Jim Traber complain about a WBNA game.  The only thing worse than listening to Jim Traber complain about a WBNA game is hearing Jim Traber breathe heavily on the air.
Anyway, I'm not sure what all that means, but the point is I think $500 would be better spent on courtside WBNA tickets than listening to Regular Jim Traber.   That's not rocket science.
-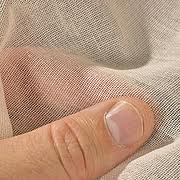 684: Square-feet of cheesecloth
Regular Jim Traber is obsessed with many things in life, and draping a cheesecloth on a Turkey is one of them.  With all this cheesecloth, you could have a Thanksgiving like Regular Jim.  In fact, you could have hundreds of them like Regular Jim.  Did you know in human years, 684-feet of cheesecloth would take care of several hundred Thanksgivings?   In Regular Jim Traber years, that would cover one Thanksgiving, one Christmas and a snack.
P.s. -Don't forget to make his brother's famous turkey soup and to wash it down with some Iron City Brew.  Also, don't forget to play the Jim Traber Drinking Game.
-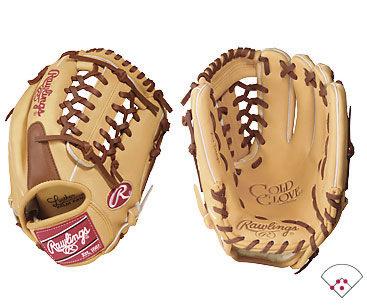 14: Rawlings Baseball Gloves and Cans of Shaving Cream
I'm pretty sure that Regular Jim Traber used to have his "breaking in a baseball mitt" secret posted on his website, but he took it down.  So that we can have the process on record, we will give $5 "" yes, $5 "" to anyone who calls The Sports Animal, asks Jim how to break in a baseball glove, and then emails us the recording.  We'll call it the 2010 Regular Jim Traber Baseball Mitt Challenge.  And we are serious.
-
199: 1987 Topps Frank White/Jim Traber Error Cards
I don't know anything about Frank White, but I'm sure he felt pretty crummy when he took a look at his 1987 Topps basball card and discovered Jim Traber's stats were on the back.  That would be like being misidentified in the high school year book as a Mathlete.
Anyway, this was big news when it happened, because Frank White immediately sued Topps for $1,000,000 for defamation of character.
Okay, that really didn't happen, but can you think of anything worse for an MLB player than to be  associated with Jim Traber's MLB batting statistics?  I can.  It's called cancer.  But after cancer, I think that would be number two.
-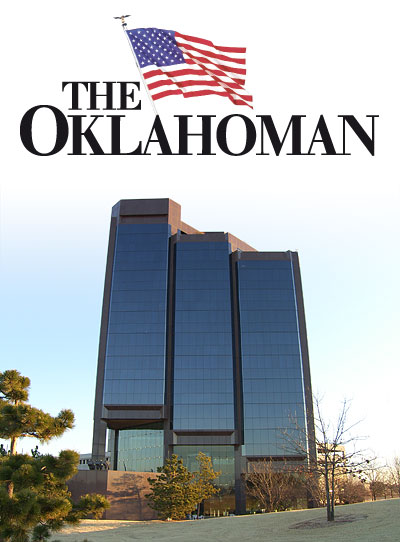 2: One year subscriptions to The Oklahoman Archives
The only person who complains about The Oklahoman more than us is Jim Traber.   However, other than griping about Jenni Carlson, his main complaint is usually that he didn't get his paper.  In my book, that would be a good thing.
-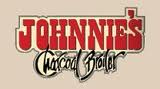 71: Johnnie's Chili Cheese Ribeye Sliders
I originally wanted to put this number as "a lot," because in theory, you could live your life and never have to buy a Johnnie's Burger.  See, you would simply need to call the Sports Animal everyday, claim to be a first time caller, and then they'd give you free Johnnie's.  But then I realized that's a flawed plan, because if you called the Sports Animal everyday you'd either:
A: Kill yourself
B: Get a job delivering flowers
C: Run a lot and flirt with Bob Barry Jr.
D: Be Brian Tallet's dad
None of those options seem very good.
-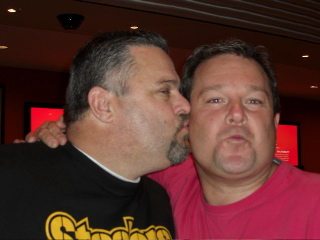 10: Days of sports picks by the Fat Jack
Sometimes a picture says a thousand words, and this picture of Jim Traber kissing the Fat Jack is one of those pictures.
The Fat Jack is a professional gambler and sports handicapper who charges a bunch of money for his football picks.  During football season, the Fat Jack will come on Jim Traber's show to promote his legal, yet shady,  business.  Jim Traber then uses his platform to declare that Fat Jack is the greatest sports handicapper in the world, and that you'd be stupid for not using his service.  This brings up and interesting a serious question:  Since Jim Traber and Fat Jack are apparently good buddies, should Jim really be promoting his services? Also, Jim promotes the Fat Jack so much, you have to wonder if he get's a kick back.  If I was The Sports Animal ombudsman, I would ask that question.  I would also request the Jim Traber disclose his personal relationship with the Fat Jack to all his listeners.
-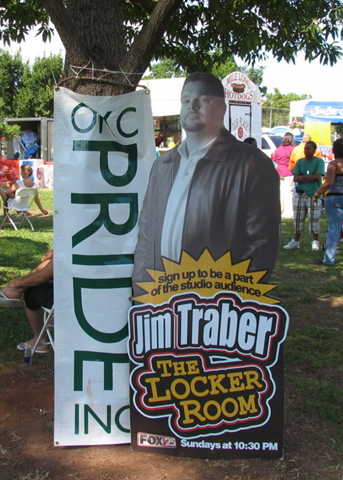 1: Cardboard Jim Traber
Everything has a price, right?
Stay in touch
Sign up for our free newsletter