Everything Else
Page 3: The Oklahoma Sports YouTube Hall of Fame
2:33 PM EST on December 17, 2009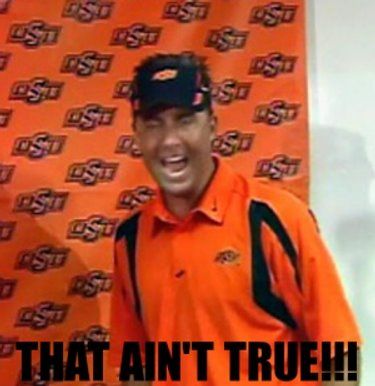 Want to know how much time I spend/waste on YouTube? Too much. Too much time. I'll type in "Oklahoma football" and watch videos for hours. Highlights of every season since 1999. Great plays. Top moments. Then maybe I'll search "Kevin Durant" and watch 18 highlight mixtapes made by people. Then whenever it finally wraps up, I typically end with watching this. I don't even want to think how many times I've watched that.
Over however long I've wasted looking at videos, I've relived some great moments. And lived a lot of them for the first time. My dad always told me about how cool Patrick Collins bow was against Nebraska, but I had never seen for myself. YouTube gave me that chance. I'd heard how unreal Scott Hill's hit on Tony Dorsett was, but I'd never seen it. Now I have.
There are moments and clips in Oklahoma sports history that need to be documented, that need to be brought to one place. So I decided to do exactly that. Waste an ungodly amount of time hunting YouTube for the best, the most interesting, the most classic or just the coolest Oklahoma sports vidoes out there. Now I'll confess, I'm an OU alum and fan. Of course I'm partial to my university. But don't misunderstand, I can be bipartisan when it comes to great moments. Nobody loves Barry Sanders more than me, except for maybe my OSU friend Cooks who I think has a Barry blow up doll.
Yeah it's long. Yeah there are a bunch of links. Nobody says you have to read it all right now. Take a little bite of it now and come back for more later. It's not going anywhere. I'm sure I missed one or two or 15 really good ones. Such is life with a list. Regardless of my failings, here are what I consider to be the top 35 Oklahoma sports YouTube clips (in no order). Some funny, some crazy, some goosebump-inducing. All awesome.
1. The Bedlam Brawl
Two things: 1) How about that svelte Robert Allen? 2) How about the way Darren Cox gets worked by Bobby Purna? He looked like Vitor Belfort driving his man back to the cage and laying haymaker after haymaker on him.
I love baseball fights. Hockey fights are cool but I tend to think the players keep them up because fans want to see them and to preserve some of the tradition of the sport. I don't really feel like they mean it. But baseball throwdowns are completely spontaneous, nobody ever throws a good punch, tough guys looks like wimps as they run away covering their faces and after two dugouts completely clear for a fistfight, they somehow have to play the game again. The fact that this occured during a Bedlam baseball game makes it even better. Bedlam baseball is the most underrated of all the rivalry games between the two schools and with this and the Pistol Pete "broom" incident, the heat is still on with these schools.
2. Les Miles I
This clip is a revelation. Les Miles, excited, talking, nonsense - it's got it all. It just takes 10 seconds, but Miles reveals everything you need to know about him in it. That's he's completely crazy and doesn't make any effing sense. "Has to be called controlled at points, most of the time, let 'er rip." The way he snarls before "let 'er rip" and the way he's got his gaping mouth open waiting to answer bring joy to my heart every time. That and the fact OU stomped OSU that day 52-9.
3. Barry Sanders Heisman Highlights
No player has ever been, nor will ever be, this electrifying again. There are great runners, but EVERY TIME Sanders touched the ball, you wanted to stand up. His numbers that year are something from the heavens - 7.6 yards per carry, 2,628 yards rushing, 3,249 total yards, 234 points and 39 total touchdowns. If you're 24 years old or older and you weren't a Barry Sanders fan, you either have no soul or are a complete idiot.
4. The Best Kevin Durant Mix
It's simple: Video of a top five player in the NBA, playing in my hometown, doing awesome things. My man love for Kevin Durant is so strong I think I could move mountains or cure cancer with it. If only I'd apply it to something to make a difference. Alas.
5. Blake Griffin Gets Judo'd
This is just comical. Mainly because Ali tries to play it off by doing the whole hands up thing during it. He tries to act like he didn't mean to do it and even after the game went so far as to call it an accident. I laugh about it every time I see it now. That is, because Blake wasn't hurt. Had Ali hurt one little hair on his head I'd have climbed atop a tall structure, waited patiently for Ali to walk beneath me and then drop a coffee table on him.
6. A History of Bedlam Basketball
I prefer Bedlam basketball to Bedlam football. I just feel like its more intense, more passionate and more competitive. And while I was looking through, I was hunting great Bedlam basketball moments. Maybe the Joe Adkins (it was Joe Adkins, right?) shot that came after the buzzer. The classic in Norman with the blocking call on Byron Eaton. There are so many. But I felt like the absolute best way to sum up the series' awesomeness is this video.
7. Billy Tubbs Takes the Mic
If you watch Big 12 basketball this year, you'll inevitably hear this referenced. Things are going poorly for the Sooners against Missouri and by poorly, the officiating is not in their favor. The refs ask Tubbs to address the crowd and tell them to quit throwing stuff on the floor. He takes the mic and does exactly what they asked.
8. Near Death at the Ford Center
Halftime shows generally suck or you've seen it 25 times. I like the Chinese bowl lady, but I've seen it close to 400 times. But it's not every day you almost see someone DIE during halftime. The sheer terror is so captivating. The music goes off, the lights come on and there's a scramble. Everyone in the Ford Center is trying to tell themself that it's part of the act and that they're not actually about to see a woman die in front of them. But when she goes limp and flinches, OH MY LORD. I nearly threw up.
Thank the heavens she was OK. My favorite part is the confused applause after it. Nobody knows what to think.
9. "MAKE IT STOP!"
OU walloped Texas 65-13 in the worst Red River beating ever. This Texas fan had some feeling about that game.
10. Howard Schnellenberger Gets Rolled
It's Howard Schnellenberger getting knocked over. It's funny.
11. Barry Switzer is Happy
So many great Switzer moments, quotes and clips. This one just grabs me because it kind of showcases the Switzer humor and off-the-cuffness. Plus, he's talking about how happy he is to beat Texas. And I think I'd have to agree.
12. Two In a Row
It pains me to watch, but the sheer unhinged jubilation is hard not to appreciate. (This isn't a jab) Oklahoma State fans really haven't had the opportunity to beat OU that much throughout history on the gridiron and even fewer times have they been able to celebrate a winning streak. The score finished 38-28, but it really wasn't that close. You've got to love the exchange between Les Miles and Bob Stoops after this one. OU was already locked in to playing for the Big 12 title so Miles wished him luck. Stoops told Miles, "You're doing a helluva job." They should mic up coaches for every midfield shake.
13. Adrian Peterson Highlights
He's my favorite thing ever. I seriously would dive in front of a car for him. Is that weird? Absolutely. But I love Adrian Peterson. The way he runs is just... perfect. It's like Tom Cruise in Collateral - perfect form, head up, knees high, head bobbing slightly. A joy to watch. AD runs with anger. He moves with intention. It's his goal - his only goal - to move that football forward. He'll run around you, he'll run past you, he'll run through you. It's nothing like watching Barry Sanders, but at the same time, it kind of is.
14. Henry Iba... Talking
When you're in the presence of a genius, a revolutionary, you listen. It's simple but hearing Hank Iba describe what changed his perspective on coaching is something to enjoy. Legends are awesome. Hearing legends talk about what made them that way is even awesomer.
15. Good Morning Oklahoma
The first 45 seconds you're smiling. You're laughing. You're saying, "Hey! That's Mickey Mantle!" The last four and half minutes, you're wondering what the eff you're watching, what the McCain Brothers are and why some of these people are famous. The music composer to Roseanne? He's famous? But then you'll get a solid cameo in there and it'll keep you around. Who's next? The Mathis Brothers? An extra from Married With Children?
16. OU Wins the College World Series
DOGPILE! Baseball celebrations are the best. It's the last baseball championship for anyone from this state. I guess that's something to recognize.
17. Gundy
"I want to talk about this article right here. If anybody hasn't read this article, I didn't read it, but this was brought to me by the mother... of children. I think this is worth reading. Let me tell you why I want to talk about this article. Three-fourths of this is inaccur-ate. It's fiction. And this article, embarrasses me to be involved with athletics. Tremendously. And that article had to have been written by a person that doesn't have a child. And has never had a child that's had their HEART BROKEN AND COME HOME, upset. And had to deal with the child when he is upset. And kick a person when he's down. Here's all that kid did: He goes to class. He's respectful to the media. He's respectful to THE PUBLIC. And he's a good kid. He's not a professional athlete and he doesn't deserve to be kicked when he's down.
If you have a child some day, you'll understand how it feels. But you obviously don't have a child. I do. Your child goes down the street and somebody makes fun of him because he dropped a pass in a pickup game, or says he FAT, and he comes home crying to his mom.... you'll understand. But you haven't had that. But someday you will. And when your child comes home, you'll understand.
IF YOU WANT TO GO AFTER AN ATHLETE, ONE OF MY ATHLETES, YOU GO AFTER ONE THAT DOESN'T DO THE RIGHT THINGS. YOU DON'T DOWNGRADE HIM BECAUSE HE DOES EVERYTHING RIGHT AND MAYBE NOT PLAY AS WELL ON SATURDAYS. AND YOU LET US MAKE THAT DECISION. THAT'S WHY I DON'T READY THE NEWSPAPER. BECAUSE IT'S GARBAGE. AND THE EDITOR THAT LET IT COME OUT IS GARBAGE. ATTACKING AN AMATEUR ATHLETE FOR DOING EVERYTHING RIGHT.
And then you want to write articles about guys that don't do things right and downgrade them, the ones that do make plays. Are you kidding me? Where are we at it society today? COME AFTER ME. I'M A MAN. I'M 40. I'M NOT A, I'M NOT A KID. Write something about me, or our coaches. Don't write about a kid that does everything right that's heart's broken and then say that the coaches said he was scared. THAT AIN'T TRUE. And hen to say we made that decision because of Donovan Woods because he threatened to transfer. THAT'S NOT TRUE. So get your FACTS straight.
And I hope some day you have a child and somebody be-downgrades him and belittles him and you have to look him in the eye and say, 'You know what? It's OK. They're supposed to be mature adults. They're really not.' Who's the kid here? Who's the kid here? Are you kidding me? That's all I got to say. Makes me want to puke."
And... scene.
18. Al Eschbach Doing Something
As once highlighted on this fair site, here is a classic commercial of the King of the Little People playing an old woman in basketball.
19. Traber vs. Brown
LOUD NOISES! SHOUTING! It was The Ultimate versus Billy Brown. If you don't know anything about Jim Traber, this should clue you in. Who cares what the situation is or who was right or wrong, the point is JIM TRABER IS AWESOME AND YOU ARE NOT.
20. Les Miles II
Three excellent lines: 1. "My football team, I'll take 'em around and play any sucker in the country." 2. "I uh, we learned stuff today." 3. "This is... setback. It's not what we wanted, it's not what we PLANNED today." I miss Les. Imagine if he were still at OSU. We'd have so many classic clips this list would be just him.
21. Big Country Shatters the Glass
I loved Big Country. Big, dumb and awesome at basketball. Enjoy him breaking something.
22. Going Home To Gann
Another great Big Country clip. The unintentional comedy is strong with this one. Want to know why people hold prejudices and stereotypes against Oklahoma? Because things like this aired on national television.
23. OU Goes to Eugene... and Gets Screwed
No words. Anger. Fury. Rage. Every time I see it, I run headfirst into a retaining wall. How an official could walk over a pile, look in it, see no ball and award it to Oregon still makes me question the existence of God.
24. Shannon Miller on the Beam
Near perfection people. I don't care you don't give a crap about gymnastics, specifically female gymnastics, but this was the performance of a lifetime. All from a little girl from Edmond.
25. John Lucas Sends OSU to the Final Four
I dislike OSU and Dave Hunsicker even more than that, but even I get chills watching this clip. The biggest of big shots, on the biggest stage to send your team to glory. It always seems like those shots always happen TO your team instead of FOR your team. This time, for Cowboy fans, they got the moment.
26. The Greatest Negative Two-yard Run in History
If Little Joe could have skipped past that last USC defender, this would be the play of all-time. The Play. He started at his own 48, retreated to his own 16 and eventually got back to his own 46. All while making 92 defenders miss him.
27. Big Mo Breaks It Down
I loved Mo Dampeer. He was big and fat, jolly and he danced. All good combinations. His breakdown, hoedown thing at the 2004 Sugar Bowl was incredible. He stomped, he pranced, he waved a towel. It never gets old.
28. Doug Gottlieb, Quick Change
What's funnier? That Douglas put his shorts on backwards to start with, or that it took eight minutes to notice? You've got to love this was a big game at Allen Fieldhouse on national TV.
29. Opening Night
"I sense you know how I feel, because you feel it too." Goosebumps. Every time.
30. Kevin Durant versus OSU
It had it all. Two great performances. Buzzer beaters. A circus shot. This three OT classic is maybe the best basketball game I've ever watched. Every time you'd think OSU had things in hand, KD would come back. Mario Boggan matched Durant with another excellent game and in the end, his shot is what won it for the Cowboys. What a game.
31. Malcolm Kelly Big 12 Rap
I am not ashamed to say I have this memorized. Yes, I  really do.
32. Superman
It's just the best of many great plays for the Sooners in the last 20 years. It was one of those plays that was so unexpected that I remember jumping up and screaming. Literally screaming.
33. Big Country From Halfcourt
I know, "Three Big Country clips?" Look, he was pretty awesome, in multiple ways. But his halfcourt shot sent Gallagher-Iba into pure madness. Jeff Capel's runner against Carolina gets all the halfcourt praise, but this one is pretty awesome.
34. Dean The Stream
Jim and Al have their issues, but this was awesome. It couldn't have been better. The way Jim is beside himself in laughter is just hysterical. Dean just has no idea what is going on. No idea. But then again, is this really any different than any other day?
35. The Greatest Oklahoma YouTube Video Ever
The classic. Everyone has seen it and if you haven't, stand up, walk around your house, splash your face with some water, take a shot of Hennessey and strap in for the best thing you'll see today. So many excellent parts to detail - the kick in the face, the fall, the mullet - but I'll just let you soak it all in whether it's your first time or like me, your 500th. Thank you YouTube for this. Thank you.
Stay in touch
Sign up for our free newsletter