Everything Else
Lost Ogle Q&A: Ferris O'Brien
12:00 AM EST on November 23, 2009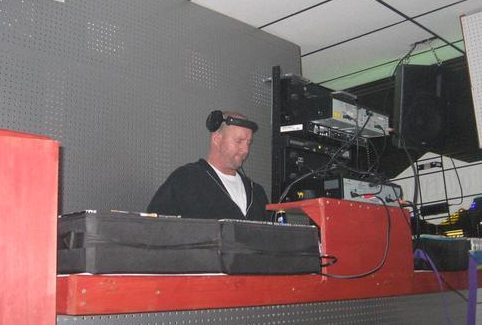 As we've already mentioned a couple of times on this site, the third incarnation of The Spy hits the Oklahoma City airwaves today.  The man behind the station is Ferris O'Brien.  Ferris' voice should be a familiar one to Oklahoma City radio listeners.  He was the program director for the "old" 105.3 the Spy, and 93.7 the Spy when it was a "college rock" format broadcasting out of Stillwater.
As a new music buff/pretentious music snob, I still feel the need to pinch myself.  Even though we speculated about it's return in the past, I never really thought the Spy was going to come back.  It's going to be so great to finally have a local radio station playing good and enjoyable music.  I can't wait to hop in the car, turn on the radio, and hear bands like The Arcade Fire, Animal Collective, Student Film, and hell, even The Flaming Lips, coming from the car speakers.
Anyway, check out the Lost Q&A with Ferris after the jump.  The immediately afterward, tune to 105.3 and listen to good music.
Q: Thanks so much for bringing back the Spy!  There is a good chance you're going to be named Lost Ogle Man of the Year for doing this.  How did all this happen?
A: After years of thinking it would eventually come full circle & happen on its own, corporate radio getting better, I mean. I finally just got tired of waiting, figured out what it would take, & then found the opportunity.
Q: So, how much thought have given to the first song that's going to be played on your own radio station?
A: Alot, it's a kind of statement of sorts, but then again, I've always had a kind of man-love for Paul Anka and I have a great version of him doing "Wonderwall."  Mmmm, you might just have to tune in....
Q: How similar will this SPY be to the previous incarnations?
A: I truly hope this Spy is a mesh of both, the previous incarnations had their limitations.  I am listening to it right now in my laboratory, Bauhaus into Neko Case into Gene into stellastarr* into the Thermals into Metric into Julian Cope & the Teardrop Explodes into the Decemberists, all just played, what do you think???  Plus you know they say, third times the charm!
Q: 105.3 is kind of staticky in certain parts of the metro.  Is there any way to boost the signal?  Also, will it be available in HD?
A: Anything is possible!  We will be streaming "live" on the website at www.thespyfm.com as soon as we go live, plus I have a multimedia ap in the works.  Plans for podcasts, live performances, interviews, "live" studio cam, the ideas are endless really. As far as HD, hopefully within the first year!  : )
Q: In George Lang's blog, he mentioned Tyson Meade will be recording a show from China.  How will that work?
A: The particulars are Top Secret but i can tell you it involves a decommissioned Cold War submarine, Morse Code & the Cone of Silence!
Q: I'm thinking you should get Gary England to do the weather reports?  Can you make that happen?
A: Yes...Cardboard Gary is ready with his doppler!
Q: Now that we have a legitimate alternative/indie/modern rock station, will we get legitimate music acts coming to the metro?
A: ABSOLUTELY!!!  The one & only reason we have sub-par shows is NO RADIO SUPPORT...problem solved.
Q: Approve or Disapprove: Blade Runner
A: Totally APPROVE!!! We shop @ Wam A Lart together...
Q: Is programming ever going to be interrupted for Redhawks baseball?
A: No Redhawk games!!! But plans are in the works to air the UCO chess championships & water polo matches. Oh, and the Lost Ogle's Snuggle Crawl...
Q: Speaking of that, are you going to The Snuggie Pub Crawl?
A: If my Spy Snuggie ever gets here!
Q: Last question: I'm thinking a weekly Lost Ogle radio show sounds like a good idea.  What do you think?
That's a great idea, lets make that happen!!!
Stay in touch
Sign up for our free newsletter