Everything Else
Oklahoma State Fair Photo Contest Semi-Finalists!
7:00 AM EDT on October 1, 2009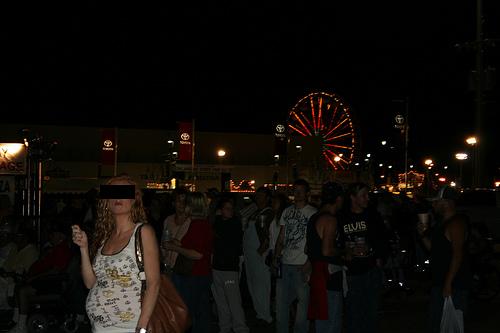 A few weeks ago, we asked our Lost Ogle readers to send us some pictures from the Oklahoma State Fair.   Here's what we wrote:
This year, we are once again encouraging our loyal Lost Ogle readers to submit photographs that help summarize (and describe) this mecca of rednecks, methamphetamine and fried everything.  Whoever submits the best overall picture, which will be determined by Lost Ogle readers, will win a Lost Ogle T-shirt and a $50 Gift Card to a local restaurant.  We are not yet sure which restaurant this will be, but hopefully it will be a good one. (Hint Hint: If you are a local restaurateur and want to sponsor this contest, send us an email.)
First of all, the local restaurant that is generously supplying this year's $50 Gift Card prize is the Iguana Mexican Grill.  When you go there, do yourself a favor and get a margarita and the Chili Relleno.  You won't be disappointed.
After the jump, check out the 10 semi-finalists for this year's contest.  All the photos have a very strong "People of Wal-Mart" feel to them. Once you review the photos, vote for your three favorite ones.  On Sunday night we'll tally up the votes, and the top 3 vote-getters will then battle it out for first prize.
p.s- It was very difficult narrowing down the submissions to 10 photos, but we felt these were the best.  Thanks to everyone who submitted a photo or photos.  You know who you are!
p.s.2. - The picture above is last year's winner.
Picture 1: The Black Confederate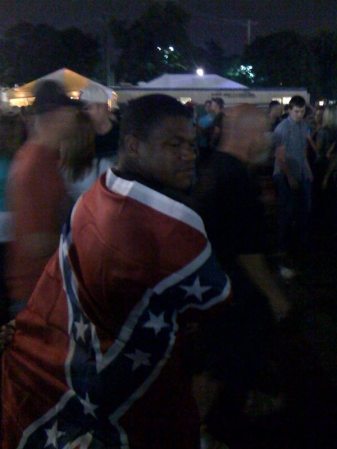 I know it's not rain on a wedding day or free ride when you've already paid, but nothing says irony more than a black man draped in what appears to be a Confederate Flag.  And I'm sorry if I now got that stupid song in your head.
-
Picture 2: Mullet, Small Shirt and Tan Lines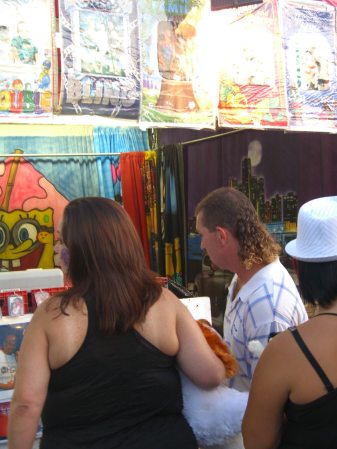 We received several mullet pics, but what made this one stand out was the girl with the tight black shirt.  She also had some nice tan lines and face paint.  The random city skyline shower curtain was also pretty nice.
-
Picture 3:  Underneath the Arch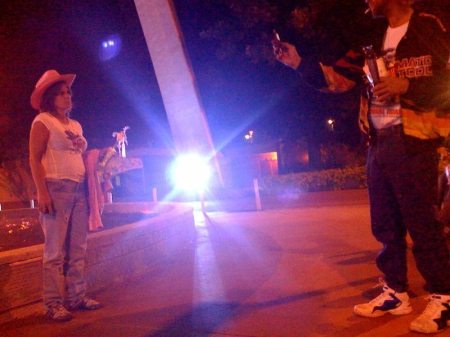 First of all, I would kill for the vintage LA Gear high-tops the guy is sporting.  Or are those British Knights?  Regardless, they are radical.  Anyway, I'm pretty sure this picture was taken at the Miniature Arch at the fair grounds.  It makes me wonder how many pictures they took at the Space Needle.
-
Picture 4: Nice Legs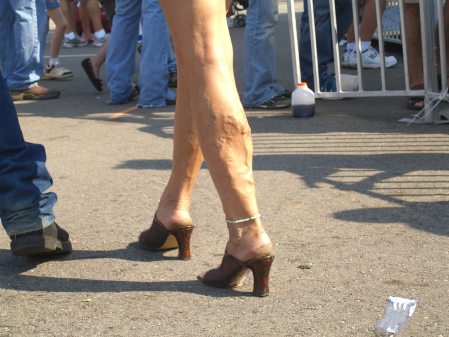 This picture was scary on many levels, but the scariest part is that the photographer only sent us pictures of the legs.  It makes you wonder what the rest of this lady looked like.  Did she have five fingers?  Did she have teeth?  Or was she incredibly hot with some f*cked up legs?  I guess we'll never know.  That's probably best.
-
Picture 5: Scary Anti-Obama Dude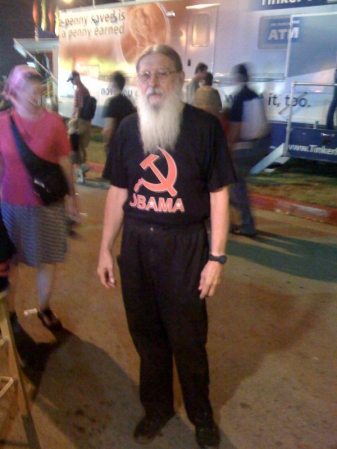 After seeing this picture, I feel even better that Barack Obama is President.  Seriously, it's nice knowing I'm on the exact opposite side as this guy.  All that being said, it's somewhat alarming that this guy and his shirt would probably be welcomed at our State Capitol.  They would probably even pass a resolution commending him.
On a side note, three days after we received this in our inbox, Clark Matthews saw the exact same guy wearing the exact same t-shirt when he attended the fair.  Needless to say, the shirt did not look faded from constant washings.
-
Picture 6:  Annoying Red Hat Ladies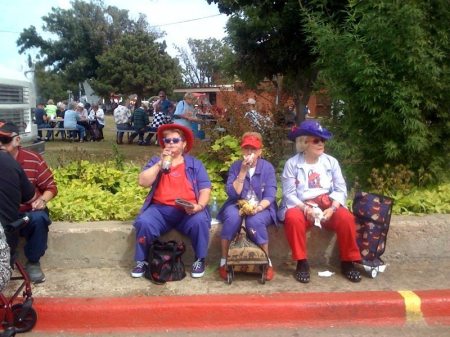 The person who emailed this photo to me claimed that these were those annoying red hat ladies.  I think they are Cougars.  And you know who likes Cougars???  Brent Skarky.  I'm just saying...
-
Picture 7: Super Mullet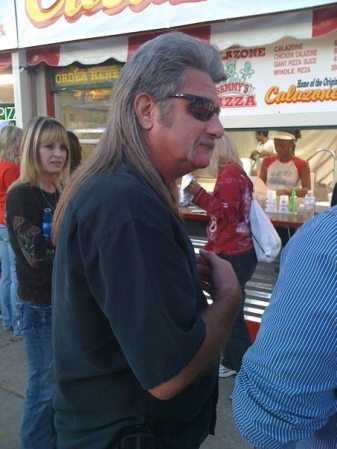 When someone sends us picture of one of the most amazing mullets in the world, you have to include it in a photo contest.  Right?
-
Picture 8:  The Rascal Racers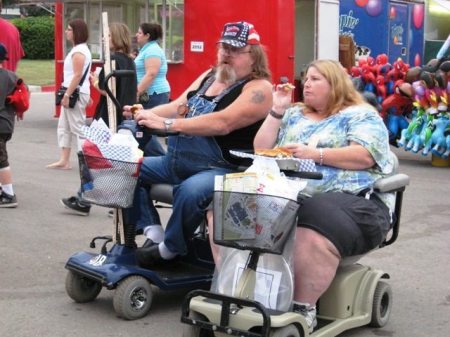 Instead of getting all sad when I look at this picture, I ask myself these questions:  Are these people racing, and where are they racing to?  Something tells me the answers are "Yes" and "Indian Taco Stand."
-
Picture 9:  Pregnant Lady Smoking...and nice jeans
Picking the best part of this photo is difficult, but I would say it's the clear blue sky.
-
So there you have it, the 10 semi-finalists.  You can place votes for your three favorite pictures.  The top three vote getters will appear in the finals on Monday.  Also, email this to all your friends, and post it on your Facebook page.  The more votes we get, the better.
Stay in touch
Sign up for our free newsletter