Everything Else
Jon Krawczynski does not like Oklahoma City…
12:07 PM EST on February 21, 2009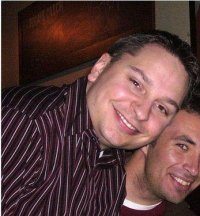 The guy pictured above is Jon Krawczynski.  Jon is an AP sportswriter from Minnesota. Last week, he wrote a column in the Star-Tribune about the the Minnesota Vikings seeking public funding for a new stadium.  For some reason, he decided to use Minnesota's problem as an opportunity to take some mean spirited shots at Oklahoma City.  Here is an excerpt:
The Minnesota Timberwolves were in action that night hosting the Oklahoma City Thunder. If that sounds like a sequel to "Bull Durham," it should be, but it isn't.
With bright blue and orange uniforms, a chintzy nickname and a dust-bowl hometown in the middle of nowhere, everything about this franchise screams minor league baseball.
Are there knotholes in the fenceposts ringing the Ford Center in Oklahoma City where kids can peek through to see the games?
Is there a pig that brings the game basketball out to the officials for the opening tip?
If Kevin Durant tops 40 points in a game does every fan get a coupon for a buffet at the local Pizza Ranch?
It would be funny if it wasn't so depressing.
For 41 years "" 41! "" the franchise had roots in one of the most vibrant cities in the United States, winning an NBA title as the Seattle SuperSonics in 1979.
But the Sonics failed to secure public assistance in financing a new arena, so new owner Clay Bennett moved the team from a gleaming metropolis to a cow town. And NBA commissioner David Stern didn't even flinch in approving the move.
Dear god, what the hell did we do to piss off Mr. Krawczynski?  Did some Oklahoma delegate at the Republican Convention hit on his boyfriend girlfriend?  Did his car break down in Enid during a cross country road trip?
Seriously, what is this guy's problem?  Could it be that he's just jealous of the many pizza buffets we have around town?  Because if you take  a look at the picture (above) on his Facebook Page, you can tell he really likes pizza.  Who knows, maybe he wants to be the pig that brings out the game basketball a The Ford Center.   If you go by looks alone, he could surely qualify.
Anyway, something tells me the Star-Tribune should issue some sort of retraction regarding the article, just like AOL did to the guy who ranked Oklahoma City as one of the Top 10 Hellholes on Earth.  If you think they should, email them at feedback@startribune.com.   If you want, you can also email Jon at jkrawczynski@ap.org.  If you don't like email, you can also give call him at the phone number listed at the top of page.  I'm not 100% sure it's his phone number, but how many Jon Krawczynskis live in Minneapolis?
(tip courtesy of JenX67.com)
Stay in touch
Sign up for our free newsletter