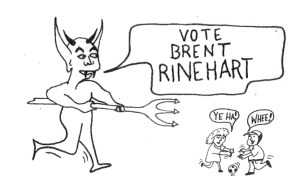 We can add "the voters" to the list of Brent Rinehart enemies that previously included "liberal good ol' boys" and "homosexuals". Either that or voting makes you gay in Rinehart's book. I say this because Rinehart's days as Oklahoma County's district 2 commissioner are numbered after coming in a distant third (of three) in his primary challenge Tuesday night. Apparently his cartoon book was not as effective as he had hoped in rallying the electorate to his cause.
It seems that Brent may have seen this coming. His election watch party was held at a showing of The Dark Knight, which he attended with his "girlfriend." This was the only way he could get anyone to show up.
This is a bittersweet moment for TheLostOgle.com. Sure, Rinehart is a biggoted moron who was able to draw a salary paid partially by our tax dollars. On the other hand, he provided the kind of material we dream about. So, we will be kind of sad to see him go.
Then again, maybe he doesn't have to leave us completely. Look and see where Rinehart could continue his career path after the jump.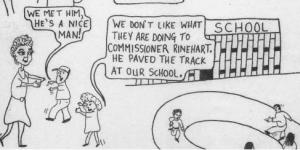 Pixar Animator
We already know how good the former County Commissioner is in putting together cartoons. But something you might not have considered is that Brent really knows what the kids want. Also, it took him two months to complete his comic book, and Pixar takes forever to finish one of its movies, so it is a match made in heaven.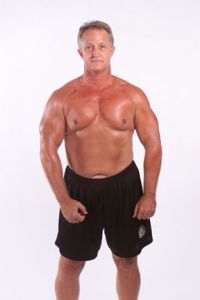 Join Mike Gassaway in the world of acting
If there is ever a Pulp Fiction II, Brent would be a shoe-in for the Gimp.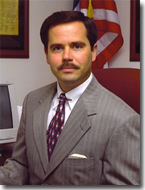 Porn Star
He's a natural. Look at that 'stache.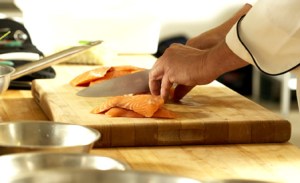 Sous Chef at Chelino's
Losing his salary from the county commissioner office is bound to be a huge hit to the pocketbook for Rinehart. So, he might be looking for a gig with good pay. Once Randy Terrill (who managed to win his primary on Tuesday) gets his way and runs off all the Hispanics in Oklahoma like a reverse version of St. Patrick*, Brent can make a killing by taking over in the kitchen of any Mexican restaurant. The tacos will quadruple in price, there will be an infinite drop in quality, but at least some white guys will get overpaid to make them for us.
* - Two things: 1) This is not a reference to TheLostOgle's Patrick, and 2) this is the reverse of Ireland's story in that the snake is clearing the land.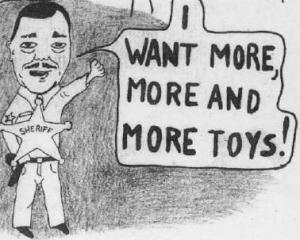 Caricature Artist
If anyone has a calling to draw bad renderings of State Fair attendees, it is Brent Rinehart.

Volunteer for Proctology Students to Practice On
Partially to keep gay men from filling this role, but mainly because he deserves it.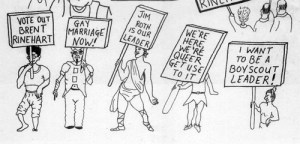 Costume Designer for Stars on Ice
Forget the skin-tight sequined outfits preferred by Brian Boitano. Rinehart really understands what the target audience of Stars on Ice want to see.
Girls Gone Wild Producer
Say what you want about Brent Rinehart, but he knows from whence the problems of society stem. He will fight that cultural war alongside Sally Kern and keep gays classified as second class citizens. Meanwhile, he could take advantage of stupid drunk girls because that is 100% hetero thing to do.
Home nurse aid to Gene Stipe
The failed county commissioner and the man still feared by Republicans even though he probably wears Depends: At minimum, this could turn into a pilot for a sitcom in which Rinehart learns how to better become a crooked politician during Stipe's lucid moments. The rest of the time, Stipe will make the audience laugh with his wacky sinility while Rinehart searches for "The Gladiator" with the assistance of a truth telling angel (played by Holly Hunter) and a frisky devil (played by Mike Gassaway).
Clark Matthews is a world-class checkers champion, co-founder, and basketball editor-emeritus of The Lost Ogle
Read More:
Stay in touch
Sign up for our free newsletter