Dear Santa,
What up big man? Not much here.
I have been a good boy this year. I promise this is true. If you get any letters from Moldovan prostitutes mentioning my name, please disregard them. They are all lies. LIES!
Also, I am sad to inform you that I will not be able to leave you your customary milk and cookies this year. I have given up drinking milk, so I will replace that with a handle of vodka. Enjoy! But please don't drink and sleigh.
Anyway, on to my list. This is what I want for Christmas this year. It's not a long list, so please make it happen.
1. Have someone beat Al Eschbach to the first question at one of Bob Stoops' press conferences
Why does Al always get to ask the first question at press conferences in Norman? Why does the rest of the media always defer to him? Is it just because he's been around forever? This is dumb, and I want someone to jump in and ask a question before he does.
2. When a snowstorm hits, get rid of the reporter standing next to the road.
Is there anything more ridiculous than when the local news leads off it's broadcast with a reporter standing next to the road, pointing at the snow or frozen road? We KNOW the weather is bad. We KNOW the roads are bad. You can tell us that from the studio or, better yet, from Gary England's lair. Why do they insist on sending some poor reporter out to do this every year? I wish that, this winter, just one station would abandon this practice.
3. Reinstate Jim Traber's high school eligibility
Many moons ago, Jim Traber hated talking about high school football. He also knew nothing about it. I know this sounds crazy to many of the youngsters out there, but it is true. But since his son moved here and started playing for Norman North, he's pretty much an expert on the subject, and clearly loves discussing it, to the point that it makes up the plurality of his show. Last week I heard him talking with a Muskogee fan about how "we" are going to travel to play in Muskogee next year and "we" are going to be better because "we'll" have a quarterback that can throw.
I don't often wish for positive things to happen to Jim Traber. But this is Christmas, and I'm in the giving spirit. I would like to see the OSSAA grant Jim Traber an extra few years of eligibility so he can suit up and play. That way, when he says "we" he can really mean it.
4. Let Patrick and Blythe fall in love
Longtime LostOgle readers will recognize Blythe as one of our best commenters. She also writes a top-notch blog. Patrick is also a good writer. In fact, he is in my opinion probably one of the 3 best writers on this very web site.
I think they should fall in love. It just makes perfect, bloggy sense. There was once when it looked like it might happen, but alas, something went wrong. I think it might have had something to do with the fact that they had never met and had no feelings for each other. To my knowledge, that has not changed. But it's Christmas, so maybe things can be different.
5. More Melissa Maynarich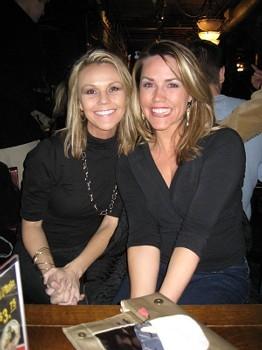 What, you need more of an explanation for this one, Santa? Make it happen, dude.
6. One copy of "Bobby Bright's Greatest Christmas Ever"
From the "What the hell?" department, I just found out today that former OU and Blazer announcer John Brooks has written a childrens book. As you know, I no longer read childrens books, having recently moved up to Young Adult books (BTW, just finished "My Side of the Mountain," OMG AMAZING!!!!!). But I think I will read this one, if only because I find it strange that John Brooks wrote a book with the word "Christmas" in the title that did not also include the word "Jiminy."
7. Peace on Earth
It seems like in the last two or three weeks there has been a lot of fighting and hatred on Earth. I have been thinking a lot about this recently, and I think it would be better if that was not the case. For instance, I was watching a football game this weekend and two guys on opposing teams were doing something I'm told is called "talking smack." I think they should not do this. Also, wars and genocide.
That is all, Santa. Those are the seven things I would like for Christmas. Thank you for everything you do and I hope you are well. Also I hope those rumors about Mrs. Claus having an elf baby were false.
Your friend,
Tony
Stay in touch
Sign up for our free newsletter