OKC Media
Oklahoma Initiative Ideas: 50-41
9:12 AM EDT on October 29, 2007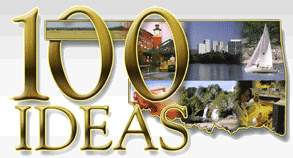 Here's a quick review of what we are doing. Last January, State Speaker Lance Cargill created some weird thing called the Oklahoma 100 Ideas Initiative. Here's how it was described:
The 100 Ideas initiative will change the way business is done at the State Capitol. Instead of legislation originating from lobbyists, special interests and government employees, this initiative seeks ideas from the private sector and from citizens across the great state of Oklahoma. Once the initiative is complete, the top 100 ideas will be published in a book and presented to the Oklahoma State Legislature.
Since we are citizens from the "great state of Oklahoma," we decide to contribute our own 100 ideas for the initiative. But since we're pretty sure that Speaker Cargill and his friends won't put any of them in his book, we figured it would be better to share them here over the next few weeks.
P.S.- Please note that unlike our Top 100 Oklahoma Embarrassments, our 100 contributions are not "ranked" in any way. And if you have any ideas that you would like to see on our list, send us an email. We may include it!
50. To boost poor attendance, offer coin beer at all OU mens basketball games played at the Lloyd-Noble Center.

This would be a great solution to the attendance problem that tortures the mens basketball program. It would also possibly spark some life in what has become one of the Big 12's worst student sections.
49. Ban Eddie Sutton from attending all OU mens home basketball games.

We know Eddie likes hoops, but we thing it's the cheap beer that would get him down to Norman. That could be a liability issue.
48. Donate Ronnie Kaye and Danny Williams to the Sam Noble Oklahoma Museum of Natural History.

According to our oldies radio expert Clark Matthews, these two fossils are still deejays at KOMA. Plus they are about 300 years old. These guys need an exhibit and they need it now.
47. Save some old locomotive at the State Fairgrounds from being sent to California.

When I was thinking about the Sam Noble museum, it made me think of this (long and kind of confusing) email that a reader sent last week:

I know you guys don't normally post stuff like this, but an important Oklahoma icon is being sold away secretly so the people of okc won't find out. I'm trying to do everything I can to stop it. Please help any way you can.

There was rumor that I'd heard that the Santa Fe locomotive at the fairgrounds was being sold. Now it appears that it is a reality. This locomotive was given by the Santa Fe Railroad as a gift to the people of Oklahoma City for all they had done for the railroad. It has quietly served by the transportation building at the fairgrounds for years as a landmark to the old age of steam that once existed here in Oklahoma City. The current transportation building is under plans to be demolished and redesigned. The artifacts there were to be donated. Since wind of this first caught ORM, the museum has been trying very hard to work out the logistics of getting the engine to the current museum grounds.

The San Bernadino CA county Board of Supervisors last week agreed to give $25,000 toward buying the historic Iron Horse built in the 1897. The locomotive was supposed to be given to the ORM, who planned to restore it and get it working again to establish a train run from the museum grounds in the Adventure District to Bricktown. It seems to me like there might be something fishy going on here.

How could something like this be going on under our own noses?

This locomotive was supposed to be donated to our own Oklahoma Railway Museum. It is up to all of us to keep it here! Let us persevere to keep it in Oklahoma City where it belongs!

Jason

We've been wanting to champion some good obscure cause for a while, and this one seems pretty good. So lets save the railroad! Hooray!
46. Bring back the old dude that used to write the Oklahoma Gazette movie reviews.

Back in the good old days, the first thing I would read when I opened a Gazette were the movie reviews written by old dude with a beard. For nostalgia purposes alone, we should bring this guy back.
45. Do something about the Burlington Coat Factory parking lot at NW 63rd and May.

I don't know too much about parking lot construction, design or planning, but I do know one thing: whoever designed this parking lot should be fired! This place is the cluster fruck of all cluster frucks! It's the only parking lot in the city that's mentioned on afternoon drive traffic reports.
44. Free Toby Rowland!*

For those that don't know, Toby hosts what is probably the best local sports radio show each weekday morning. Unfortunately, a lot of people don't know this because his show is stuck on KREF 1400am, which has about 100-200 listeners.

*This idea was not added simply because Toby invited us to join""and now totally dominate""his Fantasy Football League.
43. Ticket cars that still have Bush/Cheney campaign stickers.

Even if you still liked and fully supported these guys, how or why would you keep their sticker on your vehicle? It's kind of like walking around with a "I heart Herpes" stamp on your forehead. Nobody will want to be near you, much less sleep with you.
42. Impound cars that still have Clinton/Gore campaign stickers.

If you live in Oklahoma and have one of these stickers still on your car, it's a safe bet that your car has a lot of key marks. Since openly begging people to key your car is pretty stupid, you should probably just have you car impounded.
41. Imprison drivers of cars that still have Bush/Quayle campaign stickers.

I don't think that anyone""Republican or Democrat""would or could argue with this idea.
That's it for this week. To view the rest of our ideas, click the link:
Stay in touch
Sign up for our free newsletter