Everything Else
Alex Bennett leaves Barstool Sports and takes popular podcast with her…
10:51 AM EDT on October 5, 2023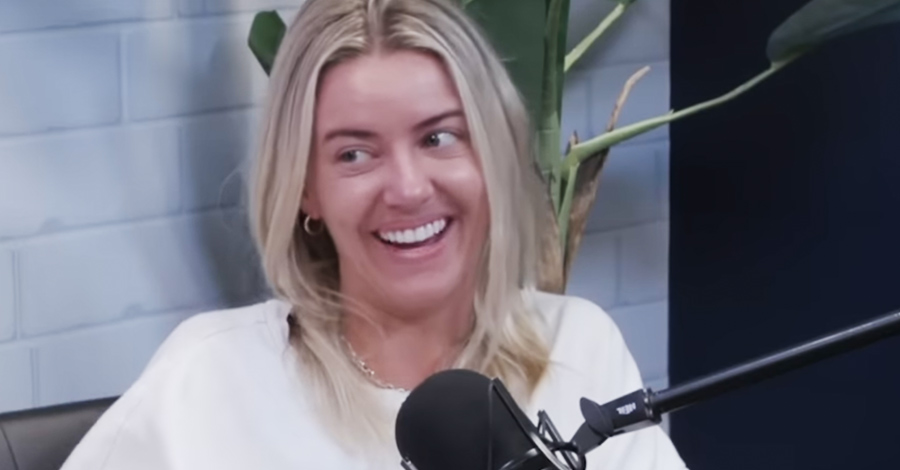 Before I write anything else, I'd like to officially welcome all the "Stoolies" who clicked on this post about Alex Bennett – Clay Bennett's hot yet attainable if your parents are wealthy daughter-in-law behind the apparently successful Mean Girls podcast – to The Lost Ogle.
We're a weird flyover website that covers Oklahoma news, life and culture, including famous Oklahoma City alumni, which I guess means we're obligated to write about Alex Bennett leaving the Barstool Sports network.
I've honestly never listened to her podcast, wouldn't recognize Alex if I was buying her a Lunchbox at Edna's, and think El Presidento is one of the worst things to pop out of the sphincter of the internet in the last 20 years, but I remember going to a Thunder game last season and my friend Chris being more focused on Alex sitting courtside with her husband than the actual game itself, so I figured I'd chase some bro clicks and write about her.
Anyway, Alex Bennett – a woman that some of our readers will remember as one of Jennifer "I've Had It!" Welch's employees on the now defunct Brave unreality show Sweet Home Oklahoma – is officially a podcast free agent after parting ways with Barstool Sports.
If you're not familiar with Barstool Sports, congratulations! Most of the civilized world is jealous of how out of touch you are with modern-day American pop culture.
If you want to get a visual, imagine 2008 Lost Ogle growing into a large, successful and controversial national social media brand – a modern-day man-child frat mag producing a stable of nationally known podcasters, social media influencers, and all sorts of other content that's all owned and overseen by a guy who's even more annoying, arrogant and better at escalating and exploiting feuds for attention than me.
Sounds pretty miserable, huh?
I guess Alex and her co-host were big stars on Barstool, and after a recent round of layoffs – and then mocking those employees who were laid off – decided to mutually part ways with the platform.
Via the NY Post:
The "Mean Girls" are done at Barstool Sports just one week after they joked about not being a part of the company's recent layoffs.

Barstool Sports founder Dave Portnoy revealed on Tuesday that he decided not to renew the contracts for Alex Bennett and Jordyn Woodruff, who host the "Mean Girl" podcast, after a series of events at the company.

Portnoy — who bought back the company from Penn Entertainment for $1 last month — explained on Barstool Radio that his decision came after Bennett and Woodruff ghosted fellow host, Kevin Clancy (known as KFC) when he asked them to be judges at the Barstool OnlyFans pageant.

"I talked to Alex today about that because I caught wind of it, because I asked if they were in the office," Portnoy said, adding that Alex told him she was sick. "They're done."
Sad news, huh? If you're a TLO fan in New York, you can pay $44 to hear all about what happened during a live recording of their podcast...
I don't know what Alex's plans are with Mean Girls, but I wouldn't be surprised to see her do something with her pal Jennifer Welch.
As we mentioned a few months ago, Jennifer has finally achieved long-coveted fame in the lucrative middle-aged mom demographic with the skyrocketing success of her "I've Had It!" podcast.
She's kind of like a mean and snooty Nichols Hills version of the Pioneer Woman, but instead of living on a ranch and fixin' home-made biscuits for the Marlboro Man, she lives in a fancy mansion making matcha smoothies for a whiny ex-lawyer with a man bun.
Anyway, Alex kindly and coyly used her connections within Barstool to get the company to share and promote quick clips from "I've Had It!" on their TikTok, Instagram and Twitter platforms, exponentially increasing the show's reach and exposing it to millions across the globe, helping turn it into one of the most popular podcasts in the world.
If you ask me, it would be smart and lucrative for the two to partner and build their own Mean Lady podcast network empire, giving snooty and sarcastic women of all ages and demographics the opportunity to provide contrived, choreographed and rehearsed hot takes and rants that are designed to get as much attention and exposure as possible.
If they do follow my advice, I just ask that they use their reach and influence to help promote my new upcoming podcast – "Is This What My Life Has Come To?"
Anyway, if you're a regular Lost Ogle reader! Congrats! You're now more informed about Oklahoma City alumni that you probably never knew existed, and have something to discuss with your kids when they bring the grandkids over next weekend.
If you're a Stoolie who's for some reason still reading, we hope you enjoyed your visit to our website. I doubt you'll ever return, but we really do appreciate it. If you don't mind, please click a few ads before you go.
Stay with The Lost Ogle. We'll keep you advised.
Stay in touch
Sign up for our free newsletter