Everything Else
Clark Matthews's 2023 NBA Draft Preview Extravaganza…
12:13 PM EDT on June 20, 2023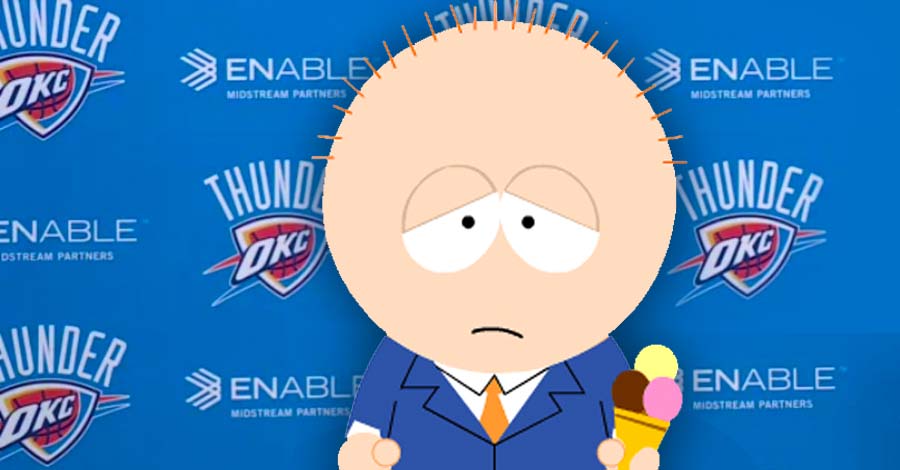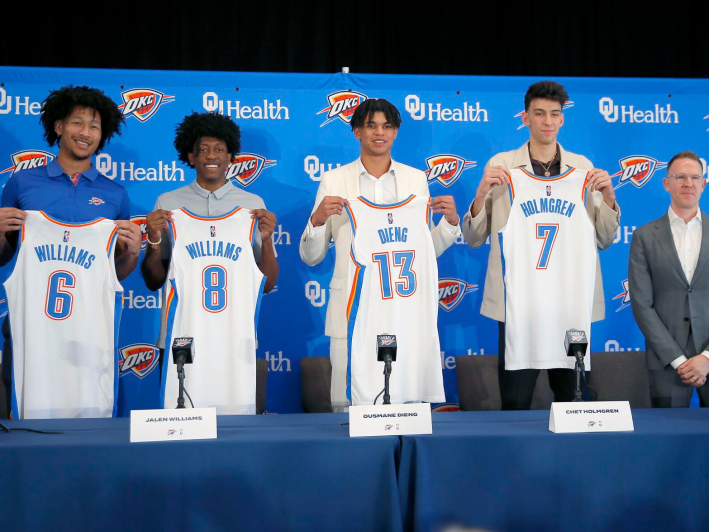 The NBA Draft is one of my favorite events of the year. It is technically the final event on the NBA's fiscal calendar, occurring just days before the league resets business for the new year. However, it really is the kickoff for the upcoming season, providing an air of freshness and hope for what could be.
For Thunder fans, the 2023 draft will have a different feel than the past few. After the trades of Paul George and Russell Westbrook in 2019 initiated a sudden reset and scorched earth approach to the roster, the draft became a high-stakes affair where it was essential the new players be capable of developing into cornerstones of the franchise.
Now, with the evolution of Shai Gilgeous-Alexander into an all-NBA player, plus very successful draft selections like Josh Giddey and Jalen Williams, and the upcoming debut of Chet Holmgren, the pressure is dialed down.
Holding the 12th and 50th picks, Oklahoma City is not in need of players that can alter the trajectory of the team. Although landing that player would be nice, going into this draft, a more reasonable desire would be getting a player that can complement the core that has already been assembled.
Just because it is reasonable does not mean that will be the tactic that the team will go with. In fact, the draft could go one of several ways:
POSSIBILITY # 1: SWING FOR THE FENCES
No general manager in the NBA possesses more trade assets than Sam Presti. He has more future draft picks than he could ever possibly use, tons of promising young players, and salary cap space to eat undesirable contracts. If anyone can put together an attractive package to entice a team part with a superior draft pick in this draft, it is Oklahoma City.
Except for the first pick overall, just about any pick in this draft is available—for a price. Charlotte, at pick 2, is in the middle of a sale of the team and may not be comfortable with how the player they should take fits with their current best player. At three, Portland has been given an ultimatum by their star player to bring in veterans, and trading this pick is their most enticing trade capital to do that. Houston, at four, has decided they already have too many young players. At five, Detroit is unhappy with what players will be left for them. The Magic own picks 6 and 11 and are already overwhelmed trying to find developmental minutes for their uber-young team. I could go on…but essentially all the teams picking ahead of OKC could make an argument for trading their pick.
Historically, trading up has been something Presti has not been able to accomplish frequently. He has moved up in the first round four times:
2009 – Moved from 25 to 24 to get Byron Mullens

2010 – Moved from 18 to 10 to get Cole Aldrich

2013 – Moved from 29 to 26 to get Andre Roberson

2020 - Moved from 25 to 17 to get Aleksej Pokusevski
Only one of those involved moving into the lottery range, and the result was possibly the biggest bust he has ever taken.
While already in the lottery this season, the 12th pick which could theoretically be just too late to take an impact player. With every front office having different assessments and objectives, it is impossible to know what ten other teams making eleven picks will do in front of them. There are scenarios where a player in the third tier of prospects could slide to them at 12 or the team could be looking in the fifth tier by that spot.
A smart manager like Presti will have gathered plenty of intel on who could go where, but if he wants to assure he can select a player who will help the roster advance to the next level, trading up is the safest play. Some players he could target include:
Jarace Walker – 6'8" power forward, Houston
Assuming that the price to get into the top-3 to take a player projected as a future all-star will be more than the Thunder want to pay, Walker is probably the player who most fits the roster. An elite defender with a 7'2" wingspan, stocky frame and decent jump shot, Walker was an important cog in helping Kelvin Sampson's Cougars attain an NCAA tournament one seed as a mid-major.
For the Thunder, Walker could play a Draymond Green-esque role as a defensive dawg that uses his strong frame to rebound and then instantly initiate offense with smart passes and adequate ball handling. Paired with Chet Holmgren in the front court, they could swat every shot that comes near the rim, and in situations where bulkier bigs are trying to bully Chet, Walker could take that assignment.
To get high enough to select Walker, the Thunder would probably need to convince former OKC assistant GM Troy Weaver in Detroit to swap the 5th pick for the 12th pick by taking back a bad contract (giving Detroit more cap space to play with in free agency) and multiple future first-round picks (that Detroit could use in the trade market). If the Pistons insist on a good, young player from OKC (i.e. a current rotation player) in addition to the picks, the price is probably too high.
Gradey Dick ­– 6'8" wing, Kansas
Ryan Langston-Walters would ban all Thunder apparel in Oklahoma schools for sexualizing our children if this guy ever gets his last name on the back of a team jersey. He should, though. Dick is very likely the best shooter in the draft pool. He shot 40% from three at KU, and 57% on threes taken in transition. He also made 85% of his free throws to indicate his shot is pure.
Unlike some other shooters in the draft, Dick is not one-dimensional. He cuts well off the ball and dunks far more than you would expect based on his appearance. That same appearance also makes him underrated on defense. He passes well and hustles extremely well for offensive rebounds.
Personally, I tried not to like him. He has an extremely punchable face. He played for a college team I despise. He'd be another white guy for the team. But every time I see him play or watch his film, I come out more convinced that he would thrive on the Thunder. His ability to knock down open threes when Shai sucks in the defense or cut to the rim when Giddey surveys the floor just feels perfect.
Dick's range is long. He could go as early as six to Orlando, who is in serious need of shooting, or he could even last beyond the Thunder at 12. And while his skillset seems perfect for what the Thunder need, Presti seems to treat shooting as an overvalued skill, so I could totally see them passing him up even if he falls.
Taylor Hendricks – 6'10" stretch big, Central Florida
With the potential to become a 3-and-D center, Hendricks made 39% of his three-point attempts as a college freshman. As a defender, he used his 7-foot wingspan to block 5.9% of shots at the rim and has the athleticism to stay in front of wing players. Sam Vencenie of The Athletic had this to say about Hendricks
"He does the three most important things a role player in the NBA can do: He shoots it well off the catch, he defends well in space and he plays well within help defensive concepts.
While Hendricks has a bigger build than Holmgren, it is not necessarily big enough that the two would naturally play together, and Hendricks is not the dynamic player the team has targeted over the past few years. He is not going to ignite fast breaks or create his own shots.
That said, he could easily fill the role that Mike Muscala vacated at the trade deadline and do it with more athleticism. Getting him will likely require moving up. He, too, could be in play for Orlando at 6.
Anthony Black – 6'7" point guard, Arkansas
A very similar player to Josh Giddey in that he is a great passer with fantastic size for his position that has incredible basketball IQ. He would be an upgrade from Giddey on the defensive end due to better athleticism and desire on that end. His hands and feet are extremely quick and he is an absolute pest when defending the ball. On the other hand, he is not quite as elite of a passer and his shooting is even further behind in development compared to the Aussie.
Having a player like Giddey already on the roster probably alleviates the hunger to move up for Black. On the other hand, if the team wanted to acquire a star player in the future, Black's presence could lessen the sting of using Giddey in a trade package.
POSSIBILITY #2 – STAND PAT
Those who believe in numerology probably want the team to stay right where it is. The franchise has selected with the 12th overall pick five times in the past fifty years and taken Vladamir Radmonovi, Nick Collison, coughrobertswiftcough, Steven Adams and Jalen Williams. That's some success late in the lottery.
Considering the volatility around what everyone in front of OKC might do and the depth of quality in the draft pool, the Thunder's best choice may be to stand pat. Some reporters already think the team has made the decision to do just that. If they do stay in place, and none of the guys mentioned above were to slide, these are some names we could hear:
Bilal Coulibaly – 6'6" wing, France
The betting favorite for the team is a player whose scouting report comes off like a greatest hits of players who Presti has targeted in the past.
Coulibaly has been the fastest riser late in the draft. Barely even a second-round consideration prior to the season, many NBA reporters believe that he will now go in the lottery (and some of those think the Thunder have promised they will take him at 12 – if he's still available). Last season, there were two players with a similar late rise. They were Jalen Williams, who dominated the draft combine, and Ousmane Dieng who grew suddenly. The Thunder selected them both.
The rise has been for similar reasons. As a late bloomer, Coulibaly came on most team's radars late in the process when his play forced his team in France (the same team as first-pick overall Victor Wembanyama) to promote him from their youth program. Not only was he called up, but he quickly became their second-best player, and with Wembanyama's presence, all the games were being broadcast on NBA.com.
Whoever drafts Coulibaly will probably need to develop him, which means a lot of time in the G-League. That is not something that scares away the Thunder. If he only reaches the floor of his potential, Coulibaly should have a defensive impact like that of New Orleans' Herb Jones. If the offense comes around and he builds his basketball IQ, he could be a star.
Kobe Bufkin – 6'4" combo guard, Michigan
Bufkin is an interesting player in that he has no glaring weaknesses. He seems small, or at least skinny, but finished 71.1% of his shots at the rim which indicates more strength than the eye test. He is a three-level scorer that evokes memories of Jamal Crawford when he has the ball in his hands. Unlike Crawford, he is a pest on defense that has really quick hands. If the Thunder lack interest in him, it might be due to his usage rate which indicates he may be more of a ball-stopper than the team dynamic really allows for.
For the Thunder, Bufkin could fill the role of bench scorer whose defense would make him playable in crunch time.
Cason Wallace -- 6'4" point guard, Kentucky
Sam Presti has historically valued Kentucky players, and historically Kentucky guards have outperformed their draft position. Wallace is another player without obvious weaknesses, but his defensive value currently far outpaces his offensive ability. The question becomes, does the team want to use a lottery selection on a defensive specialist who is capable of only guarding point guards?
Recent news has suggested that Wallace may not be available to OKC at 12. He worked out with the Washington Wizards who own the #8 pick, then canceled a workout with the Atlanta Hawks who have pick #15, raising speculation that he may have been promised by the Wizards.
Jordan Hawkins -- 6'5" shooter, UConn
No player in the draft has a prettier jump shot than Hawkins, whose shooting prowess helped the Huskies cruise to the NCAA title. His game is very similar to that of Isaiah Joe who was a revelation for OKC last season. That said, Presti has never drafted a player in the first round because of his ability to shoot the ball.
Leonard Miller -- 6'10" forward/center, G-League Ignite
After impressing with his athletic testing at the NBA Combine, the Canadian lefty seemed to be a player the Thunder might have to trade up to get. In what may be the most athletic draft class to ever enter the league, Miller tested near the top in every category. Then, he backed out of the Combine scrimmages and teams appeared to sour on him. Based on his tape with the Ignite, Miller has the skill set OKC has targeted from "post" players. He is comfortable playing on the perimeter but can initiate a fast break with his ball handling and make solid passes. While he only made 30.5% of his catch and shoot three attempts, he is comfortable taking them, and some time with Chip Engelland could work the hitch out of his jumper.
Rayan Rupert -- 6'7" wing, New Zealand Breakers
There has been quite a pipeline between the Thunder and the Australian Basketball League over the years – Terrence Ferguson, Josh Giddey, and Ousmane Dieng have all been first-rounders that played in the ABL's development program. That alone is enough to suggest Rupert would be seriously considered by OKC.
Rupert is often lumped together with his fellow Frenchman, Coulibaly, because they both possess long arms and quick feet that suggest they will be lockdown defenders. Where Rupert falls behind as a prospect is that his shooting is Andre Roberson-level bad, which limits his ability to contribute. While the Mets leaned on Coulibaly to be a secondary scorer as they progressed through the playoffs, the Breakers benched Rupert in the finals even though he was their best defender because their opponent kept daring him to shoot.
Dereck Lively II – 7'1" center, Duke
Lively is a name that has been mentioned a lot recently. He is an elite shot-blocker who has been releasing a lot of draft prep videos where he makes a ton of unguarded three-point shots.
As someone who watched a lot of Duke games (they are on TV, a lot), I do not buy that Lively is going to ever shoot the ball with any regularity. Duke's coach clearly gave him clear orders not to shoot the ball unless it was a dunk, even though it meant the Blue Devils were essentially playing four-on-five when they had the ball.
For the Thunder, I would not expect Lively to be anything more than what Moses Brown was for them. He could provide a body when teams like Timberwolves are overpowering them in the post, but little more.
POSSIBILITY #3 – TRADE BACK
Fun fact: Presti has only traded back in the first round once in his career. In 2019, he traded back from 21 to 23. That year he selected Darius Bazley.
So, while it is not a tactic that Presti has used historically, the depth of this draft could open up situations where the Thunder might be willing to slide back a few spots and still get a player of similar caliber while getting even more assets in the process.
In that event, here are some players that might make sense:
Sidy Cissoko, 6'7" wing, G-League Ignite – Another hyper athletic French wing that probably has more offensive polish.
Brandin Podziemski, 6'5" shooting guard, Santa Clara – Same school as JDub.
Julian Strawther, 6'7" wing, Gonzaga – Same school as Chet.
Adama Sonogo, 6'8" forward, UConn – Worked out in OKC, probably more a 2nd round consideration.
Emoni Bates, 6'10 guard, Eastern Michigan – A lot of talent, even more baggage. Ball hog tendency probably wouldn't fly with Coach Daigneault.
G.G. Jackson, 6'9" black hole, South Carolina – Playing in college at 17 has given him a pass for being terrible in college.
Jett Howard, 6'8" traffic cone, Michigan – Fantastic at standing in one place and lulling the defense to sleep.
Keyonte George, 6'4" shooting guard, Baylor – May just be Tre Mann wearing a disguise.
Maxwell Lewis, 6'7" wing, Pepperdine – Reputation as a shooter, but had middling numbers for a bad team in the West Coast Conference.
Kris Murray, 6'9" forward, Iowa – Twin brother of Keegan, who was a prospect that was old for last year's draft.
Olivier-Maxence Prosper, 6'8" wing, Marquette – Bigger wing whose stock is rising.
Nick Smith, Jr., 6'5" "point guard," Arkansas – Played injured for the Razorbacks, so that's the excuse for why he couldn't dribble or shoot as well as he did in high school all-star games.
Noah Clowney, 6'10" forward, Alabama – His last name is fun.
Dariq Whitehead, 6'6" shooting guard, Duke – Was expected to be a top pick coming out of high school, but played hurt at Duke and needed another surgery causing him to skip the draft process. If the Thunder think he will regain his athleticism, he could be a steal.
POSSIBILITY #4 – TRADE OUT
This is something the Thunder have never done, but they theoretically could trade the pick away. The team is already loaded with young talent. If a team wanted a pick in the lottery and offered a veteran that fits into the team dynamic, now would be a good time to consider that.
Again, unlikely.
SUMMARY
It will be interesting to see what direction the Thunder go on draft night. Whether they trade up, or not, the type of player that Sam Presti chooses could be a significant indicator to how he perceives the current outlook of the team. If he goes for a plug and play prospect who addresses current shortcomings, that suggests he expects the team to continue the leap from this past season. A project player, or even "best player available" could say the opposite—12 more months of roster exploration.
Personally, I would be happiest if they got in position to take Walker, Dick, or to a lesser extent Hendricks. Those are all players who would immediately compete for rotation minutes and provide skills that are lacking, currently. Failing that, someone like Bufkin or Wallace would make me happy at the 12 spot.
The way to make me sad would be trading back. Regardless of who the ending target becomes, that scenario would say that Presti is still in asset accumulation mode. As a fan who is looking forward to this team becoming a dynasty now, that fills me with the dread of uncertainty.
We shall know soon enough.

Clark Matthews is a world-class checkers champion, co-founder, and basketball editor-emeritus of The Lost Ogle
Stay in touch
Sign up for our free newsletter