Everything Else
Tulsa King Recap: "Happy Trails" (Ep. 1.9)
12:15 PM EST on January 9, 2023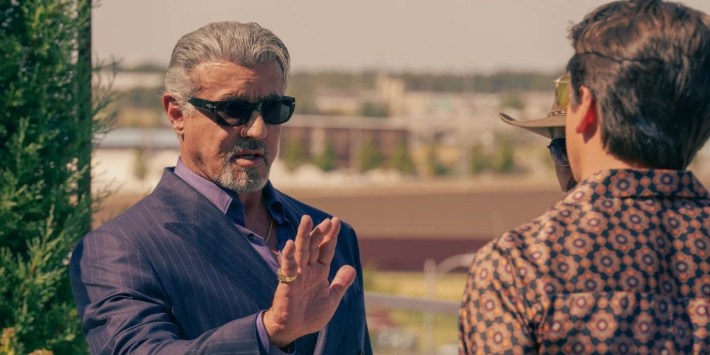 It's another week of Tulsa King – the Oklahoma-centric streaming story about a Mafia capo, freshly rehabilitated and out of prison, finding himself in the world of Tulsa's (somewhat) criminal underground.
When we last left our protagonist Dwight, his ATF love interest Stacy (Andrea Savage) had been shot by the white trash biker gang. As the new head of the crime family comes to town, it looks like Dwight and his various associates are going to make absolute war and crush some skulls!
Now let's move on to...
–
Episode: "Happy Trails" (Ep. 1.9)
The Plot: Since the shooting outside Dwight's place, Stacy is now in recovery while Dwight vows to settle the score. As Caolan (Ritchie Coster), the leader of the white trash motorcycle gang is rallying his troops, Bodhi (Martin Starr) "hacks" into a "mainframe" to "cyber-swipe" all of Caolan's ill-gotten gains into Stacy's bank account for payback.
As the new mafia boss Chickie (Domenick Lombardozzi) tries to intimidate Dwight, the Tulsa King and his rag-tag army of Merry Tulsa Men tell Chickie to take a hike…and he does it?
But that doesn't matter, because Caolan is outside the bar with a bunch of motorcycle thugs as Dwight assembles his men (and one woman) to take them all out.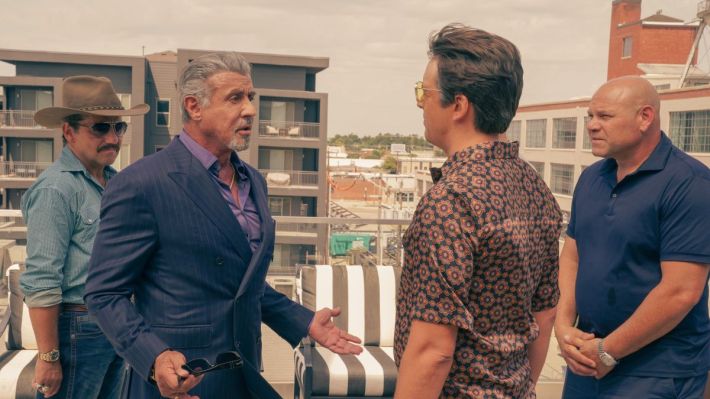 The Review: In today's modern streaming age, show-runners frequently try to resolve major conflicts and plotlines in the penultimate episode of the season, using the finale to wrap up loose ends and set the stage for future seasons to come.
But this is apparently the season finale, and a disappointing one, because every main storyline seemed too brief and quickly resolved…for the most part.*
When Dwight tells Chickie and his men to stand down—even after Chickie murders his own father, natch—they follow suit and leave without saying a word…and return to New York City! What?
After the motorcycle gang is cyber-robbed, a big biker battle ensues, with the bikers and their boss Caolan dispatched in just minutes. What?
Even Margaret (Dana Delaney) is causally dismissed and bucked off the train-a-horse! What?
The only storyline that gave me a hard-on both for casual sex and ATF fallout is Stacy's. Even though she suffered a gunshot wound and received a check for $10,000,000, she tells Dwight "No!"… and has him arrested on federal bribery charges! What?!!
I guess the conflict between Dwight and Stacy is the main thing we have going forward, and will that set the stage for Season 2.
I'll have more thoughts on Tulsa King, Season 1 next week, until then...
Best Line: "You can't trust anything that can run and shit at the same time." – Manny (Max Casella)
Stallone Moment: Dwight gives an "inspiring" speech as the bar is about to taken down by the motorcycle gang.
Oklahoma City Cameo: I think the pool outside of the classy hotel might be near the Sonic building downtown, but I don't know. Nothing else really springs to mind…let me know in the comments!
-
Follow Louis on Twitter on @louisfowler and Instagram at @louisfowler78.
*Editor's Note: We updated this post to reflect that is was the season finale.)
Stay in touch
Sign up for our free newsletter