sports
OKC Thunder Season Preview FAQ
TLO co-founder Clark Matthews tells you everything you need to know about your Oklahoma City Thunder...
9:07 AM EDT on October 19, 2022
With the OKC Thunder tipping off the 2022-2023 NBA season tonight against the Minnesota Timberwolves, I thought we could take some real questions from real Thunder fans, or conversely, fabricated questions that launch into mini-articles.
Here we go...
After a decade of tanking, will this team ever start trying to win?
- @NationalMedia
What if I told you that the Thunder were in the playoffs as recently as two seasons ago? Back in the ancient days of the "NBA Bubble," the Oklahoma City Thunder were not just a playoff team but had the fourth-best record in the Western Conference. They were a miraculous James Harden defensive (yes, defensive) play away from perhaps moving on to the second round, as well.
The past two seasons have certainly been a chore to watch. You will not find much argument on that front. However, this narrative that the OKC Thunder have been tanking—FOREVER—is not one rooted in fact. There are quite a few franchises that would be happy to say their structured roster rebuilds only took three seasons to accomplish (see—Kings, Sacramento).
That said, a third season of "roster exploration," as Thunder GM Sam Presti tends to call it, is probably on the horizon.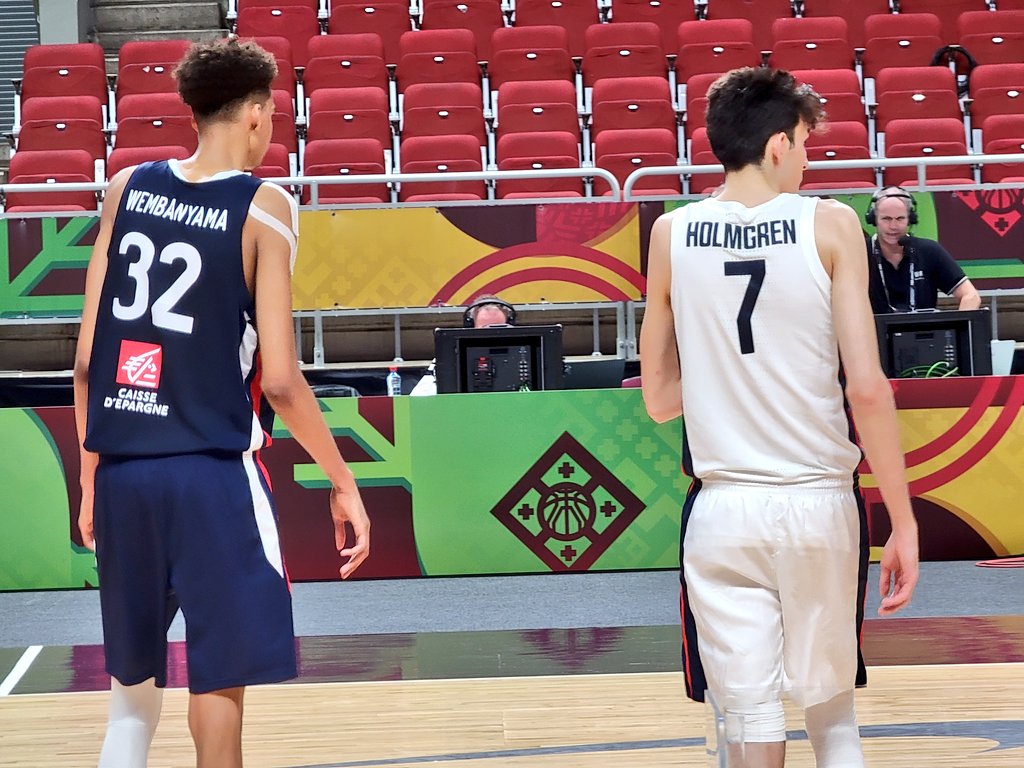 Will the Thunder be able to tank hard enough to get Victor Wembanyama?
- @RichMansChet
Anyone who saw the exhibition games featuring the likely first and second picks of the 2023 NBA Draft is now salivating over the possibility of seeing their favorite NBA team feature G-League Ignite's Scoot Henderson, or better, France international Victor Wembanyama.
I'm not just including fans in that assessment. Just about every NBA decision-maker was in attendance when an 18-year-old who is probably 7'5" knocked down seven three-point shots en route to 37 points against a team of NBA-caliber players.
After that performance, there was a conservative estimate that half the NBA would rather land in the lottery this season where they at least have a chance at landing Wembanyama versus making the playoffs.
It stands to reason that by the All-Star break, when teams have a solid understanding of whether they can compete for the championship, any non-contender could be shooting at their own basket in an attempt to lose and collect as many ping-pong balls as possible for the lottery.
From that standpoint, it could be difficult for Oklahoma City to lose enough--even intentionally--to be at the bottom. The first thirty games will probably determine whether the Thunder are hoping the odds are ever in their favor or whether they could sneak into the playoffs this year.
Hear me out. Sam Presti has said that he will allow the team to "declare itself" at the beginning of the season. Suppose the pre-season results are not just a mirage and the team continues playing well into the start of the regular season. If they should be hovering around .500 through the first third of the season, that could push them out of the tank race. By then, a half dozen teams will likely have written the season off already and implemented their Wembanyama Protocols©. In the back third of the season, it will be a fight to lose games because that has been the case the past two years without a generational talent standing at the top of every team's draft board.
What I'm saying is, don't be surprised if this young core accidentally makes the playoffs.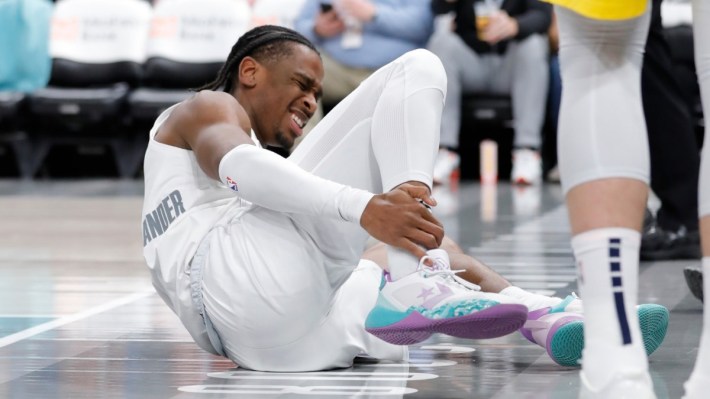 Should we be concerned that Shai is injury prone?
- @WorriedSGAfan
Over the past two seasons, the player the team roster is being built around—Shai Gilgeous-Alexander—has only played in 56% of the team's games. He then sprained his knee in private training and missed the entirety of pre-season this year.
While reports are good that he is going to be healthy enough to start on Opening Night, the team's best player has missed a lot of games over the past two seasons with injuries. In 2020/21, it was planter fasciitis that ended his season, and last year it was a gnarly sprained ankle. Conspiracy theories abound regarding whether the injuries were real or fabricated to justify holding out the team's most productive player at the end of two campaigns where losing was the goal. They were so prevalent that Presti felt the need to address them in a special off-season press conference and showed his New England roots in describing SGA's season-ending ankle injury as "wicked bad."
Presti also pointed out that he is unconcerned because the injuries have never been the same, meaning they do not appear to be chronic. However, I think we as fans should have a tinge of worry that SGA seems to be brittle in a variety of ways. The counterargument is that the past two seasons have afforded the team physicians the ability to be cautious, sitting players with minor or nagging injuries in cases where medical staff of contending teams would be pressured to get the players back on the floor. That said, SGA did also skip international duty in the Summer of 2021 when he could have helped Canada qualify for the Olympics, so that was probably legit.
Seeing as how the Thunder intend to lose forever, when will SGA be traded?
- @PopularTorontoBasedPod
During a Summer in which the Utah Jazz sold off two all-stars for mostly draft capital, and Kevin Durant trade demand offered sound and fury but nothing else, the NBA media ran out of player movement drama. Out of that vacuum came rumors of teams putting together trade packages for Oklahoma City's premiere player. The teams with the largest fan bases were the loudest about their teams making overtures for Shai. Laker fans always boast about getting star players for pennies, and in Knick nation, hope rings eternal. The most overt thirsting comes from across the border, though, where fans of the Raptors dream of bringing home their prodigal son—without having to give up any of their important players.
Sam Presti called out the media for running speculation about SGA's future before the player had even begun collecting the max salary payments from the five-year extension that was signed in the Summer of 2021. This is a non-story.
Why does Lu Dort keep giving the Thunder a discount?
- @LuDortsAgent
I nearly took another question about SGA and his chances of playing in the all-star game, but instead, let's talk about his fellow Canadian.
In the lead-up to the Bubble Playoffs, the Thunder had to sign their starting shooting guard to a real contract. As an undrafted free agent signed to a two-way contract, Lu Dort had overperformed and despite contract limitations that excluded him from practicing with the team, he had started 28 games as a rookie and helped vault the Thunder into the Western Conference's fifth seed. That contract also precluded him from being on the postseason roster.
Dort had all the leverage. OKC needed him, but he was in a position to walk and be an unrestricted free agent with a stellar resume. Over a barrel, Presti convinced him to sign a *checks notes* 4 year/$5MM deal with team options for every season.
When that news broke, I was certain that a typo had omitted a zero from the total value. At a minimum, Dort could have convinced a team to give him a full mid-level exception offer. Yet, there he was content to be the biggest bargain in the NBA. Fast forward to this past Summer when he could again command a big salary, and instead he signed a reasonable 5 year/$87.5MM contract.
Sure, those numbers look mind-boggling to an outsider, but in the current NBA economic structure, that's a salary given to a standard role player…which to be fair, is probably the long-term status the team wants from him. If he is still the team's second leading scorer and best defensive presence two years from now, that's not saying good things about the rebuild.
He is, however, the team's second-leading scorer and best defensive presence and that would usually have a player commanding star-level money. Take the example of Dort's fellow third-year player Kevin Porter, Jr. of the Houston Rockets. From a statistical standpoint, the two are basically identical. The difference is that Porter, a player who has also been a severe discipline problem for his employers, just inked a 4-year/$84M contract. His annual salary will be about 25% higher than Lu.
So, what gives? This may be an interesting narrative playing out. Dort actually grew up a Thunder fan, like many young basketball players who came of age when the KD-Westbrook-Harden-Ibaka core were providing nightly highlights. When Dort went through the 2019 draft, his representative actively worked to convince teams not to draft him so that he could choose his NBA team. He went with OKC, 1) because they had been seeking a player with his capabilities for years, and 2) he was a Thunder fan.
Has Chip Engelland already solved the shooting problems?
- @Dare2DreamOKC
If you watched the Thunder's 5-1 preseason, you might have been surprised to see three-point shots go through the basket. Outside shooting has never been a strength of the team, but last year they ranked dead last in the NBA making only 32.3% of shots beyond the arc.
Former Spurs assistant Chip Engelland has built a reputation as a shot doctor and the Thunder backed a Brinks truck up to his house to get him to Oklahoma City. Early results—small sample size, pre-season, other caveats, yadda-yadda—have been great. In the six warm-up games, the team made threes at a 38.2% clip. Last year, the Heat were the best in the NBA by making 37.9%.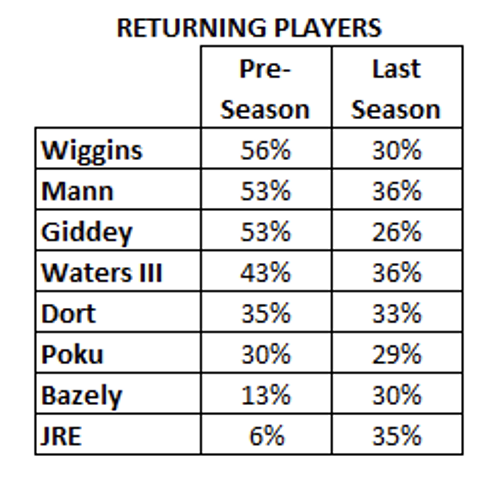 Back to the caveats, the Thunder absolutely are not going to go from worst-to-first this season. It can be said that the players do seem to look more comfortable shooting right now. Is that Engelland's magic? Was it just dominating a couple of non-NBA teams (they were a combined 41-84, or 48.8%, against teams from Israel and Australia)?
Who knows, but I hope they didn't just peak at the worst possible time.
Clark Matthews is a world-class checkers champion, co-founder, and basketball editor-emeritus of The Lost Ogle
Stay in touch
Sign up for our free newsletter