sports
Peace, Love and Thunderstanding: The Case for Jabari Smith, Jr.
8:26 AM EDT on June 15, 2022
While there is no consensus "best player" in the 2022 draft, the player most commonly assumed to be the first pick overall is Auburn's freshman power forward Jabari Smith, Jr.
An NBA legacy--his father was a second-round pick for Sacramento in 2001--Smith is Vegas' prediction to hear his name called first. If he isn't, or if the Thunder trade up, should the Thunder take him? Let's discuss.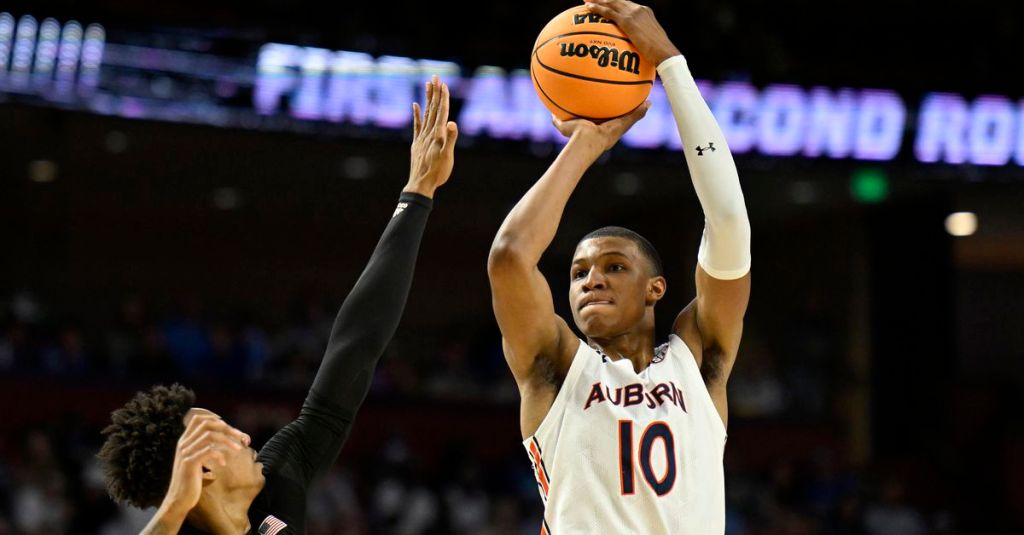 Position: Power Forward
Height: 6'10"
Weight: 210 lbs
College: Auburn
Player comps: Rashard Lewis
The case for…
One mock draft I read recently posited that Smith COULD BE THE BEST SHOOTING BIG MAN TO EVER ENTER THE DRAFT, and while hyperbole, it rings of truth. Respected draft analysts have likened Smith to Kevin Durant due to similar height, skinny frame, and shooting ability. In his only year of college basketball, Smith attempted 5.5 three-point shots per game, so high volume, and made 42% of those shots.
Before he retired, Chad Ford suggested that Smith would be the only "Tier 1" prospect by the time the draft rolled around. Unlike most tall shooting specialists, Smith is not expected to be a defensive liability. In fact, he probably possesses enough athletic ability to be a good defensive player. Unlike other tall shooters that get played off the floor by quicker or stronger players, Smith will not be targeted on switches.
A strong argument could be made that Smith is precisely the player Oklahoma City needs. The team has lacked floor spacing players since moving from Seattle and the current roster has plenty of offensive players that can either slash to the basket or find cutters with passes, but they lack players that draw defenders away from the basket to create space to slash or cut into. Smith will have that type of gravity that keeps defenders from sagging off for fear of being burned by a three-pointer. And though he is not known for his ability to create his own shot, with his length, there are few defenders that can stop him from getting a shot off whenever he pleases.
The case against…
A lot of the comps being made on the internet are not doing Smith favors. Calling him the best shooting big man to ever enter the draft ignores that Dirk Nowitzki and Larry Bird went through this same process. And likening him to Kevin Durant invokes a scoring prowess that just does not match what Smith can do. He shot 42% from three, which is very good, but his overall shooting percentage was 42.9%, which suggests he was not a good shooter inside of the arc--and the tape confirms this. Why couldn't a guy with elite length rack up easy buckets against inferior defenders? Perhaps he could improve on this with added strength...or maybe he just lacks the toughness to finish through contact.
Meanwhile, the hype did him no favors. Unlike the other players considered to be in contention for first overall, Smith's performances were not televised often. As such, I had only heard/read these unfair comparisons. Then, when I finally had the opportunity to watch him during the tournament, he seemed very flawed. In the game Auburn was eliminated in, he was a ghastly 3 of 16 from the floor including 1 of 8 from three. It could have just been a bad day at a bad time, or it could have been telling that against a team with athletic defenders he was over-matched.
Despite his height, Smith is not likely to ever play center defensively. He moves his feet well enough to guard smaller players, but his help defense is basically non-existent. Smith does not appear to have the shot-blocking instincts to overcome his wiry frame. As such, the Thunder would still have a gaping hole in the middle of the defense.
My projection…
Assuming the tournament was an anomaly, Smith should improve with NBA development. If coaching can make him more confident and successful inside the arc, he will be an all-star. At minimum, he will be a three-point specialist that can still defend and rebound. That's a pretty good floor, although maybe a little less than you would want from a first pick overall.
Will Orlando take him?
Probably. Unless they worry that he will be no more than a three-and-D player and want to take a risk on a potential unicorn like Chet Holmgren, Smith is probably their pick. That said, if they want to hedge their bets -- they do have a similar player, style-wise, in Mo Bamba -- maybe they would be willing to trade out of first overall for OKC's pick at two and some other assets. If Sam Presti is convinced of Smith's all-star qualities, there's a good chance he could make that swap happen.
-
See also: Peace, Love and Thunderstanding: The Case for Chet Holmgren
Clark Matthews is the basketball-obsessed co-founder of The Lost Ogle and a 12-time Sooner State Games Checkers champion.
Clark Matthews is a world-class checkers champion, co-founder, and basketball editor-emeritus of The Lost Ogle
Stay in touch
Sign up for our free newsletter