Everything Else
Peace, Love and Thunderstanding: The Case for Chet Holmgren
4:52 AM EDT on June 14, 2022
With that second pick in next week's NBA draft, Thunder GM Sam Presti will have plenty of good options to sift through before selecting the player he believes will have the biggest long-term impact for the team.
Over the next week, I will profile some of the players who should be considered. We start with the player I hope ends up in a Thunder uniform: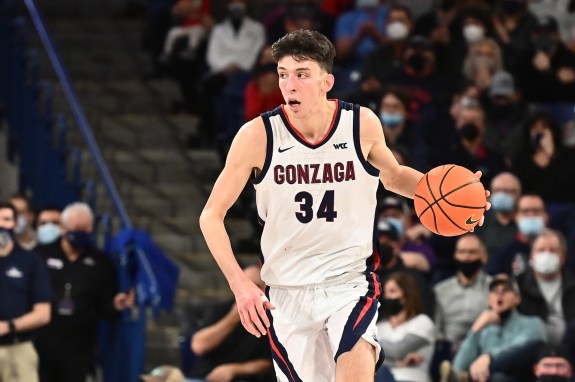 CHET HOLMGREN
Position: Center(?)
Height: 7'1"
Weight: 195 lbs
College: Gonzaga
Player comps: Rudy Gobert/Mike Muscala hybrid
The case for…
My first look at Holmgren was a high school game televised by ESPN. The draw for me was seeing Emoni Bates, a phenom I had been hearing about for a long time that was supposed to be headed to Michigan State for the 2022/23 season. During that game, Bates was an afterthought. Holmgren, who played for the other team and looked even more like Slenderman at the time, just dominated every aspect of the game. He swatted shots, then grabbed the loose ball and led the break before flushing it on the other end. He swished stepback threes or broke down smaller players with crossovers. As far as first impressions go, it was epic.
A year later, Holmgren was the star recruit for the Gonzaga Bulldogs who had just lost in the National Championship game. The stacked roster of returnees expected him to put them over the edge. From a performance standpoint, he did not disappoint.
On per-36 minute numbers (these numbers are used to extrapolate what a player's performance might look like if they played starter minutes during an NBA game), Holmgren would have put up 18.9 points and snagged 13.3 rebounds per game. More impressively, he would have blocked 4.9 shots. As far as traditional stats go, rebounds and blocks translate well to the next level, meaning he could be an elite rebounder and shot-blocker as a rookie.
His shooting numbers were also fantastic. Holmgren was successful on 60.7% of his field goal attempts, a number dragged down because he took more than a third of his shots from outside the three-point arc. His conversion rate of 39% out there is actually pretty good, but take those out of the equation and he made shots around the basket at a 72.7% clip.
While his traditional stats are good, it is the advanced stats that really make Holmgren pop. For teams that put emphasis on these, supposedly OKC is one of them, he will stand out.

The case against…
The eye test is not a friend to Chet Holmgren. His frame will be an immediate knock as he weighs the same amount as the top guard in the draft class despite being seven inches taller. Many scouts believe he will never be able to put on a significant amount of weight—something to do with narrow shoulders, maybe.
Why does this matter? Theoretically, he could have to guard players like Joel Embiid at the next level, and Embiid bullies much thicker players. Keep in mind, there aren't many players with post skills like that, even at the NBA level, and the counter for those players is usually a perimeter heavy offense that plays them off the floor. (Think of how Enes Kanter and Steven Adams became unplayable during the playoffs.)
The other concern is that being that skinny will make him injury prone, like he will be broken in half trying to box out Zion Williamson. (Of course, beefy Zion is the one who tends to be on the injured list because his feet cannot handle his frame.) Do skinny players tend to miss more games than a normal player due to wear and tear? Not enough to justify that stereotype.
Where players like Holmgren do have injury concerns is in the joints. One similar player to him is Kristaps Porzingis who never reached his potential because of balky knees. That height must be tough on ligaments, and Holmgren's father did see his basketball career cut short due to knee injuries.
My projection…
Barring a catastrophic injury – and the plight of his father actually gives me comfort in this, as Chet has done physical therapy from a young age for preventative reasons – I think Holmgren would be a perfect fit with the Thunder. At a minimum, he plugs the holes on defense, and he could easily grow into a difference-maker on par with constant defensive-player-of-the-year Rudy Gobert.
Unlike Gobert, I do not see how opposing teams could play Holmgren off the floor. Raised playing guard before his seven-inch growth spurt, Chet is very comfortable on the perimeter and will not sag off his man the way Gobert does. When he does, Chet can provide floor spacing as a sniper from three, a la Mike Muscala.
Those guard skills he developed as a young player also fit the philosophy of Thunder coach Mark Daignault. Holmgren is very capable of pulling a rebound off the rim and instantly igniting the offense by running it up the floor or firing off outlet passes. I honestly cannot think of a player who would fit this system better.
Will Orlando take him?
Quite possibly. ESPN's NBA draft guru, Jonathan Givony, reports that most teams expect Orlando to take Auburn's Jabari Smith, Jr. – more on him tomorrow – and that Holmgren is widely expected to by OKC's choice. Other outlets are certain that Holmgren goes number one. There are even a few who think Paolo Banchero will be the name called first. Basically, no one knows anything about Orlando's intention.
–
Clark Matthews is the basketball-obsessed co-founder of The Lost Ogle and a 12-time Sooner State Games Checkers Champion.
Clark Matthews is a world-class checkers champion, co-founder, and basketball editor-emeritus of The Lost Ogle
Stay in touch
Sign up for our free newsletter