Everything Else
Kevin Stitt / Brent Swadley photos emerge…
1:04 PM EDT on May 3, 2022
Grab a wet nap! The Swadley's Foggy Bottom Swindle is getting messy!
Yesterday afternoon, Fox 25's Wendy Suares acquired a photo of Brent Swadley having a good old time with Oklahoma Governor Kevin Stitt at the Swadley's Foggy Bottom Kitchen at Roman Nose State Park.
It's relevant because the only consistent thing coming from Stitt's mouth regarding the Swadley's Foggy Bottom Swindle is that he doesn't know Brent Swadley.
Check this out:
That's sweet! It's always nice to see two honest, devout men with high character enjoying the smokey and tangy fruits of their grifts and management fees!
Coincidentally, we also obtained a photo of the "hand written" (in computer script font) note that Governor Stitt sent to Brent Swadley from one of our BBQ Moles. Check it out below. Stitt thanked Brent for the "special time" and "fantastic food." He was especially impressed with the, wow, fried honeybuns...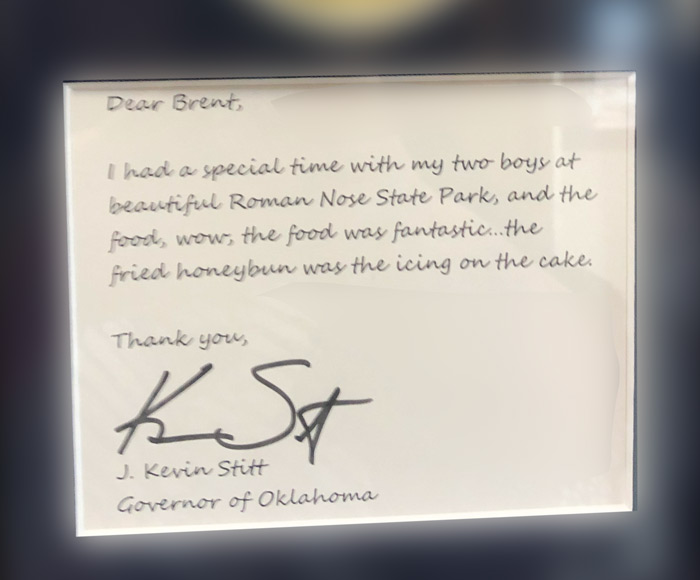 Obviously, the photo and the note seem to directly refute Kevin Stitt's claim that he didn't know Brent Swadley. In fact, just last week the governor went full Bill Clinton and forcefully claimed that he never had any barbecue relations with that man.
The Governor also addressed comments made by Swadley's owner Brent Swadley. In a report from the Oklahoma State Fire Marshal, an agent reported that Swadley told him, "Governor Stitt reached out to me to put my restaurants in his state parks."

"Let me be clear, I do not have any sort of relationship with Brent Swadley," said Stitt. "I don't know Brent Swadley. I have no involvement in this contract."
Yeah, it's probably not a good idea to deny knowing someone after you sent them a personal note confessing your love for their honeybuns. With the way things are going, OSBI is going to have to swab the BBQ stains on Brent Swadley's old t-shirts to see if they have Kevin Stitt's DNA on them!
Although the photo and note seem to refute Stitt's claim, I did get a dispatch from an Ogle Mole claiming that the photo and note look worse than they actually are. It's worth sharing:
FYI – That tweet was liked by both Carly Atch and Chucky H. I may need to book an extra therapy session this week.
I know we'd all like to wish that Swadley and Stitt were BFFs who used to herd sheep in the Wyoming wilderness, but I can see Mole's report being accurate. From what I've gathered, Swadley has a braggadocious mouth, a massive ego, and is a big talker. Would anyone be surprised if he played up his relationship with the Governor to look like a hot-shot around his friends, colleagues, fire marshalls, contractors, employees, and all the people at his church? That does kind of seem like something that an alleged swindler who is accused by the state of committing fraudulent activities would do.
Then again, who cares about that? Stitt and Swadley have obviously met, and Stitt's going out of his way to downplay that. I'm sure he had to know Swadley was a church-loving BBQ restauranter who shared a mutual love and appreciation for God, Family, and Taxpayer Money. At the very least, they were the political circle jerk equivalent of Facebook friends. At the worst, they're mixed up in this scandal like mayo in coleslaw.
Either way, we'll continue to do our best to provide updates on this developing scandal. Here are a couple of other notes...
• I've talked to multiple Ogle Moles who are saying things aren't rosy in Swadleyland. They say Swadley is stressed and scared, and could even be heard screaming during a closed-door meeting in his office after the state canceled the Foggy Bottom contract.
• According to a former manager, Swadley's changed their manager bonus payment program around the same time the state stopped paying Foggy Bottom invoices in 2021. The former manager claims the excuse Swadley gave was that the company wasn't profitable due to rising meat prices.
Stay with The Lost Ogle. We'll keep you advised.
Stay in touch
Sign up for our free newsletter