Food
TLO Restaurant Review: Tally's Café
9:59 AM EST on November 23, 2021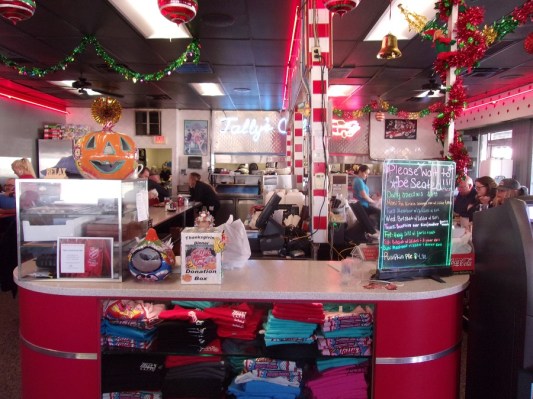 Tulsa is home to a great many restaurants that I hope to someday try, with a few written on a list that keep in my wallet for whenever I make a trip up there. But, sometimes, that list is pretty useless when you drive by a place that immediately attracts you, filling your body and soul with a carnal (carne?) lust that can't be contained until you're finally seated there and that plate is mercifully delivered, front and center.
Or something like that.
That's how Tally's Café, 1102 S Yale Ave. on Route 66, was for me. With neon signage that proudly proclaims its streetwise history, at first glance, it seems like one of those tired cafes that desperately tries to hold on to an imagined era for as long as possible. And while there is a part of Tally's that probably does try to do that, at least here, the perfectly made food really does most of the flavorful talking...
For example, on any menu, whenever a particular item is highlighted as a restaurant favorite, such as here, I always order it, to mostly ho-hum acclaim. But, at Tally's, they're absolutely right; Tally-O's Onion Rings ($6.95) was a large portion of an onion, if not a whole one, done the exact way I like it: hand-battered and deep-fried, so much so that the fried goo simply hangs off the skin for dear life.
Delicately dipped in their ranch dressing, I added a light sprinkle of hot sauce for a bit of additional flavor; each bite was crispy and crunchy and definitely worth it, with parts of the well-cooked onion hanging out with the fried slivers, acting as though it was a special feature just waiting for me to deeply indulge, which I did.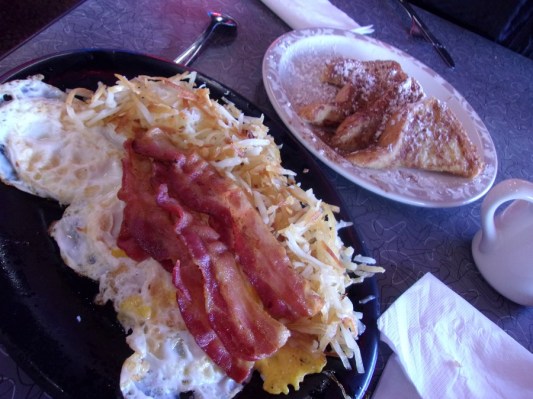 My friend, in far more of a morning mood than I ever could be, ordered the 3X3X3 ($10.95) breakfast, a diner specialty that featured a nice scattering of hash browns, covered with a trio of well-done eggs and three strips of crispy bacon and, if that weren't enough, daddy-o, a few slices of the Frenchiest toast around, just ready to sop-up in syrup.
While the hash browns, over-easy eggs and strips of bacon were done up just fine, it was that French toast that was the bee's knees. Covered in powdered sugar with a heavy splattering of maple syrup on top, these were the slices of French toast you remember your mom making, even though it probably came to you in some sort of breakfast-related fever dream.
But, as for me and my empty stomach, we took USA Today's "Best in Oklahoma" recommendation, voted on by you, the readers: Tally's Famous Chicken Fried Steak Sandwich ($10.95). Sided with gravy fries, the sandwich had all the usual accoutrements like lettuce, tomatoes, and onions, but that didn't matter at all here, as this chicken fried steak was huge, giving Del Rancho more than a run for its loot.
Even better, it's a damn good sandwich, with every single bite mattering. Along with the gravy fries—which, forgive me, I did splatter a little bit of hot sauce on—it worked better than I had ever hoped, as the juicy steak with its lovable coating, as well as the sweating vegetables, made for the truest approximation of an absolutely pure chicken fried steak sandwich I've had in a long time; maybe USA Today was right?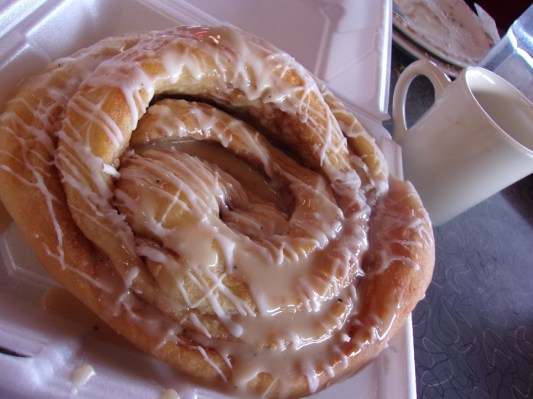 With its grand size however, I couldn't finish that sandwich, no way, no how. I packed it away in a container and figured that, with a small Tally's Favorite Cinnamon Roll to share with my friend, we could have a great dessert at an even greater place; of course, the cinnamon roll was the size of a large dinner plate.
Two glorious bites and I was done for the day. Cómpralo ya!
_
Follow Louis on Twitter at @LouisFowler and Instagram at @louisfowler78.
Stay in touch
Sign up for our free newsletter