Food
TLO Restaurant Review: Szechuan Story
10:45 AM EDT on October 26, 2021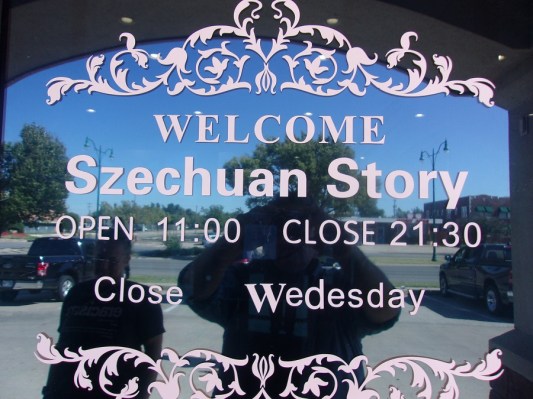 Once upon a time, deep in the fair heart of Oklahoma City's Asian District, on the ashes of an ill-fitting Italian eatery sits the spicy bones of Szechuan Story, 2800 N. Classen Blvd., the latest edible warrior to do culinary battle among the area's legendary dining greats.
Even though, only a week or so ago, I sampled the fine wares of a restaurant not more than a street over, as I was checking my mailbox at the nearby tag agency, it was firmly decided that it was time for this dining story to finally be told; with my former neighbor Amy aiding me in this delicious conquest, we stopped in to finally taste what has been calling out to me for months.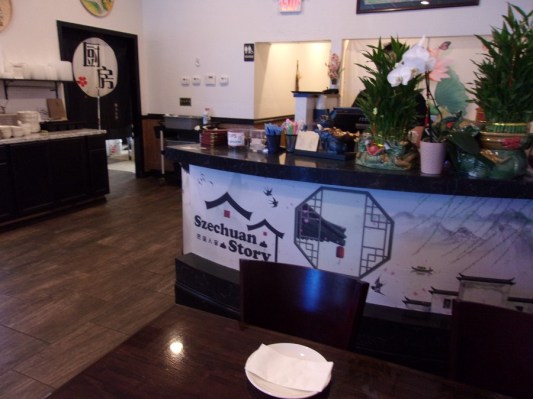 Somewhat taken aback at how much work has been done to the inside, as we were shown to our seats, little did I know about the work that will soon be done to my own insides, as Szechuan-style cooking specializes in various peppers, oils and spices, the kind that will form beads of sweat on your forehead as soon as the first bite.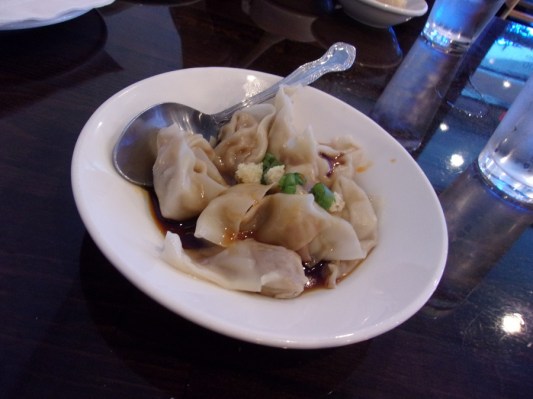 And, almost immediately, the perspiration began because, for an appetizer, I started off with the Pork Wontons in Chili Oil ($5.95). Undeniably flavorful and unfathomably hot, I have never had wontons like this, as, with each bite, a plump piece of pork desperately fought to escape and almost did as I clenched it tightly between my teeth like a demon holding on to its prey.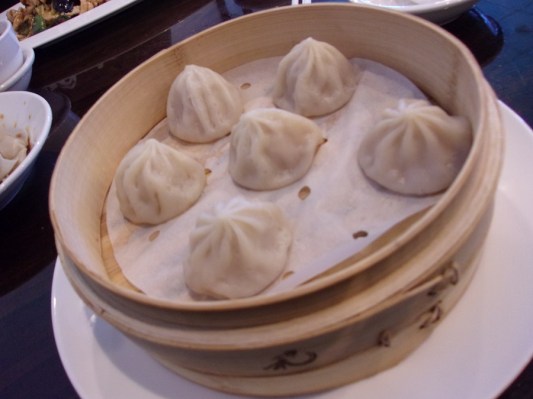 My friend seemed to have a bit less of a problem with this, as she demurely ordered a wooden basket of Little Juice Pork Buns ($5.95)—a little bigger and a little juicer, but with far less spice than the wontons, as expected. Although, when I bit into one of these, I realized I failed as the piece of pork in the middle popped out and fell to the floor.
I hope that no one saw that.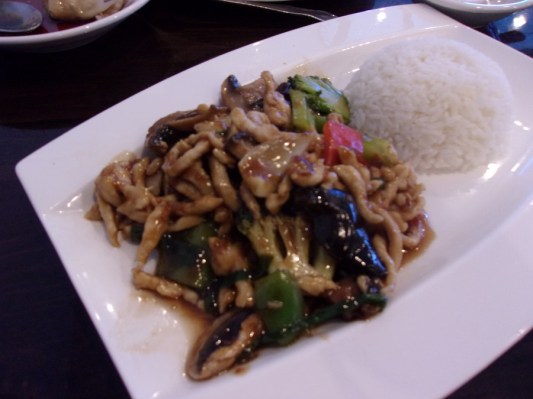 As I was trying to cover up my food-based faux pas, Amy, with a smile on her face, was enjoying her lunch special of Chicken with Garlic Sauce ($8.95), as I assumed she would. While, at first, I expected this dish to be your typical buffet take on chicken, as I sampled the meal myself, I realized I was incredibly wrong; the garlic sauce, beautifully rich in its delivery, covered a bed of thick broccoli and thicker chicken for a truly strong outing.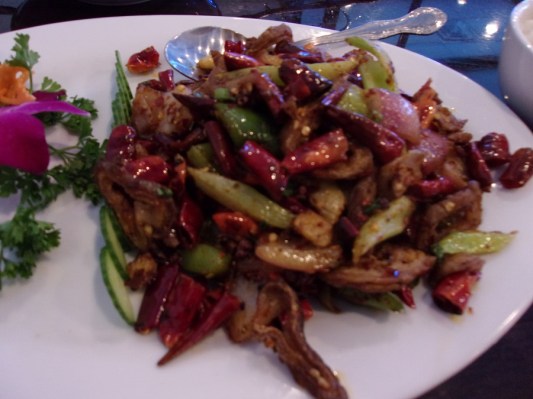 Drinking a glass of water and then another one, as my tongue slowly began reverting back to its typically unheated state, my own lunch of Dry Fried Pig Intestines with Red Chili ($13.95) was sat before me, looking like no porcine entrails I have ever had before, possibly in my life. Surrounded by celery, bell peppers and so many of those red chilis, the guts that I'm typically used to—thick, large and, usually, still wet—were different here, replaced with thinner cut, deep-fried slivers of crispy viscera.
The peppers that surrounded the meats burned my throat with all the fires of Hell, but I must be a culinary masochist of the worst sort because I genuinely fell in lust with every bite I suffered through, the angry intestines mixing wildly with the battalion of loyal red peppers, all of which were already doing much-earned digestive damage on my esophagus as I swallowed every bite most greedily.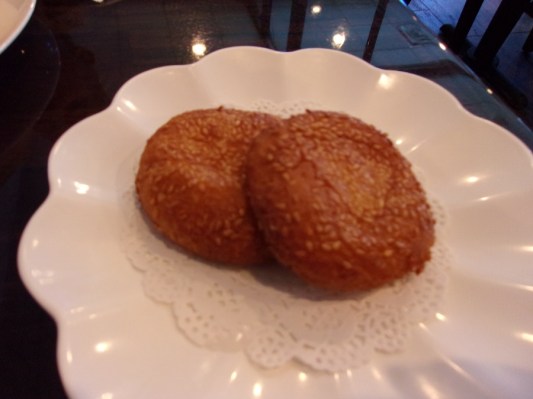 Desperately drinking a couple more glasses of water, I pushed my food aside and, for a light respite, bit deeply into the Sweet Potato Cake ($2.95), a warm bit of tuber-based balm that was soft and loving and, of course, sweet as all get-out. But, for this Szechuan Story, the tale is one of pure fire. Cómpralo ya!
_
Follow Louis on Twitter at @LouisFowler and Instagram at @louisfowler78.
Stay in touch
Sign up for our free newsletter