Food
Come and Get Your Love: Redbone and the Native Tacos of Medicine Park
7:15 AM EDT on September 16, 2021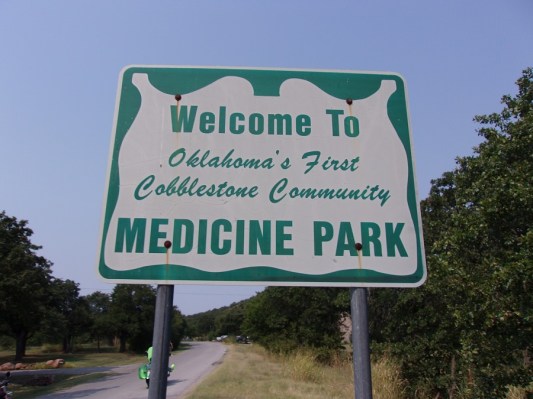 Walking around Medicine Park is a strange experience.
As motorcycle clubs repeatedly drove past us, people with dogs and children that were leashed like dogs walked by and everybody seemed mostly happy about the goings-on. I know that I, with my typically terrible attitude, even felt a cellular complacency with the place. Weird, right?
But I had every right to be in a good mood today: I was going to try the Native tacos that my friend had told me about breathlessly. She told me about the red truck that sat between two buildings and how the lines for frybread were long and lean, offering handmade delicacies that I became, over the last couple of weeks, desperate to try.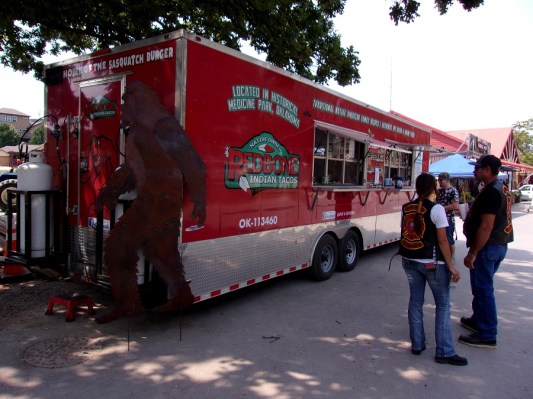 As the truck pulled up into town and began to set up shop, we waited across the street at the picnic area of a small bakery after perusing a shop or two or three. Our dogs were playing in the shade with each other before willfully collapsing, their tongues getting longer with each pant. They were hungry and I knew the feeling.
Finally open for business, I quickly walked over. They apparently weren't serving their popular Sasquatch Burgers today, but that was alright. I didn't want a burger.
A young Indigenous guy poked his head out of the window and I gave him the precise order of the Redbone ($10.00)—the Native taco—with everything on it, as well as the Warrior ($10.00)—a sort of walking taco, also with everything on it—and a Drum Circle ($5.00)—a dessert frybread with cinnamon honey butter.
After only a few minutes, I was handed the delicately made food and walked back across the street, the rapturous smell emanating from the boxes, causing my stomach to leap like a chosen frog. I carefully unboxed the items like they were like the Holy Grail, first the Warrior, then the Redbone and, finally, the Drum Circle, arranging them in the order of miraculous bites I would take.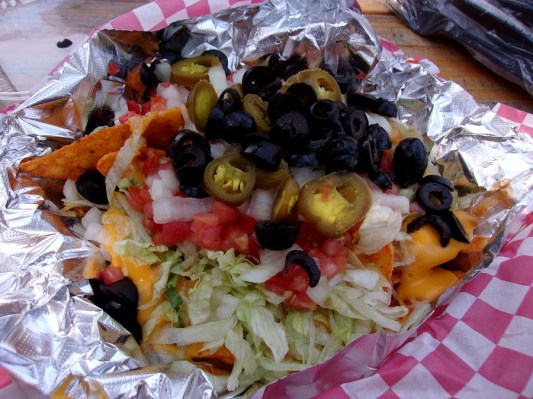 Only having the predetermined walking tacos from gas stations and such, the Warrior (pic above) was a piece of true art, with plenty of cheese Doritos layered on the bottom, then covered lavishly with homemade taco chili, cheese sauce, lettuce, onion, tomatoes, black olives and jalapenos covering every inch of orange space, leaving only the foil poking out of the sides.
After having two or three helpings, I had no idea how anyone could walk anywhere with this edible monstrosity of total snackdom. The heaviest carton in the bag, it was a lavish treat, with everything coming perfectly together on the nacho cheese chips for all to enjoy. But, as good as it was, what I truly wanted was the Native taco and I duly pushed these aside.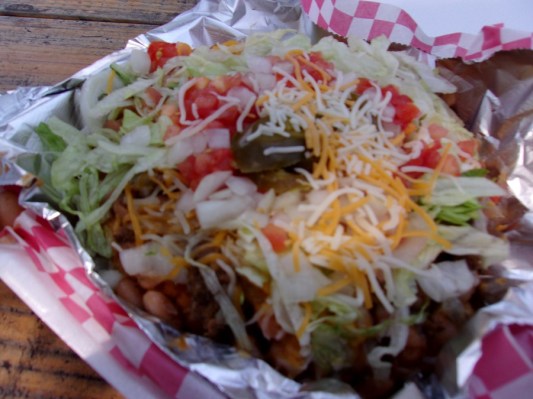 Now my typical complaint about Native tacos is typically the scarce frybread, often purchased at State Fairs and such, thin as a cracker and twice as crispy. But no, not here—the Redbone was a faithful totem of deliciousness, starting with the massively thick frybread, a golden brown pillow that effortlessly contained the homemade taco chili, cheese and other important toppings like onions, tomatoes and such.
It was the mightiest of treats, possibly the best thing I have ever wrapped my lips around. Taking a large hunk out of the side, the bread and the coverings, two separate entities combined to form one supernatural taste; it actually forced me to take a pause and slowly enjoy everything about it. The bread was firmly soft yet well done, and the taco chili, with its mélange of meat and beans even more so.
In other words, it was a dream and my mouth the dreamcatcher.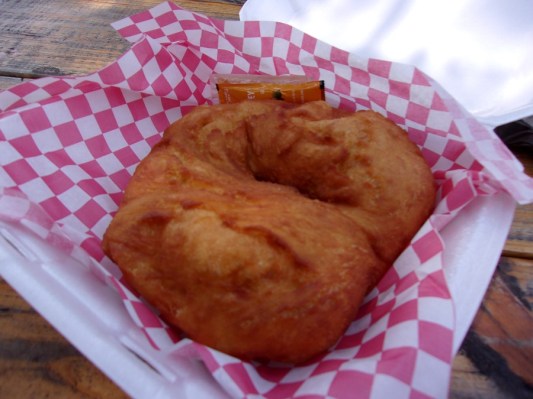 The plan was to lightly eat and perhaps go on a hike, but I still had to try the Drum Circle, a lone piece of overexcited frybread that, when mixed with the cinnamon honey butter was a true sensation, as I have never had it like that before and, to be honest, plan to the next time I'm anywhere near the Redbone taco truck.
You know, a part of me hopes, however magically, that they're at the State Fair this year representing true Native culture and an even truer cuisine, bringing the memories made at Medicine Park with them. Sadly, I'm not holding my breath, but one can hope, right?
_
 Follow Louis on Twitter at @LouisFowler and Instagram at @louisfowler78.
Stay in touch
Sign up for our free newsletter