OKC Media
Rez Recaps: Reservation Dogs Ep. 4
4:44 AM EDT on August 25, 2021
America always seems to lust after Indigenous people when they're at their lowest, for dramatic purposes, of course. Very rarely are their comical sides ever shown—probably because it actually humanizes us too much—which makes Reservation Dogs not only a groundbreaking series, but one of the truest shows ever presented on television.
Created by Oklahoma filmmaker Sterlin Harjo and New Zealand filmmaker Taika Waititi, Dogs stars Devery Jacobs as Elora Danan Postoak, D'Pharaoh Woon-A-Tai as Bear Smallhill, Lane Factor as Cheese  and Paulina Alexis as Willie Jack as the series main focus, with each week bringing new trials, tribulations and, of course, guest stars, many of whom you would never expect on television.
Mike Bone, please stand up!
Every week, I will recap the show for those that don't have the FX on Hulu (or illegal file-share services), giving the basics of the episode and not spoiling anything too much for anyone until they, of course, hit DVD. Skoden!
_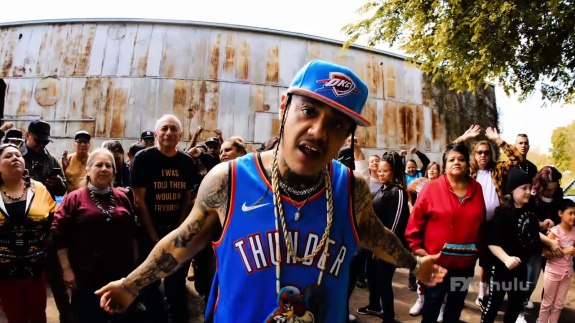 Episode 4: "What About Your Dad"
The Plot: For this year's Anti-Diabetes Wellness Fair at the Indian Clinic, they've booked Indigenous rapper Punkin' Lusty (Sten Joddi), who happens to also be Bear's father. The news has his mom, Rita (Sarah Podemski) rather irked, so she hits the bar and ends up going home with a white doctor in the hopes of giving Bear a better life.
Meanwhile, Elora is courted by a rival gang at the local grocery store.
The Review:  A bittersweet episode, while much of it is about the clownish rapper Punkin' Lusty, in reality, it's all about the dynamic between Bear and his mother. While Bear is always hoping to impress his dad coming out from California, his mom is always trying to find a man to give Bear a good father while she still can.
Of course, that usually means giving into her base urges because she needs to feel love too. She hooks up with white doctor David (Garrett Hedlund) who, at first, seems like a nice guy that's down for the cause, until she starts to see him for the ultimate carrier of the white man's burden, using his absolute wokeness as a means of ownership towards Native people.
In my own dating life, many times the people I've been around romantically have told me that they're into either my Indigenous or Latino side rather than me as a person; but just wait until an argument occurs—especially if something goes missing—then they'll tell you what they truly think of those sides, all of it terrible and all of it typically racist.
But I guess that's what I get for dating white people, I suppose.
Best Line: "What kind of Native rapper ain't into pickles? Pickles are hot right now." – Auntie B
Funniest Moment: The moment when David launches into an uncomfortable spiel about how much he idolizes Indigenous people, from his Lakota best friend to how beautiful he finds Native women. As Rita hears this, she imagines a dinner scene out of any recent slave epic, making it both uncomfortable and hilarious.
Oklahoma Soundtrack Pick: Punkin' Lusty – "Greasy Frybread"
_
Follow Louis on Twitter at @LouisFowler and Instagram at @louisfowler78.
Stay in touch
Sign up for our free newsletter