Everything Else
Compassionate OHP Trooper Didn't Want to Ruin Life of Crazed Road Rage Driver
10:09 AM EDT on August 23, 2021
Who says cops don't have a heart?
A few weeks ago, we told you about the Oklahoma Highway Patrol letting a man off with only an illegal lane change ticket after video showed he went full psycho demolition derby on I-35 and ran another motorist off the road, all while his 4-year-old son sat in the back seat.
The obvious question following the incident is why did the Oklahoma Highway Patrol – the law enforcement agency that's supposed to keep our highways safe – let the man walk free after he deliberately and intentionally jeopardized the lives and safety of other motorists?
The answer? The State Trooper on the scene didn't want to ruin the good ole' boy's life!
Late last week, News 9 reported that OHP finally charged the driver of the truck – Steven Coughran – with child neglect, and assault and battery with a dangerous weapon, 10 days after the incident. They also acquired bodycam footage that showed the chummy interaction with Coughran and Chandler Lipe – the OHP trooper on the scene.
An Oklahoma Highway Patrol trooper working the scene of a violent road rage crash on I-35 told the suspect he got a break because his 4-year-old child was in the back seat.

Under the Oklahoma Open Records Act, News 9 obtained a copy of Oklahoma Highway Patrol Trooper Chandler Lipe's body-worn camera video of the Aug. 8 roadside investigation.

"I'm not gonna say I wasn't playing stupid. I'm not going to sit here and lie to you," Steven Coughran told Lipe. "I was being a dumbass. You know how testosterone is."
As one of the 4-billion or so men on this planet who has testosterone, I don't think it automatically makes you want to run another motorist off the highway when you get mad while driving. I think you can blame that on other things, like anger management issues, lack of control, propensity towards violence, mental health, machoism, lack of character and ethics, etc.
Either way, the testosterone excuse is a good one. Maybe that will be in the ad copy for the next Oklahoma Men's Clinic commercial on The Sports Animal...
"Hi. This is Greg with The Oklahoma Men's Clinic. Do you suffer from fatigue and lack of energy? Does your honey want more lovin' in the bedroom? Do you feel the urge to run motorists off the highway because they cut you off two miles earlier? Don't be a soy boy! Be an alpha male and call for a free consultation today!
You'd think Coughran's admission of guilt – along with the pervasive video footage showing that he caused the accident – would have been enough for OHP to take him to jail, and get him off the roadways where he could be a danger to the public. We know how motivated they are to keep bad people off the roads, right?
But fortunately for Coughran, he stumbled across a kind, compassionate State Trooper who didn't want to ruin the life of a man who only minutes earlier tried to ruin the lives of other motorists, and possibly even his own child.
News 9 shared this exchange the Trooper Lipe had with the driver of the car that Coughran ran off the highway.
"That's kind of where it gets weird. This is kind of where I'm going to cut him a break," Lipe told Powers. "Because he is obviously a dad, and I don't want to mess his life up. You know what I'm saying, child endangerment is a felony. A felony means you go to jail."

"He should (go to jail)," Powers said.

"I'm not going to do that," Lipe said.

Instead, Lipe told Coughran he's issuing a ticket for improper lane change, a $249 fine.

"(I'm) cutting you a break a little bit, all right, since there is a kid in the car, there's a road rage thing going on, it's borderline child endangerment. It's a felony deal. I ain't taking you to jail. I ain't ruining your life like that," Lipe said.
First of all, this is why everyone should have kids. They can help get you out of a ticket, even after you recklessly endanger their own life! Also, I'm sure Lipe would have had the same understanding and compassionate reaction if Coughran was black, or Latino, or anyone else who was having a bad day.
In all fairness, Lipe isn't your typical cop. He's a tad different.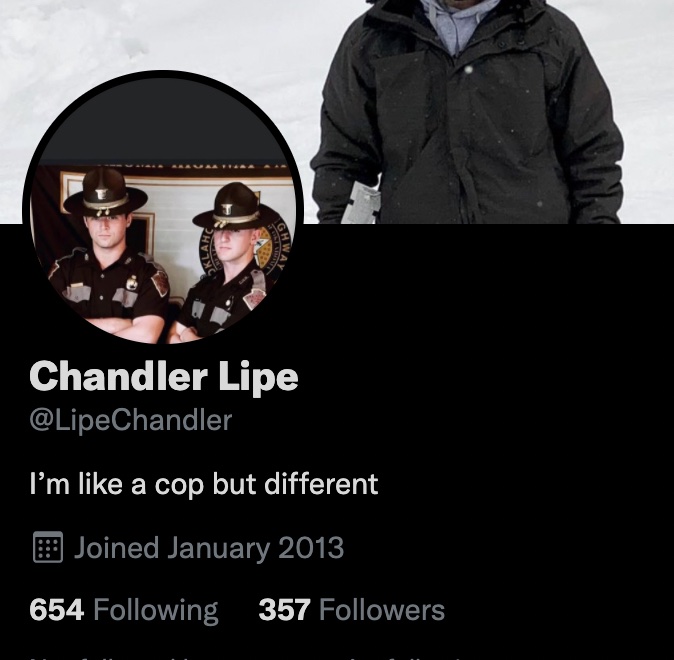 I guess by "different," Lipe means going against the same words you preach. Pay attention to the first paragraph of this tweet that inspired him...
Yep, I will enforce the law no matter how much you plead, congol, beg, or attempt to stir my sympathies. Well, unless you try to run someone off the road and have your kid in the backseat. You know, because of testosterone. Then I'll look the other way because I don't want to ruin your life, despite the fact that you're the one who ruined it.
Anyway, I hope this write-up concludes our coverage of this matter. I genuinely hope Coughran gets help or treatment for whatever caused him to turn into a maniac, and after serving punishment for his crime, is able to repair and get his life back on track. I also wish Trooper Lipe the best. If he ever pulls me over speeding, I hope he treats me with the same compassion he did for the man who ran another motorist off the road.
Stay in touch
Sign up for our free newsletter