Food
TLO Restaurant Review: Thai D Cuisine
12:09 PM EDT on July 27, 2021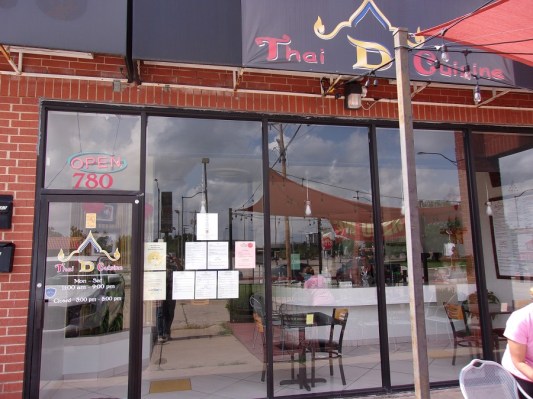 As I ran down the list of seemingly short list of restaurants in Norman to possibly review, I came to the realization that I really didn't feel like eating at any of them. Some were serving boring food with a boring atmosphere, some were trying to be too corporate with a hefty price tag and some, well, you could just tell they wouldn't be here in a couple of months because of both reasons.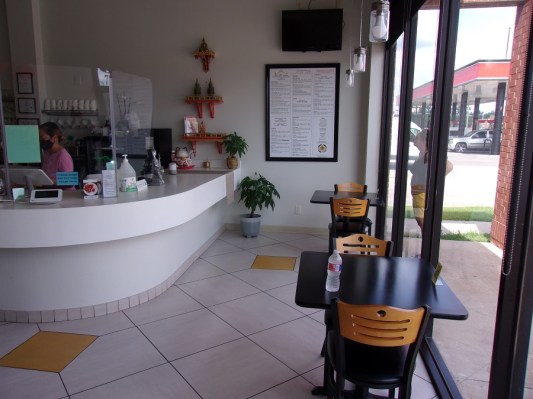 I remembered, however, my gal-pal Jodie regaling me about this little Thai place down the street, very close to where I'm currently staying. Located at 780 W. Main, it's called Thai D Cuisine—a play on words and a statement of fact, I'm sure—and, to me, Thai food sounded like the most divine meal I could have at that exact moment of unnerving hunger.
As we sat in the front of the place on the metal furniture, it was sometime around 11 a.m.; the cars sped down Main as we gazed at the menu. With such differing tastes, Jodie and I had different ideas on flavor, spice and, of course, heat, that, looking at our eats, seemed to work out pretty well in our favor. For example, as an appetizer, I ordered the Garlic Wings ($9.00) while she partook in the Chicken Satay ($9.00).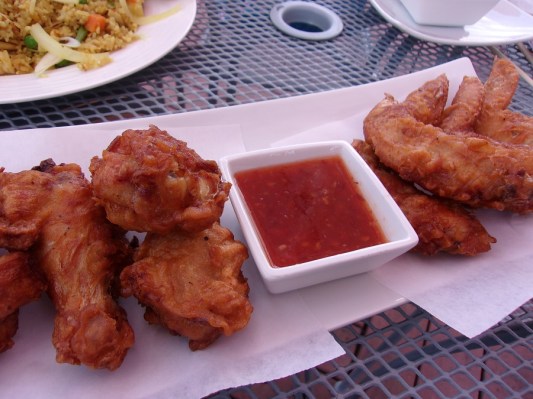 Not on the menu, these experimental wings were featured on a small display on the counter. Absolutely garlicky—a favorite spice of mine, if I may say—a red wine sauce gleefully coated each bite, drawing in a newfound sense of deliciousness to me. The wings and thighs, definitely plump and defiantly juicy, were absolutely wonderful, around ten resting on the plate for us to munch on.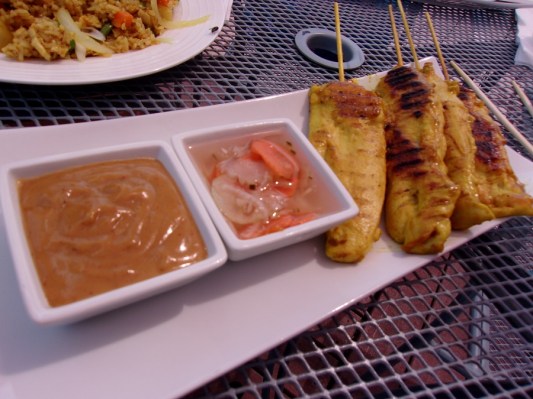 They were unduly delicious, as was Jodie's Satay. Each grilled chicken strip, via a wooden spit, was suitably marinated with curry and herbs, then bathed in a deluge of coconut milk and served with a truly phenomenal peanut sauce that, if these were these were the only items ordered, would make quite a meal unto themselves. However, we still had the entrees...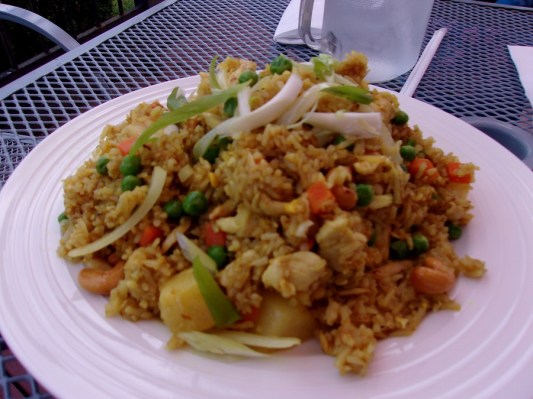 For her main dish, Jodie selected the wholly exceptional Pineapple Fried Rice ($12.00) with her pick of chicken as the meat. Sautéed with eggs, cashews, onions and, of course, plenty of hearty pineapple chunks, I had never had this style of fried rice, but, for me, it's all about pineapple from now on. Giving the dish a feel that very few fruits or vegetables ever could, the zingy pineapple juices exploded over the tangy rice, the odd cashew popping up every so often to deliver a much-needed trip back down to earth.
I feel like I was even more triumphant with my dish, however, as I dove directly into the Prik Khing ($13.00), cooked with a healthy serving of prawns. While sautéed with green beans, bell peppers, kaffir lime leaves all in the scintillating Prik Khing chili paste sauce, with a heat level of three out of five, it was nearly as hot as it was incredibly delicious. The glorious rice would momentarily deaden the heat, but not for long.
My lips were numb with a lusty fire, a most macho heat that I was, at the time, sure I could have withstood, long burning my mouth to shreds. Sucking in my last drop of water, we boxed up our leftovers and paid our check to the kind woman at the counter. While I know that Thai D may not be one of the "name" restaurants in Norman that is on the last breath of every dopey kid, for me and my palate, it was truly one of the best, well worth a return visit. Cómpralo ya!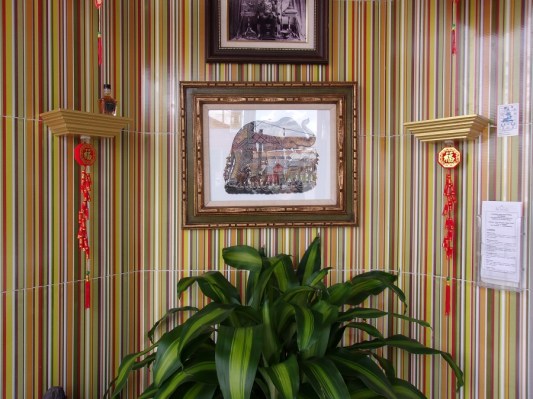 _
Follow Louis on Twitter at @LouisFowler and Instagram at @louisfowler78.
Stay in touch
Sign up for our free newsletter