Everything Else
Woman accuses Dippin' Dots CEO Scott Fischer of "Revenge Porn" harassment campaign
6:55 PM EDT on June 17, 2021
Thanks to a tip via the Ogle Mole Network, we've learned that Dippin' Dots CEO Scott Fischer – the Oklahoma-based trust fund heir who was featured on Undercover Boss in 2020 – is being accused of some pretty heinous, disgusting and possibly even criminal acts by a former girlfriend.
In a lawsuit filed June 9th in Oklahoma County, Amanda Brown – a traveling nurse who currently resides in Nashville – claims that Fischer, following the end of their two-year relationship, "engaged in a relentless and vicious campaign of harassment and retaliation" which culminated in his "non-consensual dissemination of her private sexual images to third parties," including her mother.
Yep, that's right. Her mother!
Here's the preliminary statement from the lawsuit: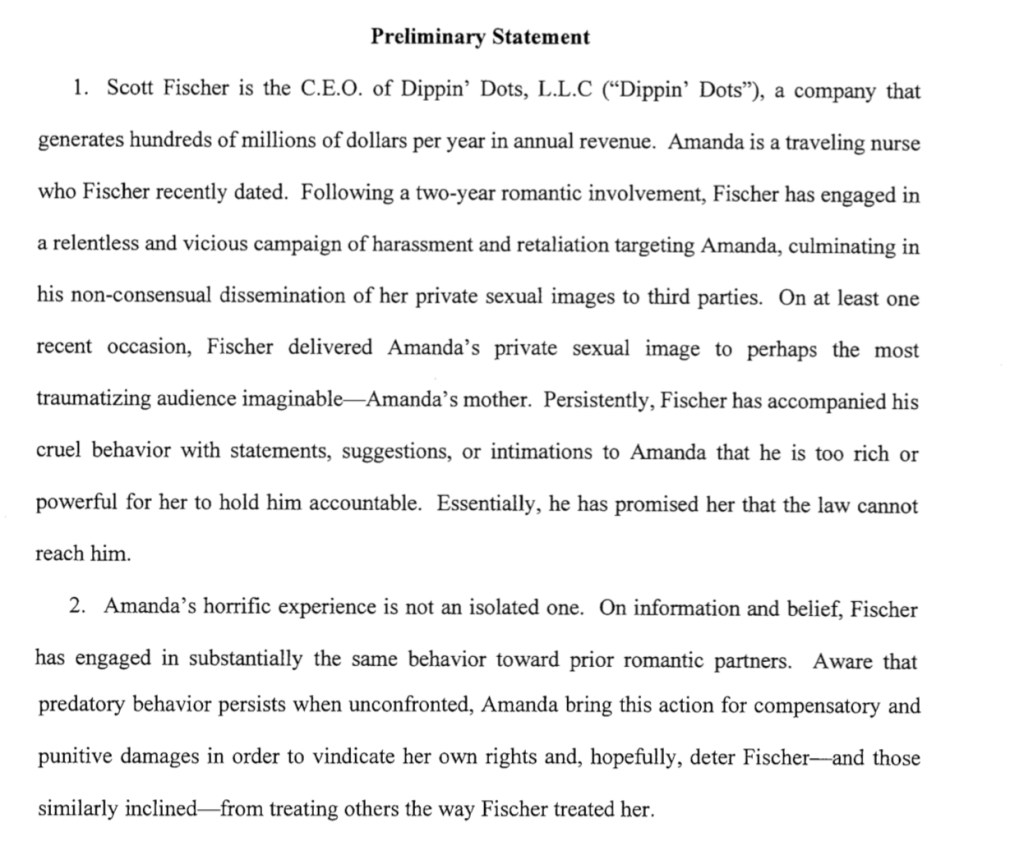 Just like a cup full of Dippin's Dots, that's some sick and disgusting stuff!
Brown's lawsuit is lengthy. She alleges Fischer has major drinking problems, which considering I used the following photo when we reported on Fischer's 2018 DUI arrest, that's not really a news flash: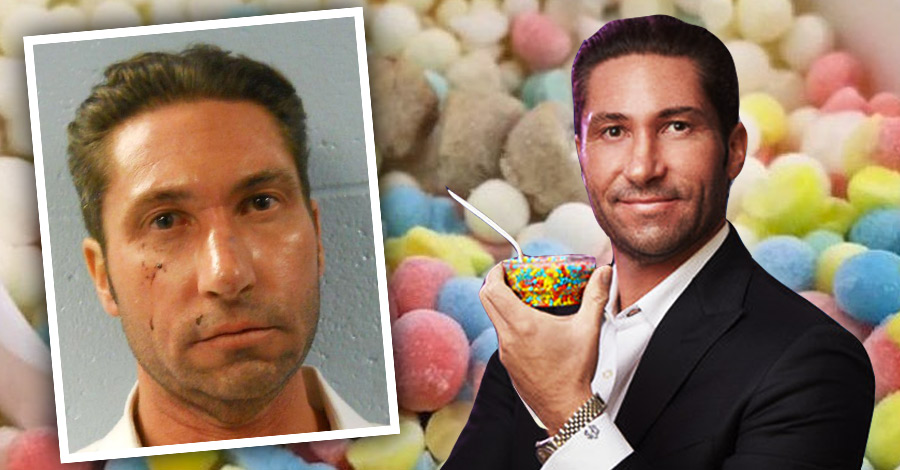 Brown's claims about Fischer using the threat of revenge porn appear to be supported by a lot of text message receipts.
For example: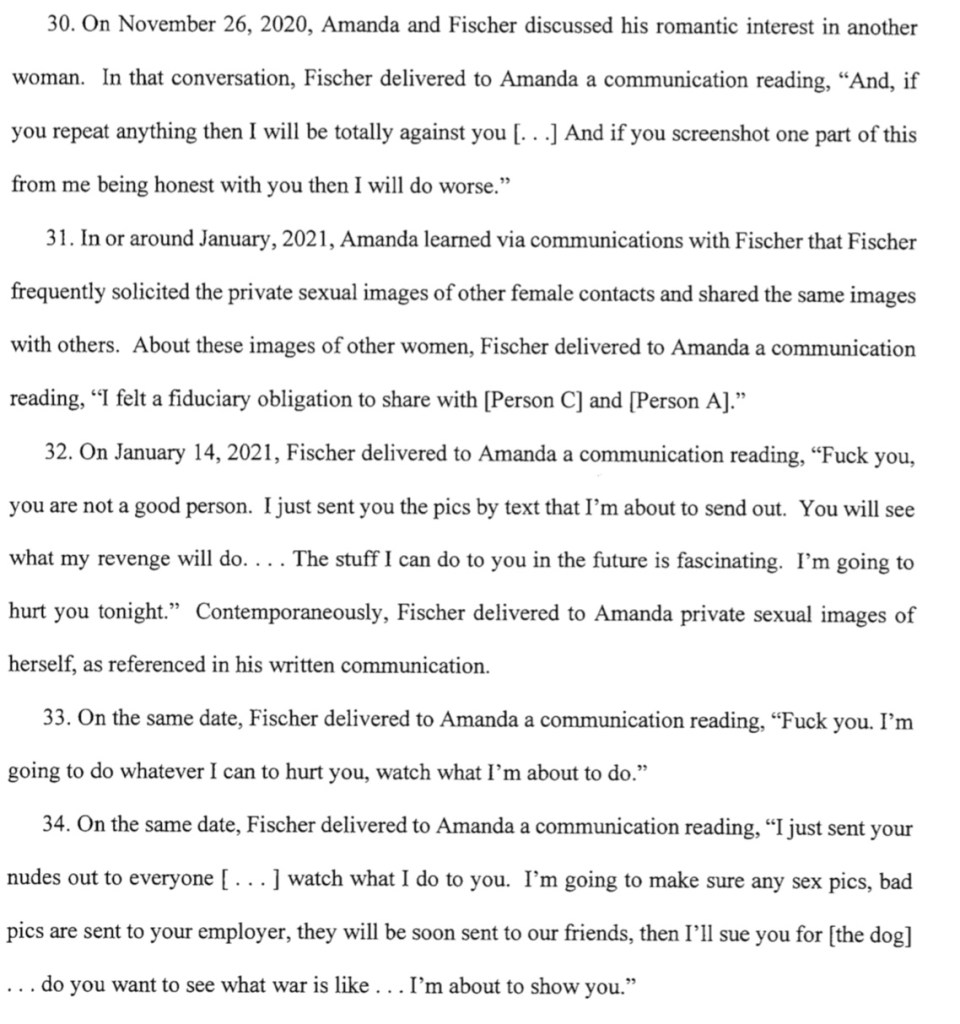 At this point, you're probably wondering – "Isn't all that illegal?"
The answer to that question is – "If the allegations are true, possibly."
Even though Oklahoma state lawmakers love to share private and risque photos of women with one another, Oklahoma actually has some pretty strict laws regarding revenge porn.
Amanda's lawyer cited some of them in the lawsuit: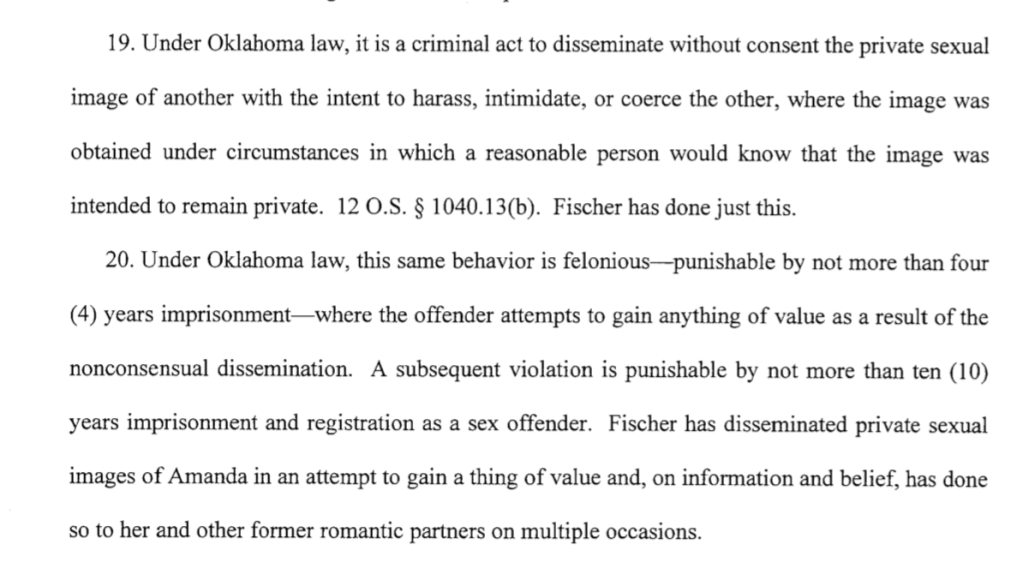 I nearly emailed Amanda's attorney to see if they've filed criminal charges or notified the police about Fischer's alleged threats and actions, but then I noticed she hired local vampire J. Blake Johnson as her counsel. He's the skinny-jeaned asshole who penned The Lost Ogle is Bad for Oklahoma hit piece back in the day, so fuck that Roget's thesaurus wannabe. I'll let The Oklahoman's Nolan Clay email him questions about the case later tonight or tomorrow, so he can claim he's the one who broke this story.
Anyway, Fischer – an insufferable trust fund kid who once dated News 9's Cassie Heiter – has been CEO of Dippin Dots since 2012. He was put in charge of the futuristic ice cream maker after an investment group led by his Oil Overlord dad bought the company out of bankruptcy. According to his bio on the Dippin Dots website, he "maintains a culture of FUN!"
Fischer's lawyers responded to the lawsuit on June 10th. They aired their version of the break-up dirty laundry and also asked the judge for an emergency order to seal the petition.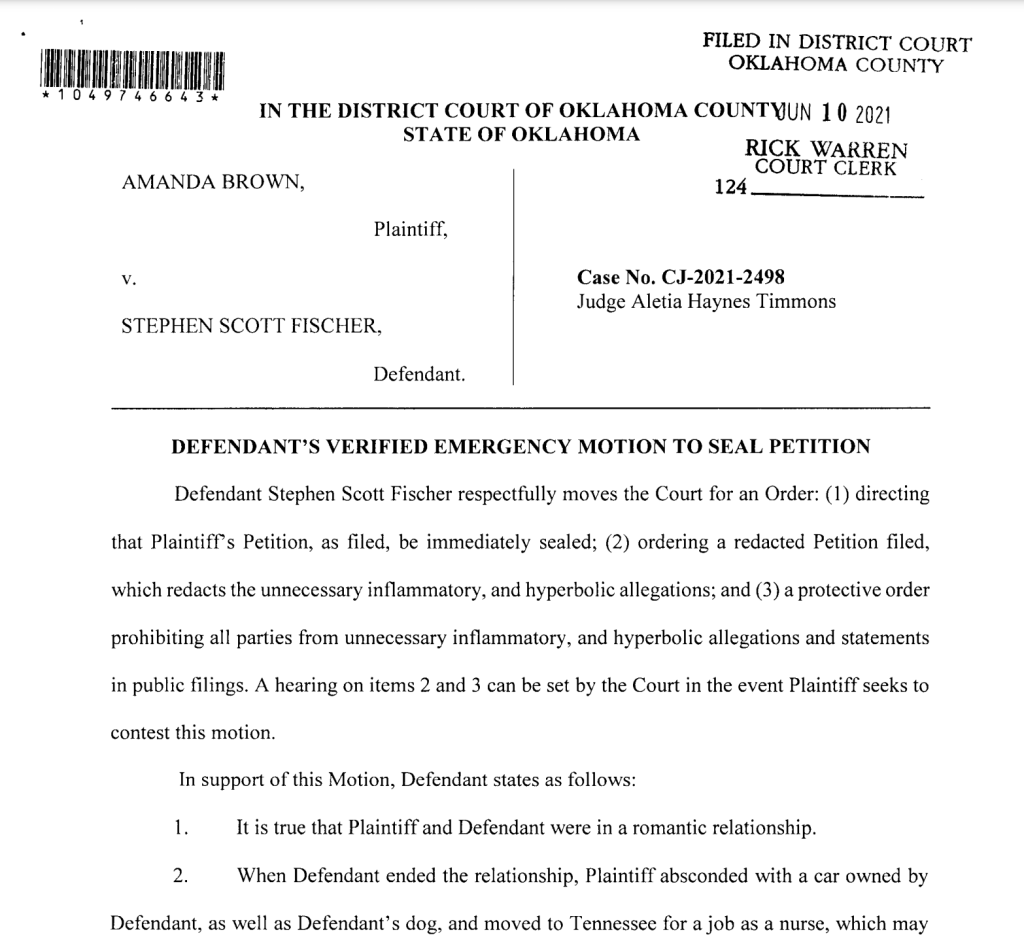 I hope the plan to seal the petition works out well for Fischer's attorneys! That way, more people will come to our site and view the full document here:
Anyway, I guess we'll continue to monitor this story as it develops. Stay with The Lost Ogle. We'll keep you advised.
Stay in touch
Sign up for our free newsletter