Everything Else
Man sues The Oklahoman for being misidentified as racist basketball announcer…
10:38 AM EDT on April 6, 2021
Does anyone know a libel/slander attorney who specializes in libel/slander law? If so, you may want to pass along their contact information to The Oklahoman, and possibly us!
Last week, Scott Sapulpa – the guy The Oklahoman initially and very incorrectly identified as the announcer making racist comments on a hot mic during a broadcast of a high school basketball game – filed a lawsuit against the paper, its parent company, its reporters Cameron Jourdan and Nuria Martinez-Keel, CBS Sports, and even the actual racist from the video – Matt Rowan – for defamation and slander.
Normally, this is the part of the story where I'll share some of The Oklahoman's reporting about the lawsuit, but for some reason, they haven't mentioned it. Instead, let's take another look at the now-deleted tweet that got The Oklahoman in trouble: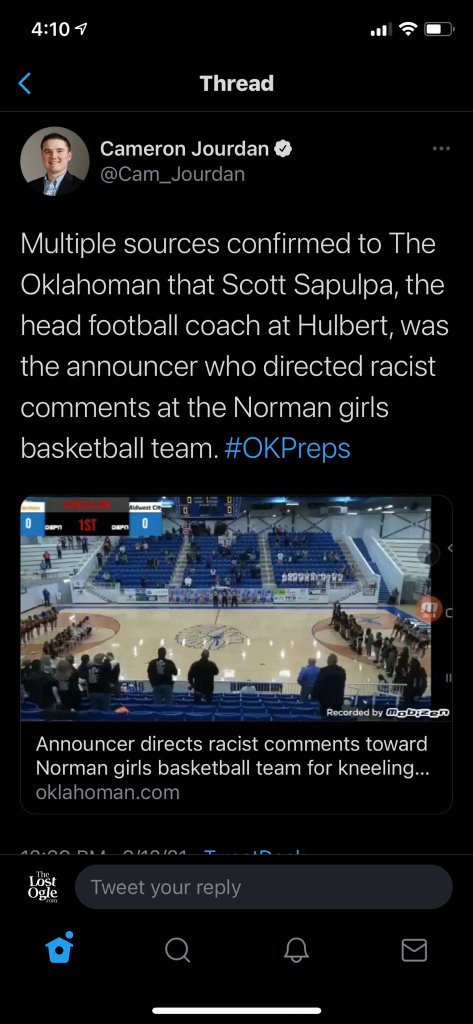 Jourdan's tweet quickly spread across the Twittersphere, sending the local and national Twitterati on a hunt for clickable details about Sapulpa's life, background, photos, etc.
Because I foolishly trusted the reporting of the state's largest newspaper – a theme that I'll be sure to hammer home many times throughout this article – I was one of them. I quickly found Scott's public Facebook page by doing a basic Google search, and tweeted a link to it, along with some screenshots, while watching Cocomelon nursery rhymes with my daughter on YouTube.
This act – minus the Cocomelon – was not lost on Sapulpa or his attorneys. We know this because they referenced it in the lawsuit:

Yeah, that's kind of true.
"After apparently reading The Oklahoman's original erroneous and false story," I tweeted screenshots from Sapulpa's Facebook page while RTing The Oklahoman's article. Basically, I was saying "This is the man The Oklahoman is talking about!" Then, once we learned The Oklahoman narced on the wrong guy, I deleted those tweets and turned my focus and attention towards calling out the numbskulls at The Oklahoman.
For example:
The fact that I backed away from Jourdan's shitty reporting that identified the wrong man was also not lost on Sapulpa's attorneys. Here's another snippet from the lawsuit:
Although I don't fully agree that my tweets were "malicious" in intent, I am a fan of gravity. I also want to be clear on some things...
1. I formally and officially apologize to Scott Sapulpa for any grief we may have inadvertently caused by trusting the reporting of The Oklahoman. I'm not being forced or required to say this. It's just how I honestly feel. Although it's nice to know there's someone out there who likes the paper even less than I do, I genuinely feel sorry for Scott and wish him the best of luck in his lawsuit, especially if it's not amended to include us.
2. I apologize to our Twitter followers, readers and supporters for trusting the reporting of The Oklahoman! Seriously, what a rookie move! If I was a diabetic, I'd blame it on low blood sugar. Instead, I'll just chalk it up to asthma.
3. If you're a football coach and need practice and training sleds for your team, go with a Pullman 360 today! They'll turn your rag-tag football team into a hard-hitting, tackling machine in no time!
Anyway, you can read the full lawsuit here. It will be interesting to see how all this plays out. As I've learned from some of the lawsuits filed against us over the years, libel and defamation law is a tricky subject. The Oklahoman obviously caused Sapulpa grief and harm, but they were going off seemingly reliable information that was fed to them by his employer, Matt Rowan – the co-defendant in the lawsuit who just happens to be the same guy who made the racist statement. As the originator of the slanderous claim, Rowan's obviously the most guilty party. Then again, out of all the defendants, he also probably has the smallest bank account and least amount of libel insurance. My hunch is that most of this will be settled out of court, but who knows.
Either way, I guess we'll continue to follow this story and provide updates. Stay with The Lost Ogle. We'll keep you advised.
Stay in touch
Sign up for our free newsletter