Food
Taki Elotes, Mexican Cokes and Pure Gasoline: An Evening Out at La Pemex Filling Station
9:00 AM EDT on March 25, 2021
Somewhere on the corner of NW 10th and Meridian, when the sun finally goes down, there's a gas station that turns into something of a general discotheque, complete with spinning strobe lights, Mexican music out the front door, and some of the best Latin food this side of the border, Oklahoma City's and beyond.
Yes, I said it – Located at the La Pemex filling station, I think some of the best Mexican food in town comes from this gas station, with the place filling anyone's belly, as well as their car or truck, usually for most of the night. It's a place where one can eat their fill for a few bucks and then have a bit more to take home.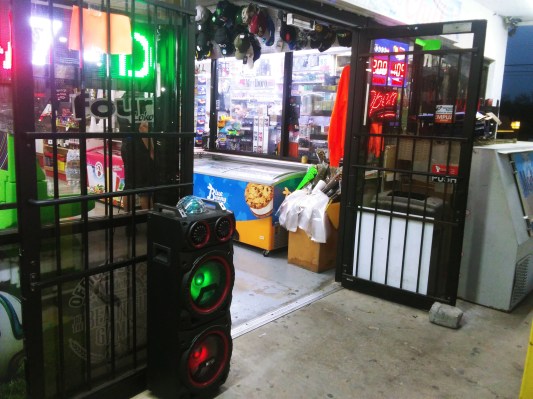 I arrived as the city was growing dark, pulling into the parking lot, the strobes already on. It's always full as it was this Friday night, with numerous people walking about, some buying cigarettes and beer, and others, like me, there to eat at the little cocina in the back, powering down a Mexican Coke while waiting for their hot food to arrive.
Past the small rack that featured a mix of kids' flicks and dirty magazines, past the car parts and obscure soda pops, past the boxes neatly stacked out in front, was the kitchen of La Pemex. I'm not sure of the name—it simply says "Comida" on the wall—as a young man stands back by the door, waiting for orders. I try to give mine in that inglés roto I've dutifully mastered.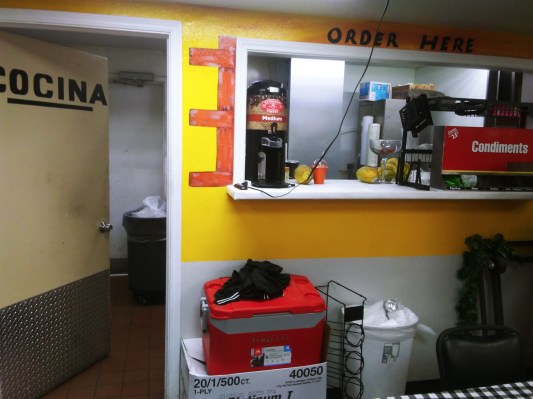 Looking over the yellow wall with various foodstuffs scribbled on it, I ordered a broad—broad enough for tonight, at least—helping of what they've got here, usually of the beef or chicken variety. Nothing from a general heat-lamp here like deep-fried BBQ burritos and such—no, the guy in the kitchen gets right to work, clinging and clanging, making it all to order.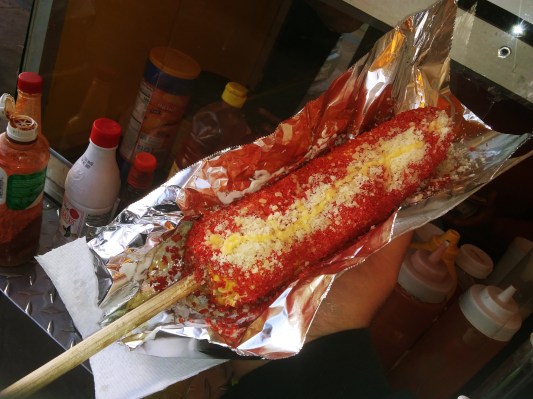 As I waited for my blissful eats, I wandered out to the front of the station where I noticed a small tent, the name Elotes Tres Hermanos on the side—Honduran I think. Selling a few different varieties of roasted corn such as Elote Sencillo or Elote Hot Cheeto, I went for it and ordered the Taki Elote ($4.50), a fat ear covered in the usual tastes like mayonesa, but thoroughly rolled in plenty of hot Taki dust.
It was absolutely pure, the lone woman an absolute genius with her wares. I ate it back and forth like a comical typewriter, not wasting a bit of that Takis refuse. Ding.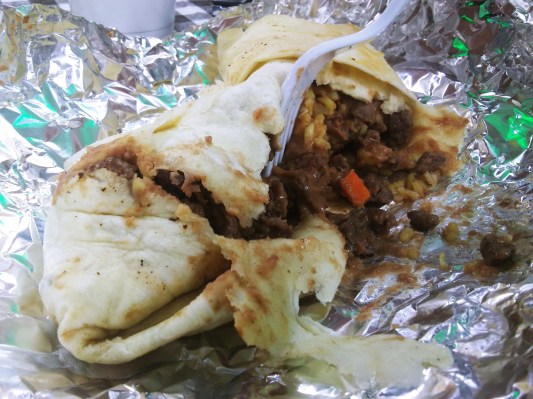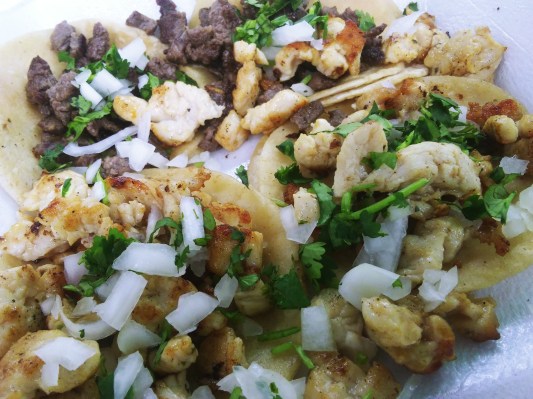 When I went back into the convenience store, the food was lovingly ready to eat; laid out before me was a slight banquete, one that I knew I desperately needed, the young chef proud of his culinary work. There was a gargantuan burrito ($5.00) filled with beef, rice and beans, and a mix of back-home beef and chicken tacos ($1.00 each).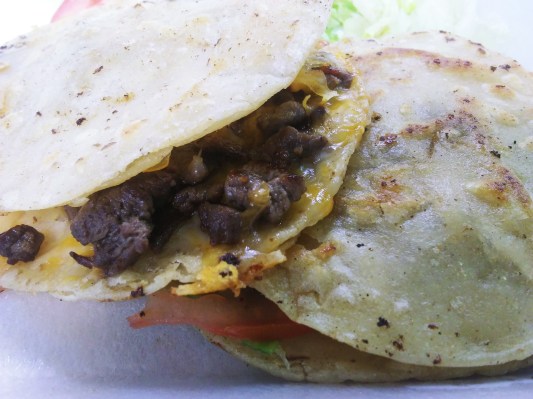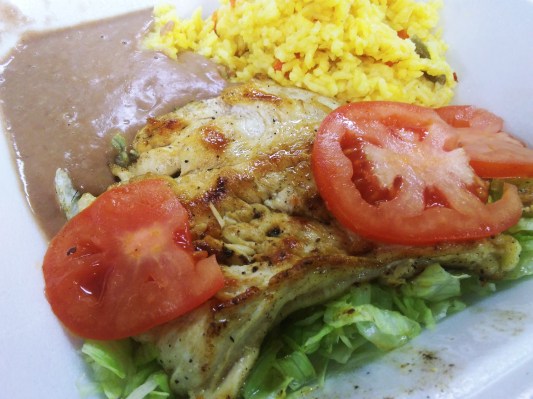 Over to my left, a fresh foam container held a couple of hearty beef Mulitas ($2.00 each) and the other one contained one of my favorite dinners, Pechuga a la Plancha ($8.50), complete with some much-needed rice and beans; it was a veritable wealth of food for under twenty bucks—you can't beat that and, really, why would you want to?
As I started to hungrily enjoy it, one of the owners, a man named Jesus, came up to the table, asking why I was taking pictures of the place. When I explained it to him, he passionately told me about the gas station and the customers that come in every day to enjoy the homemade eats and whatnot, people from the neighborhood, people buying gas, and people coming back from the club. Everyone.
I genuinely agreed with him as I bit lovingly into the thoroughly filled taco, the beef one covered in onions and cilantro, a bit of this spicy sauce on the side. It sweetly burned my lips and baptized my soul, something every good taco should do.
_
Follow Louis on Twitter at @LouisFowler and Instagram at @louisfowler78.
Stay in touch
Sign up for our free newsletter