Everything Else
Patrick's Pandemic Restrospective: March 11th, 2020
11:29 AM EST on March 11, 2021
Over the past couple of weeks, there's been a lot of social media chatter about when the pandemic became "real." On behalf of everyone from Oklahoma City, and millions and millions of other people around the world, I'd like to state for the record that the date is March 11th, 2020.
On that afternoon at around 2pm, just after I bought a new sports jacket to wear to the big Oklahoma Contemporary grand opening the following day (an event that would never happen), I got a text from a friend – we'll call him Ogle Mole Agent X42 – asking if I wanted to crash the Oklahoma Restaurant Association's "Legislative Reception" at the Bricktown Events Center. It's a fancy yet casual affair where lawmakers, lobbyists, capitol insiders and restauranteurs all gather to mingle and sample free food and drink provided by about 50 or so Oklahoma restaurants, along with some wineries and breweries.
The obvious and easy answer was "Hell Yes."
Three hours later, I Lyfted down to JJ's Alley – the most under-appreciated bar in OKC – for a few pre-reception beers. By that time, the Coronavirus had already overtaken the Democratic primaries as the dominant news story in the country. Everyone was watching the virus unfold in China, Italy and other places abroad with a strange, uncomfortable uncertainty, leading to millions of questions racing through our minds like –"When's it going to hit Oklahoma? Are we gonna have to shut everything down for a few weeks?? Will we really run out of toilet paper??!" 
While some guy strummed on an acoustic guitar by the front window at JJ's, Ogle Mole Agent X42 and I talked about those topics and more. After knocking back a couple of bottles of beer, we then when walked to the ORA event.
This was the third year I had essentially snuck into the hobnob. Usually, it was packed with all sorts of politicos, ranging from the most powerful lobbyists to the lowest-on-the-ladder legislative aides, all stuffing their faces with tasty finger foods, hors d'oeuvres and little plastic cups of terrible Oklahoma wine, but this time around the crowd was sparse. In years past, breweries would try to ration beers – even the ones named after us – to two-ounce pours. Now they were begging you to take an entire can! At the OSO table, Chef RP literally couldn't give away tacos, something I've never seen happen before, and will likely never see happen again.
For the people who did make it out, there was definitely a sense of viral awkwardness floating in the air. One thing I noticed is that everyone would do a semi-mocking, semi-serious fist bump and joke around about whether you had a dry cough, or what song you sang when you washed your hands. Then, naturally, the conversation would turn to the Coronavirus.
That's what happened when I ran into Ed Lynn – the owner of Buffalo Wild Wings on NW Expressway, a place we've been hosting trivia at since 2013. We talked about the Coronavirus and how it may affect trivia nights, and agreed to circle back the following week and play things by ear. Little did I know that by the end of that week, all 10 of our weekly trivia nights, and their associated sponsorships, and the extra ones we planned to launch over the summer, would literally disappear into the air like a Coronavirus molecule in the Stitt household, washing away our largest revenue line virtually overnight, and jeopardizing the future of this website.
Ed and I then talked about the low turnout at the event. He chalked some of it up to the Coronavirus fears, but also figured the Thunder / Jazz game – something that until that point I had totally forgotten about – also had an effect. We then fist-bumped, and he left to go to the game. At that point, it was about 6:45pm, and tip-off was about 20 minutes out.
After Ed and I talked, I grabbed another can of beer and found Ogle Mole Agent X42. I mentioned that I forgot there was a Thunder game that night and asked who had the tickets that he shares with his brother. They're great seats located a few rows behind the basket near the opponent's bench. I know this because I used them around St. Patrick's Day 2019 when a Durant'less Warriors squad obliterated the Thunder.
"Does your brother have the tickets to the game tonight?"I asked.
"I don't know. Let me text him."
A few minutes later, he looked up from his phone.
"They're still available. Want to go???"
Just like my text earlier that day, my response was a quick and easy "Hell Yes." What would you expect me to do? Say "No" so I could go back home and write shit on the Internet for you to read for free?
By that point, it was already a little after 7pm, and the stadium was a decent 10 - 15 minute walk away, so we chugged our beers and started the trek. As we were walking down Sheridan, taking brisk, long-strides – something that I call stadium walk – I got a text from my old TLO partner in crime Tony.
Here's a screenshot of the conversation we had: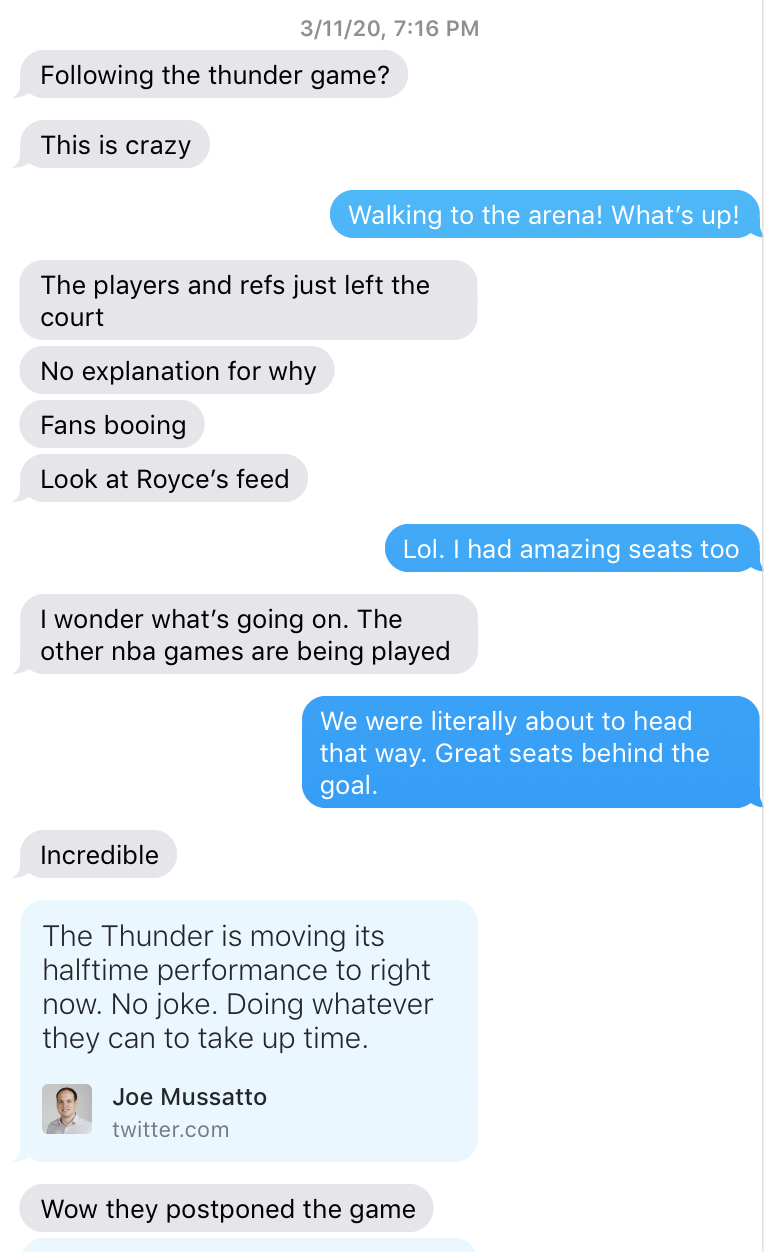 At that point, OMA X42 and I stopped and decided to wait things out at Whiskey Chicks – a glowing red bar on the corner of Oklahoma and Sheridan. We, along with the rest of the bar patrons and people from all over the world, watched the scene play out on national television.
Here's the rest of the text conversation between me and Tony:
After the game was canceled and the arena let out, Bricktown was full of people streaming back to their cars, jaws hanging to the bricks, eyes glued to phones, still trying to come to terms with what happened.
At Whiskey Chicks, everyone's eyes were locked on TVs, watching TLO alumnus Royce Young report what was happening from inside the arena. I remembered thinking that this must be what it was like to watch the OJ car chase at a sports bar. I never imagined in my lifetime I'd see the suspension of one of the world's largest sports leagues due to a pandemic, especially when I was on my way to watch the game that would trigger it.
Despite such a historic event happening three blocks away, the magnitude of it, and the pandemic as a whole, was still a bit lost on me at that moment. I'd compare it to a tsunami. We knew there was an earthquake, saw the water recede and had a feeling something bad was coming, but still hung around the beach drinking our Pina Coladas. Then the first wave arrived, and then the second, and then the third, and before we knew what happened, the destruction would be massive, with hundreds of thousands of lives lost and millions more ruined.
Or something like that.
In hindsight, I'm a bit embarrassed by that misjudgment, and how I underestimated the pandemic's toll in March of 2020. You know how you sometimes wish you could go back in time to when you were in high school and teach yourself all the wisdom you've learned since? I kind of wish I could go back to a year ago, and tell myself everything we know now about the Coronavirus pandemic, how much my life was about to change, and perhaps most importantly, to buy Bitcoin, Ethereum and Game Stop stock.
Anyway, instead of being responsible and going home, OMA X42 and I figured, "Hey, we're already out, so let's make a night of it!"
We hung around Whiskey Chicks for a bit and let the Thunder crowd disperse. We then made our way to Captain Norm's Dockside Bar – one of many local establishments that wouldn't survive the pandemic – for a change of scenery.
The place was totally empty, save for the bartender and one man drinking alone at the corner of the bar. The man was probably in his mid-30s, had short black hair and a slender build. He worked as a bartender at Chesapeake Arena, which explained his black pants and the untucked long-sleeved white shirt. After talking to him for a bit, we learned he was basically having a mild panic attack. He staffed the fancy bar hidden in the depths of the arena where courtside fans would frequent before and during the game. He was legitimately worried that he may catch Covid because the people he served were so close to the Jazz players in warmups. Sadly, we would later learn he caught the virus and died three weeks later.
Okay, I made that last part up. I'm sure the guy is healthy and alive. I just wanted to make sure you're still paying attention.
Anyway, Ogle Mole Agent X42 and I talked the guy off the ledge, assured him he didn't have a lot to worry about, and bought him a shot. We then circled back to JJ's where the night first began. The upstairs bar was packed and lively. You would never have known a dramatic event that would change the world, and usher in a new form of societal life, took place down the street only a few hours earlier. After a couple of Newcastles, I pinged a Lyft to head back home, blissfully unaware that, for at least another year or so, this would be one of the last nights I'd be out in public, enjoying a good time with good company, and that the Coronavirus pandemic had finally become real.
Stay in touch
Sign up for our free newsletter