Everything Else
Local Arts Organizations Forced to Praise Oklahoma Governor Kevin Stitt on Social Media…
2:02 PM EST on March 2, 2021
Thanks to a tip via the Ogle Mole Network, we've learned that 170 local arts organizations that received "Oklahoma Arts and Cultural Industry Relief Grants" from the state are forced to "acknowledge" – and in turn, praise and promote – Oklahoma Governor Kevin Stitt on social media.
Here are the details...
Last year, Kevin Stitt provided $3-million in CARES funding to the Oklahoma Arts Council for them to dole out to local arts organizations through a relief grants program. For those keeping score at home, that's a whopping 0.002% of the state's $1.5-billion CARES allotment.
To receive the funding, these arts organizations had to agree to some subservient demands, such as...
A) Writing grateful letters of appreciation to the Governor, their State Senator, and their State Representative.
B) Sharing heavily-guided social media posts that acknowledge Kevin Stitt for providing the funding.
For example, here are the social media campaign requirements from the Oklahoma Arts Council website: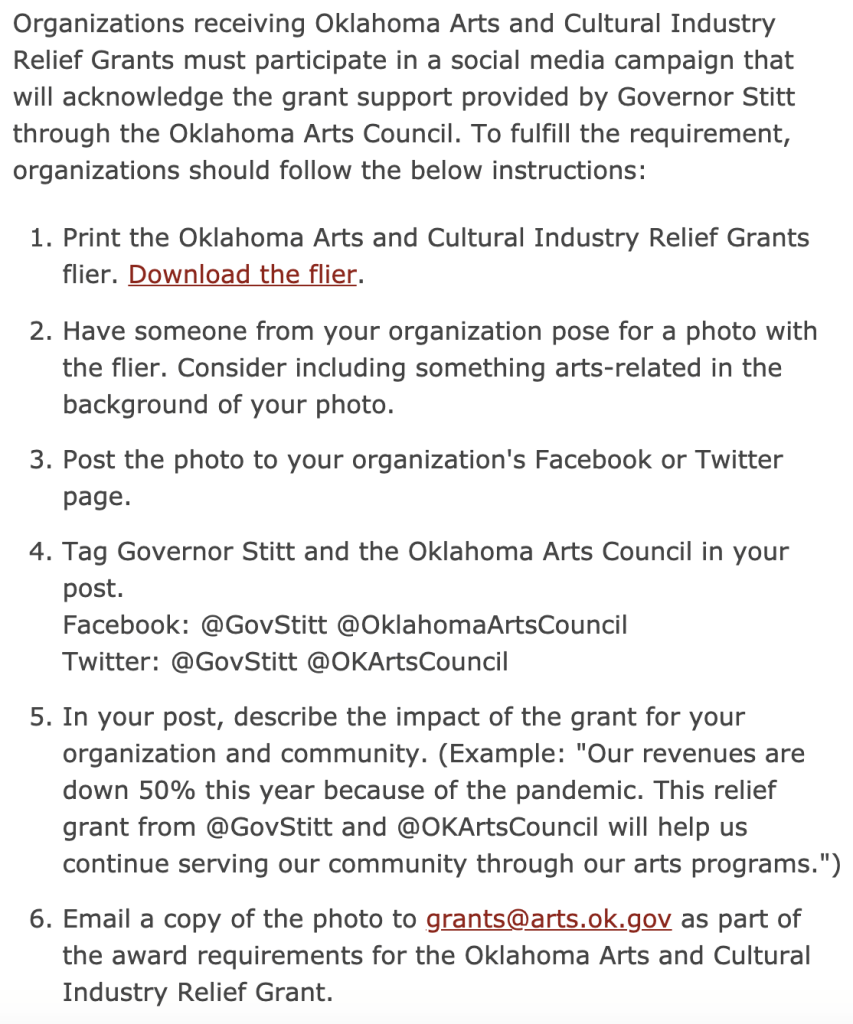 That's bizarre! I received state PPP funding for my small business, and I sure as hell wasn't required to kiss the Governor's ass on social media. Well, at least that I know of. I better re-read the guidelines!
I checked online, and sure enough, the social media posts from the grant recipients are out there. They feel as inspired as the Thomas Kinkaid print that's probably hanging in Kevin Stitt's guest bathroom.
Check out this one from Tulsa Ballet. They picked the ballerina with the saddest eyes to stoica-ly hold the certificate thanking the Governor:
I know it's hard to look happy while wearing a facemask, but that feels extra sad. It made me want to cry like at the end of Swan Lake when Odette and Siegfried drown in the storm, breaking the spell of their hopeless love for all eternity.
Gas Light Theater – a community theatre based out of Enid that probably feels like it's being gaslighted for having to do this – shared this chivalric post for the Governor:
Fun Fact – "Excaliber: The Story of Young King Arthur" is Kevin Stitt's favorite Shakespearean play, so I'm sure he got a kick out of that one.
There have been lots and lots of posts similar to those being shared on social media over the last month or so as organizations scramble to fulfill the program guidelines. I plan on checking them all out and ranking our favorites soon.
In addition to the social media posts, organizations are also required to write "Letters of Appreciation" to the Governor and their State Senator and State Representative that explain how grateful and appreciative they are for the breadcrumbs of Covid relief that were dropped on the floor.
The Oklahoma Arts Council even provided this handy template for organizations to use:
Dear Governor Stitt:

As YOUR POSITION/ROLE for the NAME OF YOUR ORGANIZATION, I wanted to thank you for your recent investment of $3 million in CARES Act funding in our state's arts and cultural industry. Through your investment, NAME OF YOUR ORGANIZATION and nearly 170 other organizations statewide received an Oklahoma Arts and Cultural Industry Relief Grant from the Oklahoma Arts Council. This funding comes at a crucial time for the creative sector.

Since the earliest days of the pandemic, the interruption of business for organizations presenting arts programming has severely limited the ability to generate revenue. At the same time, costs have increased, due to the need to ensure safety for staff and members of the public. Job loss in the sector has been widespread, and the future for many programs remains uncertain. Organizations have leveraged technology and other innovations in response to the pandemic, but the vital role of the arts in bringing people in our communities together is irreplaceable.

Today, because of your investment in the arts and cultural industry, programs such as those presented by NAME OF YOUR ORGANIZATION have a greater chance of continuing to serve the economic, educational, and quality of life needs of Oklahomans. The industry is now in a better position to continue its role in moving our state forward.
Wow! I know Stitt and his MAGA buddies in the legislature like to beat-up on the arts community like they're Bob Ross drying a paintbrush, but forcing the recipients of these grants to swallow all pride and write hollow praise to politicians who not only dislike the arts, but would probably like to do away with all public arts funding, takes things way too far.
"But Patrick! This isn't new! Arts organizations always go out of their way to praise and promote the benefactors that give them money!"
Okay, that's a fair point, but virtually every industry in this state got CARES money, and singling out the arts community for these requirements feels passive-aggressive and wrong. The only point they serve is to promote Kevin Stitt, and in turn, humiliate the people who work for those organizations by making them feel like they're beaten and subservient subjects living an authoritarian regime.
Anyway, I'm pretty sure I'm going to file an open records request with the Arts Council soon to A) figure out why these requirements were included in the guidelines and B) see all the sad photos, letters and social media posts the 170 grant recipients had to submit.
Stay with The Lost Ogle. We'll keep you advised.
Stay in touch
Sign up for our free newsletter