Food
10 Oklahoma Restaurants We Wish Were Still Open
4:27 AM EST on February 25, 2021
Recently, it was reported that Oklahoma City's very own Charcoal Oven, after being closed for many years, is set to turn their broilers back on at a new location, the shopping center on the corner of N.W. 36th and May, in the old Blockbuster I used to work at. I don't think they'll have room for the large neon sign that shone brightly on Northwest Expressway.
It got me thinking there are so many legendary Okie restaurants that I wish were still open, or would at least return for just one day so I could sample their wares. As a result, here are 10 Oklahoma restaurants that I – along with my editor Patrick – wish were still open.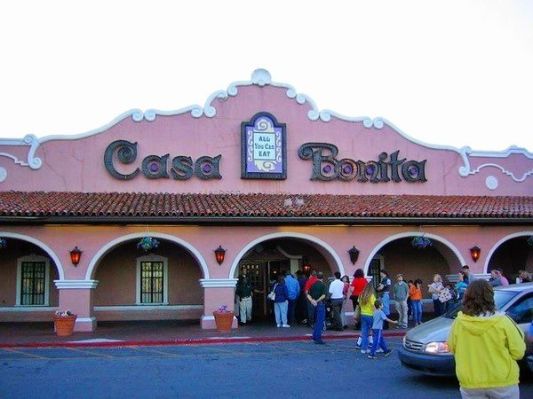 Casa Bonita
Even though I've been to the all-you-can-eat Mexican place a handful of times back when I was a trademarked Colorado mountain-man, growing up, my parents never took me to the Casa Bonita here in Oklahoma City and I most certainly never went to the one in Tulsa. Even though the then-thrilling tales that schoolyard chums would regale me with would often fascinate and confound me—cliffdivers?—my mother and father, instead, chose Pancho's Mexican Buffet every single time. I'm not mad, mind you, just a little hurt by their choices. – Louis
_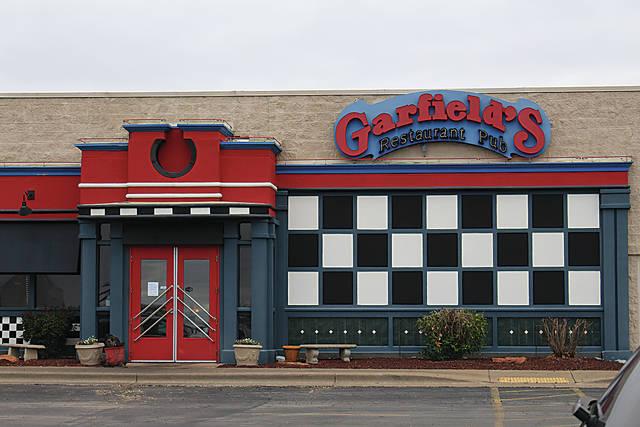 Garfield's
Garfield's was an Oklahoma-based "casual dining" chain that grew to prominence in the 1980s and was once located all over the country, but now only has a few locations left in Missouri. About the only thing I remember from this place is A) It's the first place I ever had potato skins, B) That they would set their tables with brown paper and let you draw all over it with crayons C) It had nothing to do with Garfield the cat.
– Patrick
–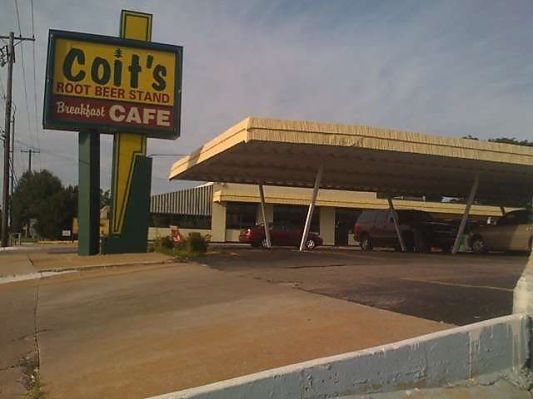 Coit's Root Beer
As far as I know, there were handful of Coit's Root Beer establishments located in north and south-central OKC. They were locally famous for their frosted mugs of root beer and fresh-cut onion rings—as well as their Christmas trees, oddly enough. When I was a kid, we would typically pass by the joint on 50th and Portland to get to church every Saturday. Of course, my father never stopped, so I never got to taste what all of Oklahoma City often raved about…until I tried a mediocre food truck a couple of years ago, but that's something else, I guess. – Louis
_
Molly Murphy's
This place was a bit before my time. It was one of those places where servers dressed up in silly costumes and made fun of you when you went to the bathroom. I'd wager it's one of the most remembered dead restaurants in Oklahoma City history. There's even a Facebook page begging for its return. – Patrick
–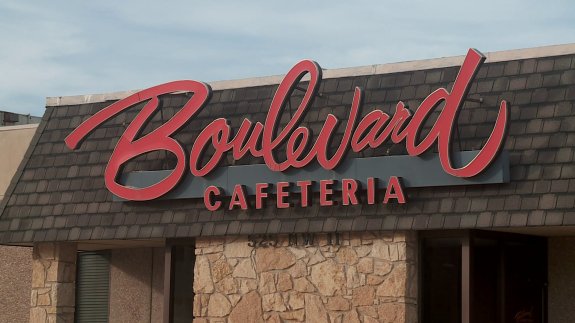 Boulevard Cafeteria
Despite a name that sounds like a rather rocking Prince song, Boulevard Cafeteria was very much a place where the over-60 crowd used to gather and have long set lunches, something which, even then, confounded and astounded me as a child. I mean, as a kid I had to eat in the cafeteria, but as an adult? I'd like for this place to reopen if only for me to finally understand this idiotic conundrum, mostly because I'd really like the law and order set to the culinary madness. I'll also accept Dodson's as well, by the way. – Louis
_
The Original Varsity (63rd and Western)
A victim of Chesapeakization in the late aughts, The Original Varsity was located on the lower floor of a now-razed office building at 63rd and Grand and was the best sports bar in Oklahoma City. It didn't have any windows, cheesy sports memorabilia from the 80's lined the walls, and its boxy TVs and projectors looked like they were bought from Curtis-Mathis. It was almost like someone decided to build a bomb shelter in 1989 and figured they should make it like a sports bar just in case everyone survived.
Somehow, though, the concept worked. From about 2000 - 2004, a big group of my friends would arrive at about 10:00am on the first day of March Madness (a Thursday) and lay claim to a large table in the TV pit. We would end up staying the entire day, drinking and eating way too much, and watching all the NCAA basketball one could handle in a 12 hour period. The following day we would be there again, insanely hungover, yet going full throttle. – Patrick
–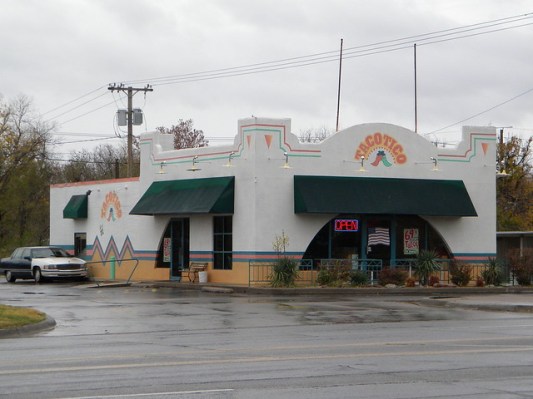 Taco-Tico
Taco-Tico has always been a fast-food joint that's long mystified me. Having never gone there as a kid, I finally went to a dying variation in Shawnee for an Indian Taco and Taco Burger. And while it was alright, the place was kind of a dying affair, pieced together with tape and string; but I really wanted the old adobe versions from my youth and whatever they had on the menu. I don't ask for too much, right? – Louis
_
Bill Moore's Steakhouse
You've probably never heard of this place. It was a small little diner located on S. Shields in Oklahoma City that was more known for its breakfast than its steaks. When I was kid, we'd probably go there every Sunday morning. I say this with 100% confidence and certainty – they served literally the best biscuits & gravy and hashbrowns in the history of humanity. It's not even up for debate.
Unfortunately, in the mid-1990s Bill Moore's was the site of a tragic murder-suicide involving the owner's daughter, and I think it closed down a year or two later.  – Patrick
–
The Eagle's Nest
High atop Founder's Tower once sat the Eagle's Nest—not to be confused with the stellar burger joint in Watonga—a revolving restaurant that inspired romance in Oklahoma City for many years, to far more romantic people than I ever could be. Still, I would have liked the chance to sample their fine wares while moving at temperate speed, possibly with a date to woo. I mean, if there's anything more sexual than revolving restaurants, I certainly haven't heard about it. – Louis
_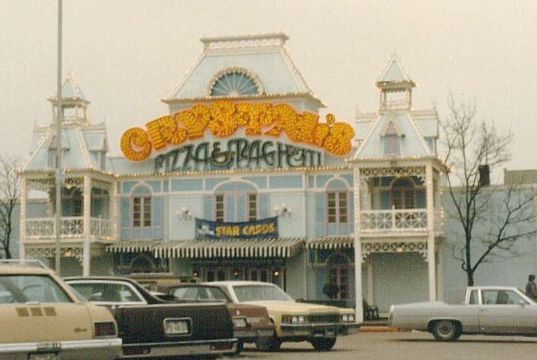 Crystal's Pizza
For the sad souls who never experienced this place with family, friends or classmates during a school field trip, Crystal's was a magical pizza concept founded by the Casa Bonita people, with locations scattered around Oklahoma and Texas. The pizza was good, but what made it so great was the bright lights, ski-ball arcade and the mystical pirateland-atmosphere. The location on NW Expressway and Rockwell had a two-level arcade, tons of games and a movie theater that played really old cartoons. – Patrick
Fun Fact – We once sold bootleg Crystal's Pizza t-shirts: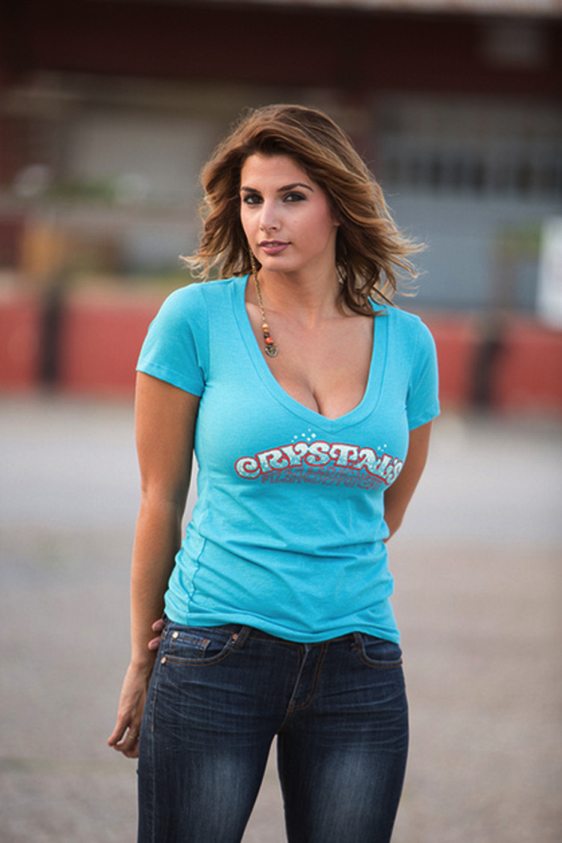 – Patrick
-
Follow Louis on Twitter at @LouisFowler and Instagram at @louisfowler78.
Stay in touch
Sign up for our free newsletter