Everything Else
Dusty Dvoracek leaves Sports Animal
11:28 AM EST on December 28, 2020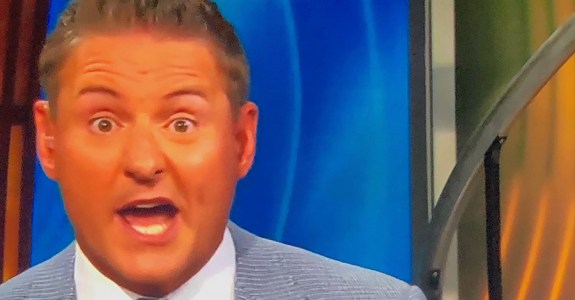 I guess it's time we dust off our perch as Oklahoma City's go-to source for local sports radio news – a beat we used to cover with the vigor and gusto of Al Eschbach enjoying beer and radishes at a Thai brothel, but now mail-in like Regular Jim Traber waiting for a fresh pepperoni pizza at the Mazzio's buffet.
Last week, Dusty Dvoracek – an articulate, sweaty and incredibly sensitive former resident of the Phoenix area – announced on Twitter that he's leaving WWLS The Sports Animal. The move came as a surprise to people over the age of 40 who still regularly tune into local sports radio.
Here's his tweet about the news:
Dusty apparently spent the next few days on the radio vaguely talking about his decision with his listeners. I would tell you what he said, but that would have involved listening to The Sports Animal with my two-year-old daughter during my Christmas week vacation. Sorry, but no thank you. We really need Mel Bracht to return to the OKC media sports media beat to do all the dirty work for us.
I asked around the Ogle Mole Network for the real reasons behind his departure. Just like with any job move, it had to do with a mix of money, ego and hating your co-workers.
• He's wasn't happy with his contract. Yeah, during a global pandemic that's devastated the already-struggling terrestrial radio medium, I guess Dusty wasn't satisfied with the money he was making to talk about sports for about three hours every Monday through Friday. Maybe he should have been? According to one Mole, Dusty "had OK ratings every now and then. Nothing to write home about."
• He doesn't like Regular Jim Traber. Their feud is so strong and childish that they won't even mention each other's names on the radio!
• He's overworked. In addition to sports radio, Dusty is a college football analyst for ESPN and the "OU Football Expert" for KWTV Channel 9. You can only expect a guy who went to OU, played football for OU, was suspended by OU, and then reinstated by OU, to beat home the same positive talking points about OU football so many times a day.
• He's wants to transition to podcasts. Exciting news everyone! We have another local sports radio guy / ex-OU athlete moving in the podcast medium! It's a good thing that market isn't totally saturated at the moment. Let's hope he's able to pull a Gabe Ikard and get one of his rich in-law's companies to sponsor it!
Anyway, we wish Dusty the best of luck in his future endeavors, and can't wait to have him on The Lost Ogle Show to talk more about this news... and the best chicken sandwiches available to eat in the Phoenix area. Stay with The Lost Ogle. We'll keep you advised.
Stay in touch
Sign up for our free newsletter