Food
TLO Restaurant Review: Royal Bavaria
8:30 AM EST on December 8, 2020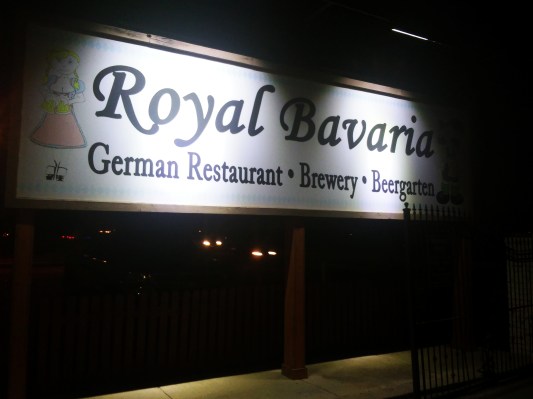 A Teutonic mist hung low over the desolate backroads of Moore, Oklahoma that evening. But, off in the distance, we could see bright lights shining upwards on a lone Germanic house, our dinner destination. As a large white sign greeted us upon entry, we pulled around to the fenced-in parking lot. From the outside, you could smell the sausages cooking.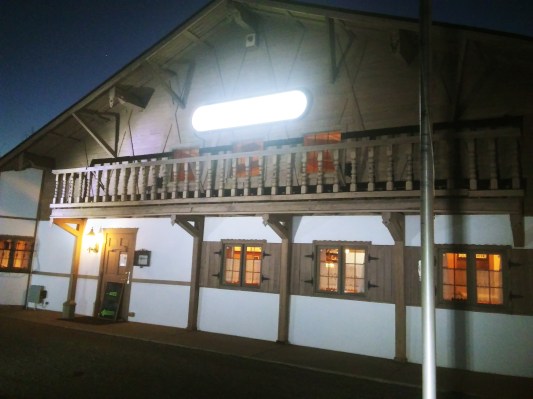 The atmospheric grounds of Royal Bavaria, 3401 S. Sooner Rd., seemed more like something out of a Brothers Grimm folktale, as our long shadows were hauntingly cast on the frontage of the restaurant. My former neighbor Amy and I entered through the beergarten as three lovely young women, all clad in what I assume is traditional German hostess-wear, greeted us and led us inside to our table.
Royal Bavaria had long been on both of our edible wishlists, as German food is somewhat hard to come by in Oklahoma City. Sure, there's Fassler Hall, Ingrid's—there's always Ingrid's—but this place promised a far more time-honored approach to the meat-heavy cuisine from the famed Free State of Bavaria.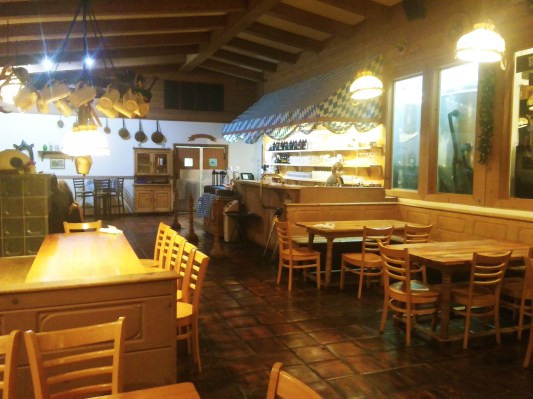 As we were seated in the Wagnerian dining hall right next to the various brewing vats, as tempting as it was, instead of a prodigious brew I ordered a Spezi ($2.79), which is apparently Coke mixed with Orange Fanta. I had no idea that, what amounts to a small child's 7-Eleven suicide at a soda fountain, is a German specialty, but each sip went down quite well.
As a techno-driven polka played overhead, we ordered our mains. I got an appetizer for the table as well, in the form of the (month or two late) Oktoberfest Brez'n Plate ($10.99). With most of my pretzel knowledge coming straight from the Auntie Anne's in Penn Square Mall, I was agog at the massiveness of this twisted bread, in both length and girth.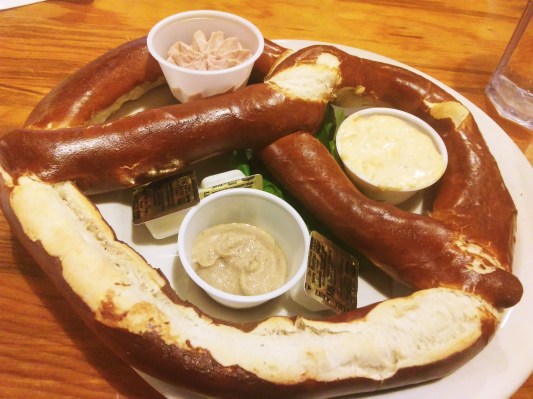 While I absolutely adored the dip selections that went with it—the German mustard, the Bavarian cheese spread and (especially) the homemade Pate—Amy didn't really seem into them, as we spent a good ten minutes trying to figure out which of the four cheeses in the spread gave it it's singular bite; in case you're wondering, it's the brie.
At one point, an intense gentleman in a tight sweater came by our table, asking if everything was satisfactory and if he could clear the dishes. I told him we were still working on the pretzel and, for a brief moment, his eyes met mine and it was as if he was staring into the blackness of my soul and darkness of my heart, mentally absorbing my short life of sin and debauchery, only to suddenly break eye contact and move on to another table.
I guess he works there. I hope he works there.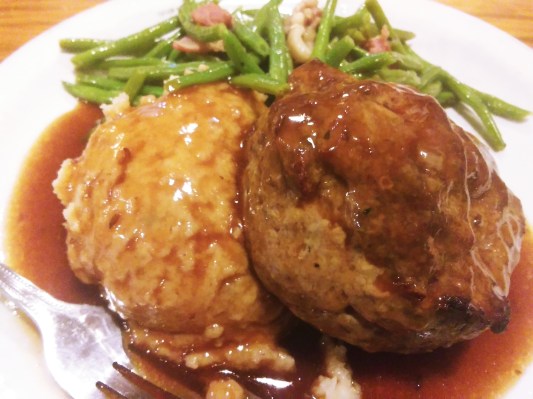 With a close resemblance to Henry Spencer's misbegotten mutant baby, Amy's Hackbraten nach Rezept von Andy's Mama mit Kartoffelbrei und Speckbohnen ($16.99)—basically mom's meatloaf—was gingerly laid upon the table by the waitress. Along with beer pork gravy-covered mashed potatoes and sautéed green beans, we both agreed this large ball of meat was undeniably wunderbar.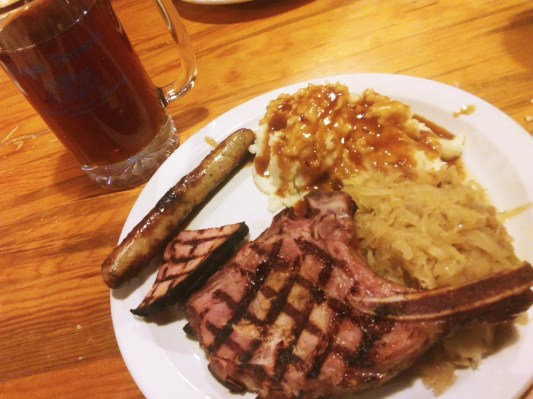 Of course, I had to have the Schlatteplatte "Royal Bavaria" ($20.59), a Bavarian butcher's platter that is a good-enough guide to the best meats of this rustic hall, including a cut of gourmet ham, a grilled smoked porkchop and a thin Nürnberger sausage, as well as sauerkraut, mashed potatoes and gravy for additional German engineering.
Achtung, baby! While both the ham and sausage were delicate cuts of meat that made my stomach dance a Viennese waltz, it was the heavenly porkchop that turned my soul into a Brian Eno-produced cut of cold reptilian beats that just wouldn't stop. I gorged on them with a programmed sturm und drang, reaching a solid ear-piercing squelch as I pushed the plate away, worn out.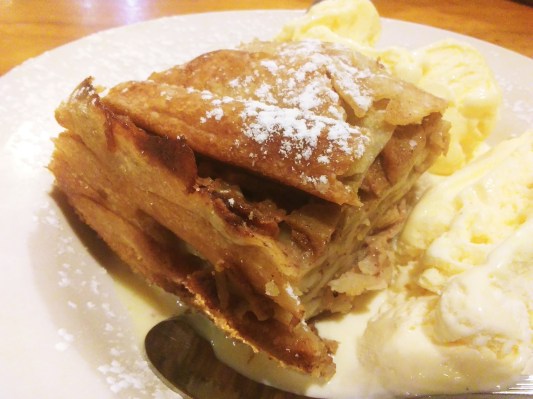 But, like any true study of German dining, the meal wasn't over until I had a bite, at the very least, of the Apfelstrudl mit Vanille-Eis ($6.99)—the apple strudel with vanilla ice cream—a taste so pure and so virginal I wanted to be reborn as a lederhosen-clad child to frolic through the lush green hills and meadows of Bavaria, leaving this world full of real sugar and pure satisfaction. Kaufen Sie es jetzt!
_
Follow Louis on Twitter at @LouisFowler and Instagram at @louisfowler78.
 Support TLO (and, by proxy, Louis Fowler) by becoming an Ogle Mole…sign up here today!
Stay in touch
Sign up for our free newsletter