events
TLO Q&A with Ari Lehman of First Jason
9:02 AM EDT on October 29, 2020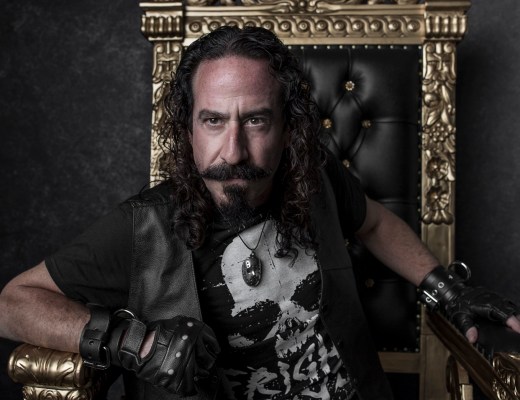 I met Ari Lehman a few years ago at Texas Frightmare and was kind of amazed that he's managed to make a lifelong career out of a few brief seconds on-screen as the original Jason Voorhees in the first Friday the 13th film. We should all be so lucky.
In case you've forgotten, in the film's coda, a deformed teenage Voorees unexpectedly pops out of the waters of Camp Crystal Lake, dragging the flick's final girl down to its murky depths. Only 14 when he was cast, the scene has provided generations of kids with the ultimate bed-witting moment of on-screen terror.
Now a middle-aged man in his fifties, Lehman fronts a wholly popular band called--what else--First Jason and tours everywhere across the country to the frights and delights of horror-fans and metal-heads alike. He'll be performing tonight at the Winchester Drive-In in-between a double-feature of Friday the 13th and the Oklahoma-lensed Son of the Saw. 
Admission is $10 and gates open at 6 pm and he will be signing autographs, taking pictures and all that stuff that horror icons do. I sat down with him before the winter storm hit Oklahoma--I was assured that the show will still go on as I wrote this--to talk about his bloody life, his thrilling music and his machete-wielding capabilities. Ki-ki-ki...ma-ma-ma...
_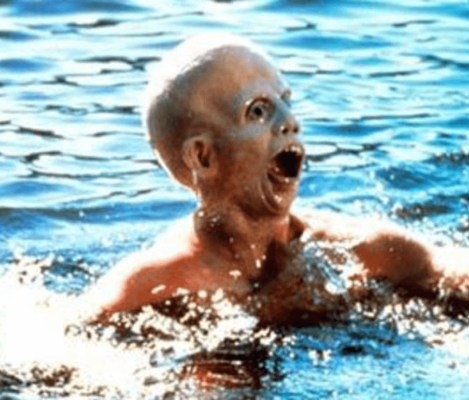 Louis Fowler: How does it feel to be the actor that introduced such an iconic character in film history?
Ari Lehman: Being the first Jason Voorhees is a very unique experience because, as you know, the character developed in so many ways as the trend of slasher movies started to really take off. For me, I had more fun on the set of Friday the 13th than probably anyone ever has had on a movie set because it was new to me and I was the only kid at a summer camp. 
As things progressed though, it's really the fans that made it so Jason never dies. They love Jason, they love the second incarnation and then the third when the hockey mask came out and then the approval just sky-rocketed. I had that unique role of being the boy in the lake, being that aquatic, embryonic Jason, totally different from all the others. It's been a unique experience for me and a most gratifying one just interacting with all the fans.
-
What got you into music?
I was already studying jazz piano at the time I played little Jason. I was kind of in a dilemma as to what I wanted to do. Now, it turns out my greater skill set lies in music; I like acting, but working on a movie set, as much fun as I had, it didn't compare to studying jazz in New York City. I started playing reggae music and I ended up working for Interscope Records and Tuff Gong Records, traveling all over the world playing world music. But that's all before I started First Jason.
I started finding there was a fanbase interested in my appearances in the horror scene, which started when a fan asked me if I had signed an autograph, one that had actually been forged and sold on eBay. I said "Wow, here's a market!" and I just dove in head first. So I started First Jason which has really exploded, especially after the open-minded and open-hearted response from the punk and metal communities, who gave me time to get my sound together. And with our fourth album, Lord of the Lake, we've really kind of hit a great stride. 
-
How would you describe the music of First Jason?
I approached the hard-core rock metaphor from being a keyboard player and it's definitely bluesy with a lot of funk in there. That being said, it's streamlined, it's heavy metal, and a lot of people say it's somewhere in-between Motorhard, Black Sabbath and "Weird Al" Yankovic. I use a keytar, but it's a very heavy metal sound with songs like "Jason Never Dies" and "Kill for Mother." 
I think one of the fun parts that separate us from other bands is that, I think a British magazine said it, but we're the "thinking man's punk band." I don't know about that, but there's certainly a little more depth to what we're doing and I think people have a lot of fun with it.
-
You were supposed to play Oklahoma a few months ago and then the virus started. How has the pandemic hurt you and your band?
The most directly hurt is the senior citizens I work with at a community center I help run in Chicago. I was helping with the bingo thing on Sundays and all that stuff, but we haven't been able to do that for a while. I miss those seniors and some of them, sadly, have got taken by Covid. 
For the band, a ton of shows were canceled, so immediately I went back and regrouped and took all the merch we had, including our hot sauces, and made some survival kits with music and other things like that. That was popular. But what I found out was that as soon as the venues were able to make social distancing a part of what they were doing on a regular basis, we started playing either indoors where there was no crowd and it was projected on a screen outside or we would just be playing outdoors, like a parking lot show that would sell-out. There are many different options now for live music.
-
Have you ever played Oklahoma before? 
Oh yeah. We've had the opportunity to play there many times. The community there is so much fun. I have many friends there from the First Nations community, I know some of those Fancy Dancers and when I come out we always have so much fun. So I always visit those brothers and sisters and it's a great feeling.
Jason, in some ways, speaks to so many different people on such a mythological level. We love to celebrate that and hear stories from all these different people and what the movies have meant to them. They tell me "Oh, I snuck out to watch Friday the 13th!" or about how their grandma let them watch it...you know, as a matter of fact, there's a very special family in Tulsa and they're such fans they kind of named their daughter after me. 
Tonight, you're playing the Winchester with local fave Christophe Murdock and showing a double-feature. What can people who brave the cold expect from a First Jason show?
You can expect to be taken on a journey back to Camp Crystal Lake. We're all going to escape for a little while and go back. You can meet and greet the original Jason Voorhees and hear all these great songs and just rock out with us. You know, once you hear that music and see Mama again, there's very little that's more engaging and can completely distract you from anything than the idea of Jason chasing you through the woods with various farm implements!
_
Follow Louis on Twitter at @LouisFowler and Instagram at @louisfowler78.
Support TLO (and, by proxy, Louis Fowler) by becoming an Ogle Mole…sign up here today!
Stay in touch
Sign up for our free newsletter